50% off your 4th night at the Holiday Inn Express Kelowna (name change April 1st)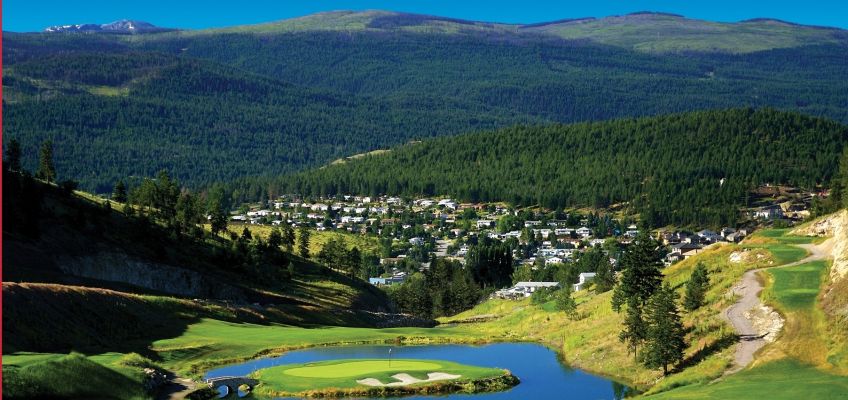 Priced From: $749.00
Valid to: December 31, 2018
* Prices shown include all taxes, per person, double occupancy unless noted otherwise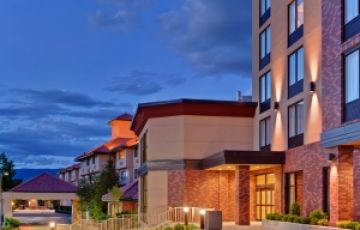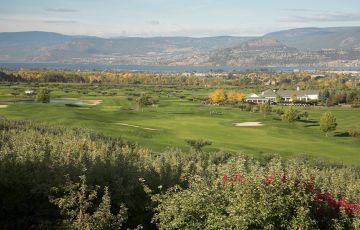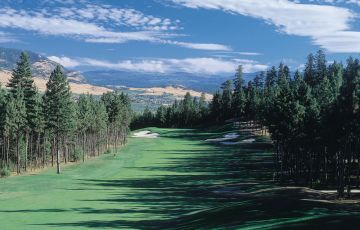 Get 50% off your 4th night with this Holiday Inn Express Kelowna golf package. Only steps to dining, shops and nightlife, you'll enjoy free parking, free high speed internet access, daily breakfast, indoor heated pool, and lots more while playing 4 of the regions top golf courses; Black Mountain, Harvest GC and a 36-hole day at Okanagan GC on Bear and Quail. Stay longer and play more golf!

FROM: $749.00 per person - double occupancy (until May 31 or Sept 1-30/18)
Includes:
4 nights accommodation - standard room with 1 or 2 beds
daily breakfast
4 rounds of golf per person: Black Mountain, Harvest GC, 36 hole day at Okanagan GC
pre-booked tee times with shared cart
all hotel and golf course taxes
(does not include meals unless stated, transportation)

Please note that these are "From" prices and exact pricing may vary based on your actual travel dates / room type available / occupancy. If you have something specific in mind that is not exactly as shown we will customize a package to suit your needs. Off season and Peak Season varies from region to region and with our golf course and hotel partners. Pricing provided is a general guide to assist you in planning your next golf vacation.

We will always quote you a firm price prior to booking and deposits paid. Follow the link displayed for a golf package quote/submission and complete the form details with your specific dates and additional details that will help us with your request.

Space is subject to availability and certain dates and times may not apply due to black out dates. Feel free to call us using our toll free number located at the top of this page. Prices expressed on these pages are "per person" and based on double occupancy unless noted otherwise.

BCgolfguide.com Inc. is a registered travel agent in the province of BC, and members of the IATA, ACTA, CPA of BC and IAGTO.

Follow the link displayed for a golf package quote/submission and complete the form details with your specific dates and additional details that will help us with your request.

Kanata Kelowna Hotel & Conference Centre (formerly the Holiday Inn Express Kelowna and Wingate by Wyndham)
The The Kanata Kelowna Hotel & Conference Centre is an ideal head quarters for your next Kelowna golf holiday. The The Kanata Kelowna Hotel & Conference Centre is the modern hotel for the value-oriented traveler who wants to make a common-sense choice and Stay Smart. Fresh, clean and uncomplicated, Express hotels provide the comfort and convenience the The Kanata Kelowna Hotel & Conference Centre name has come to stand for. Kelowna is truly one of the most beautiful vacation destinations in British Columbia. The Kanata Kelowna Hotel & Conference Centre is conveniently situated on Highway 97, only minutes from downtown Kelowna, Okanagan Lake and only 8 kilometers from the Kelowna International Airport.
black mountain golf club
Black Mountain golf course is more than just a fun, unique, friendly full par-71 challenging golf course located in Kelowna, BC. It features 18-holes worth of breathtaking Okanagan landscape and a signature island green. We value spectacular, lush course conditions with a relaxed, inviting atmosphere. We're not trying to distract you from your game – we just want to ensure you have the perfect ambiance.
Golf groups traveling on an Okanagan golf package have quickly learned the Black Mountain Golf Course is a course that provides extreme fun and a test of their golf skills. The front nine can be very demanding with critical position to allow for par chances and avoid the dreaded double bogie! Our favorite is hole number 4. An elevated tee box that varies in distance with the combination of tee box location ( with a total of 5 ) along with pin placement and the wind direction. Golf tip - setup slightly right of the green, even if you do not draw the ball back, a kick off the hill if you are far enough will often provide very favorable!

The Grill at Black Mountain golf is our answer to "what smells so good!?" Mouth-watering locally influenced selections, The Grill will satisfy. With affordable prices, you won't mistake your bill for your scorecard. Enjoy an ice-cold beverage with friends after a round and find out why "that's delicious" is more than just a common saying around here. Nachos are a favorite at Black Mountain golf course restaurant.

Thoughtfully and meticulously crafted, Black Mountain golf is a multi-generational, master-planned golf community located in Kelowna, British Columbia.
harvest golf club
Spectacular Okanagan views, award winning service, attention to detail and golf that is second to none! At 7109 yards, The Harvest Golf Club, voted best golf course in Kelowna, is a championship length layout designed by renowned Canadian golf course architect, Graham Cooke. The Harvest Golf Club provides an excellent location for events of any size making us the best wedding venue in Kelowna. Every detail of the Clubhouse has been carefully considered for the enjoyment of our guests.
The Harvest Golf Club is one of the most meticulous golf courses in the area when it comes to "Attention to Detail" , General Manager Gilles Dufort ensures the local and out of town golf traveler will have a top notch experience. With bag boys circling the parking lot to run you up to the clubhouse and preparing your cart to the starter that will give you a detailed synopsis of what to expect on the course.

Include The Harvest Golf Club in your next Okanagan golf vacation! Along with being one of nature's most picturesque playing fields, The Harvest Golf Club also features the Okanagan's largest Practice Facility. With 16,000 sq. ft. of grass tees, target areas, a 1,800 sq. ft. putting green, 2 dedicated chipping greens with sand bunkers, and staffed with PGA of Canada Professionals to help you take your game to the next level, The Harvest Practice Facility is the best in the Okanagan. We invite you to hit a bucket of balls or spend time working on your short game anytime. The Harvest Golf Club Practice Facility is open to everyone.
The Harvest Grille is recognized as one of the top casual dining spots in Kelowna.

The Harvest Grille Restaurant in Kelowna offers a unique Okanagan flavour with west coast flair, Chef Michael Miller created a menu that is sure to excite your taste buds! Everything from our 19th Greens Salad to the Prime Rib Dip to a Lamb Sirloin, The Harvest Grille will satisfy even the most discerning eater. And lets not forget the world class views from our Patio and Veranda.


okanagan golf club (the bear course)
The Bear Course at the Okanagan Golf Club is one of two spectacular golf courses at this 36 hole BC golf resort in Kelowna. The Bear's 18 hole 6,885 yard, part 72 masterpiece design opened for play in 1999 and is unlike any other golf course in British Columbia. With dramatic sculpted fairways surrounded by the forests and sage brush hills of B.C.'s sun-drenched southern interior, The Okanagan Golf Club Bear is the crown jewel course of the Okanagan Valley.

Crafted by Nicklaus Designs, one of the pre-eminent golf architecture firms in the world, The Okanagan Golf Club can prove as ferocious as a grizzly or as gentle as a teddy, depending on which set of tees you choose. On its hind legs the layout stretches to 6,885 yards. Well-placed bunkers, grassy swales and collection areas, sculpted moundings, and tiered greens lend the course some challenge. The routing climbs through forested hills on a plateau overlooking the Okanagan Valley.

The Bear's signature hole comes at number three, 453 yards of challenge requiring a combination of accuracy and distance to avoid two bunkers en route to the green. While the course boasts an extensive collection of sweet holes, numbers thirteen through fifteen - playing over the blue waters of Lake McIvor - are the real honeys here. More than 150,000 cubic metres of earth were moved to create the lake and the dramatic topography around it, yet the course maintains a perfect harmony with the natural terrain.

The Okanagan Golf Club - Bear is an ideal golf course for couples looking for a quick golf weekend in Kelowna. The course can play very tame for the ladies and new golfers, and still offer a challenge for those looking to play blues or tips!

Sarazen's Restaurant and The Player's Lounge & Grille is ideal for your post game recap. Replenish and refresh on the large patio that looks onto the driving range and view of Okanagan Golf Club Bear 18th hole! Drawing inspiration from the bounty of the Okanagan Valley, Sarazen's Restaurant and The Player's Lounge and Grille offer an impressive array of menu choices featuring local ingredients prepared with West Coast flair. Pair your meal with a selection from our list of Okanagan wines to fully savour the delights of the region. The Okanagan Golf Club will not disappoint you, after years of struggles with their greens, we are proud to say the greens on both the Bear and Quail in 2014 have been exceptional!



okanagan golf club (the quail course)
The Okanagan golf course - Quail is a magnificent par 72, 18-hole championship golf course that has become an Okanagan golf Valley favourite since the day it first opened.

Designed by renowned golf course architect Les Furber and built in 1994, this unique course features dramatic elevation changes and breathtaking views as 6,794 yards of multi-tiered fairways meander around a majestic rock bluff.

You'll need accurate shooting to bring down the Okanagan golf course - Quail - . One renowned golf writer described the course thus: "You could play The Okanagan Golf Course - Quail course every day for the rest of your life and never face the same series of shots."

As with many Les Furber designed courses, Quail's par threes are particularly strong–which also describes the tee shot you'll need to hit on the 227 yard seventh hole from the back tees. Many players identify our 408 yard finishing hole as their favourite: end the day with a well-placed drive that flirts with the edge of a lake, then hit your final approach to a toughly entrenched putting surface hunkered atop an elevated platform above and beyond the splash zone.
The Okanagan Golf course - Quail is a demanding test of golf for many players. Do not let the scenery preoccupy you with what will be an 18 hole test. Shot placement is critical from blue and tips, for the bit higher handicap player, select the forward tees and enjoy the day. Here are a few hole playing tips for the hard core golfer planning a Kelowna golf trip.
Playing Tips for the Okanagan Golf course - Quail

Hole 2 - The straightaway par 5 is only reachable by the longer hitters. The green is two-tiered so be certain to get the ball on the right level with your approach.The green here tend to be very firm, to put the breaks on a long iron is near impossible. Best to leave a wedge in and approach high and soft.
Hole 6 - You will enjoy plenty of choice off the tee of this spectacular par 5 (From long iron, 3 wood or driver depending on the tee box and your distance). The fairway on the left gives a long ball hitter the opportunity to go for the green on the second shot, this is a long shot though! The safe play however is to aim down the right side off the tee and then a lay up second shot. Leaving a nice lob or approach wedge in, careful, there are bunkers behind this green.

Hole 14 at The Quail Course at Okanagan Golf Club - This unique par 4 offers you a choice of direction off the tee. The easiest way to play the hole is a mid to long iron over the waste bunker followed by a short iron second shot. A very short hole but proves testy each time you play.

Get Directions
---