Kelowna Golf Getaway with Holiday Inn Express
Priced From: $389.00
Valid to: December 31, 2018
* Prices shown include all taxes, per person, double occupancy unless noted otherwise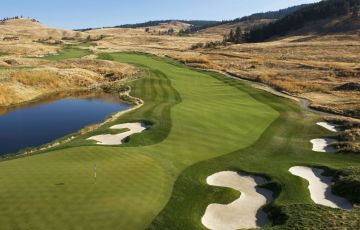 Stay 2 nights and play 2 great courses with this quick weekend Kelowna golf getaway. You'll enjoy 2 nights at the Holiday Inn Express located close to dining and shops and play 2 popular local courses in Black Mountain and Tower Ranch. Stay longer and play more golf!

FROM: $389.00 per person - double occupancy (May 1 onward) Travel in April and save more!
Includes: 2 nights accommodation: standard room with 1 or 2 beds
daily breakfast
2 rounds of golf per person: Black Mountain and Tower Ranch
pre-booked tee times with shared cart
all hotel and golf course taxes
(does not include transportation, meals unless stated)

Please note that these are "From" prices and exact pricing may vary
based on your actual travel dates / room type available / occupancy. If
you have something specific in mind that is not exactly as shown we
will customize a package to suit your needs.

We will always
quote you a firm price prior to booking and deposits paid. Follow the
link displayed for a golf package quote/submission and complete the form
details with your specific dates and additional details that will help
us with your request.

Space is subject to availability and
certain dates and times may not apply due to black out dates. Feel free
to call us using our toll free number located at the top of this page.
Prices expressed on these pages are "per person" and based on double
occupancy unless noted otherwise. BCgolfguide.com Inc. is a registered
travel agent in the province of BC, and members of the IATA, ACTA, CPA
of BC and IAGTO.

Follow the link displayed for a golf package
quote/submission and complete the form details with your specific dates
and additional details that will help us with your request.
Holiday Inn Express Kelowna
The Holiday Inn Kelowna is an ideal head quarters for your next Kelowna golf holiday. The Holiday Inn Express Kelowna Conference Centre is the modern hotel for the value-oriented traveler who wants to make a common-sense choice and Stay Smart. Fresh, clean and uncomplicated, Express hotels provide the comfort and convenience the Holiday Inn name has come to stand for. Kelowna is truly one of the most beautiful vacation destinations in British Columbia. The Holiday Inn Kelowna Conference Centre is conveniently situated on Highway 97, only minutes from downtown Kelowna, Okanagan Lake and only 8 kilometers from the Kelowna International Airport.
black mountain golf club
Black Mountain golf course is more than just a fun, unique, friendly full par-71 challenging golf course located in Kelowna, BC. It features 18-holes worth of breathtaking Okanagan landscape and a signature island green. We value spectacular, lush course conditions with a relaxed, inviting atmosphere. We're not trying to distract you from your game – we just want to ensure you have the perfect ambiance.
Golf groups traveling on an Okanagan golf package have quickly learned the Black Mountain Golf Course is a course that provides extreme fun and a test of their golf skills. The front nine can be very demanding with critical position to allow for par chances and avoid the dreaded double bogie! Our favorite is hole number 4. An elevated tee box that varies in distance with the combination of tee box location ( with a total of 5 ) along with pin placement and the wind direction. Golf tip - setup slightly right of the green, even if you do not draw the ball back, a kick off the hill if you are far enough will often provide very favorable!

The Grill at Black Mountain golf is our answer to "what smells so good!?" Mouth-watering locally influenced selections, The Grill will satisfy. With affordable prices, you won't mistake your bill for your scorecard. Enjoy an ice-cold beverage with friends after a round and find out why "that's delicious" is more than just a common saying around here. Nachos are a favorite at Black Mountain golf course restaurant.

Thoughtfully and meticulously crafted, Black Mountain golf is a multi-generational, master-planned golf community located in Kelowna, British Columbia.

tower ranch golf and country club
Tower Ranch Golf & Country club is a golfer's golf course – it's a rugged layout with quick true greens and immaculate conditions. A favourite, award-winning destination for golfers from around the world, Tower Ranch has been nominated and selected as a Top 3 Best New Canadian Golf Course multiple times by SCORE Golf and Golf Digest. In 2014 Tower Ranch was in the Score Golf Top 100 List (87). If you haven't played this spectacular course yet, we invite you to come and see what everyone is talking about.

Tower Ranch Golf Course is a Thomas McBroom designed 18-hole championship golf course that is one of the Okanagan's premier courses! The semi-private club open to the public, located minutes from both downtown Kelowna and the Kelowna airport is a strategic course, offering risk/reward opportunities that enables any level of golfer to have an enjoyable round. At Tower Ranch golf you will experience a nature tour through the hills, surrounding you with magnificent vistas and challenging you with shot options. You won't be able to wait to get back to Tower Ranch golf and play again! We invite you to take a course tour and see why people come from all over North America to play here.

The Clubhouse at Tower Ranch golf features over 10,000 square feet of amenities. Come in and see all the newest in golf equipment and clothing in our Pro Shop or enjoy the dramatic valley, city and lake views while dining in Carrington's Restaurant & Lounge. Consider Tower Ranch golf for your group function whether you're booking a corporate meeting, golf tournament or wedding.
Get Directions
---