Great value with this Northwest Ireland 6 night, 5 round golf package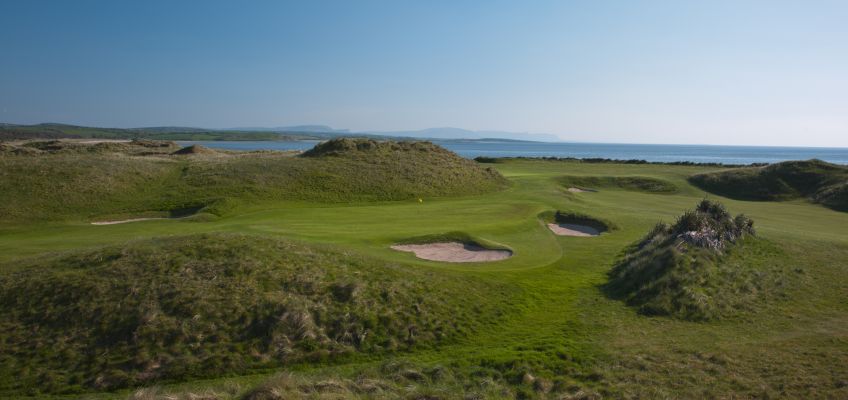 Priced From: $1,229.00
Valid to: November 30, 2018
* Prices shown include all taxes, per person, double occupancy unless noted otherwise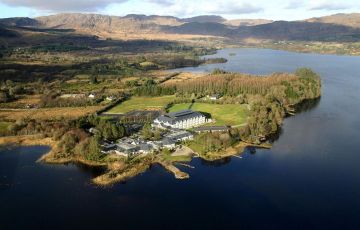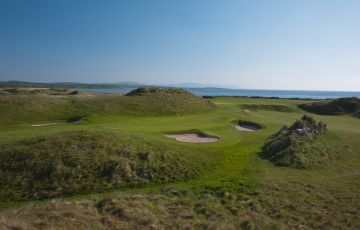 Great value! Stay 6 nights and play 5 great Ireland golf courses with this Northwest Ireland golf package. You'll stay at 3 lovely resorts and play some of the country's best courses like Donegal, Ballyliffen and Rosapenna. Stay longer and add some other courses to your package like Ennisrone or Connemara. Let us customize your Ireland package. For groups of 12 or more we suggest adding a shuttle and driver. It's a great way to see the country. Call us today.
**note currency** FROM: €1229.00 (low season) to €1689 (peak season)
Package Highlights:
6 nights accommodation: 1 at Ballyliffen Hotel, 2 at Harvey's Point and 3 at Rosapenna
Daily Irish breakfast
5 rounds of golf per person: Ballyliffen, Rosapenna (OTM), Rosapenna (SH), Narin & Portnoo, Donegal*
pre-booked tee times, all hotel and golf course taxes
(does not include airfare, meals unless stated, local transportation, power carts, optional caddies)
*Golf handicap cards may be needed for golf check-in
Please note that these are "FROM" per person prices and exact pricing may vary based on your actual travel dates, room type that's available and occupancy. If you have something specific in mind that is not exactly as shown we will customize a package to suit your needs. Low season and Peak Season rates vary from region to region and with our golf course and hotel partners. Pricing provided is a general guide to assist you in planning your next golf vacation.
We will always quote you a firm price prior to booking and deposit paid. Follow the link displayed for a golf package quote/submission and complete the form details with your specific dates and additional details that will help us with your request.
Space is subject to availability and certain dates and times may not apply due to black out dates. Feel free to call us using our toll free number located at the top of this page. Prices expressed on these pages are "per person" and based on double occupancy unless noted otherwise.
Harvey's Point
Harvey's Point is the perfect gateway to adventure and activity breaks in Ireland. Whether you want to linger in their luxury suites, take a meandering walk along the many guided routes beside the hotel, experience a beauty treatment or just simply chill out and are pampered with fine dining and classical music in the mystical surroundings of the Blue stack mountains on the shores of Lough Eske. This Luxury 4 star hotel in Donegal has something for everyone - anglers, golfers , nature enthusiasts, hikers, foodies, get away from it all guru's who want to do nothing and like nothing better than to chill out beside a turf burning fire and watch the world go by. When shadows fall their Lakeside restaurant takes on a mystical glow as the sunset reflects on the water and lights begin to flicker along the North Shore. The Gourmet Menu showcases speciality and signature dishes inspired by the local meats, seafood, game and other produce. The nearby magnificent Donegal links courses offer some of the most challenging and exhilarating golf in the world. Donegal Golf Club at Murvagh is one of the most spectacular links courses in Europe and is continually featured in Golf World's top 100 courses in Ireland and Great Britain.

Donegal Golf Club
This challenging Championship Links golf course occupies magnificent Murvagh peninsula in Donegal Bay, hence it is known locally as Murvagh. The course is isolated from the outside world by a forest of evergreens washed on one side by the great Atlantic Ocean and by Donegal Bay on the others. It has a panoramic view of the Bluestack Mountains and the beach that runs along the Atlantic border is one of the finest in Ireland. It has been described as the Muirfield of Ireland, similar in terrain with two loops of nine holes, the first nine an outer loop and the second nine an inner loop running in the opposite direction. At nearly 7,300 yards (championship) or 7,000 yards (medal) this course is long. The serious golfer needs to be at his or her best, while those less serious will still enjoy the course as it offers a chance on each hole to win a battle, if not the overall war. Donegal Golf Club was founded in 1959 when the first golf course and clubhouse were built at Tullycullion on the edge of Donegal Town. The land for the course was granted to the club by the Temple family, owners of Magee & Co. In the early 70's some far-sighted members identified the links land of the Murvagh Penninsula as being more than suitable for a golf course. The land was leased from the Department of Lands and Ireland 's leading golf course designer at the time, Eddie Hackett (pictured right), was hired to design an 18-hole championship course. The course and new clubhouse were officially opened in 1976. Since then, the course has undergone quite a bit of remodeling. Most of these changes have been carried out under the direction of Pat Ruddy, another famous Irish golf course designer. Donegal Golf Club was the venue for the Irish Ladies Close Championship in 1979, and again in 2003. In 2004, the Club hosted the Men's Irish Close Championship; the winner was Brian McElhinney, the 2004 European Amateur Champion, who came out on top of a strong field that included Rory McIlroy, then 14 years old and playing in his first Irish Close Championship.

Nairn and Portnoo
Narin and Portnoo Golf Club, is situated in a beautiful seaside resort in southwest Donegal. It is considered one of the finest natural and scenic18-hole links courses in Ireland, with sweeping views of Gweebarra Bay. Opened in 1930, it is engagingly old fashioned with a meandering routing over and around the dunes. The course has recently been re-developed and the new par 73 layout offers a range of teeing areas and challenges to suit all golfers. All manner of shots are required here: draws around sharp dog-legs; crisp irons to par threes over cavernous terrain; accurate tee shots down snake-like fairways, some wide and some not so generous; low trajectory shots into the Atlantic breezes; high shots down-breeze into raised and firm greens; chip and run shots over the mounds and dips. Throughout the adventure, all are captivated by the scenery and once experienced, it's a course to which golfers return again and again.
Get Directions
---