7 night 5 round golf vacation to the Algarve, Portugal Package 1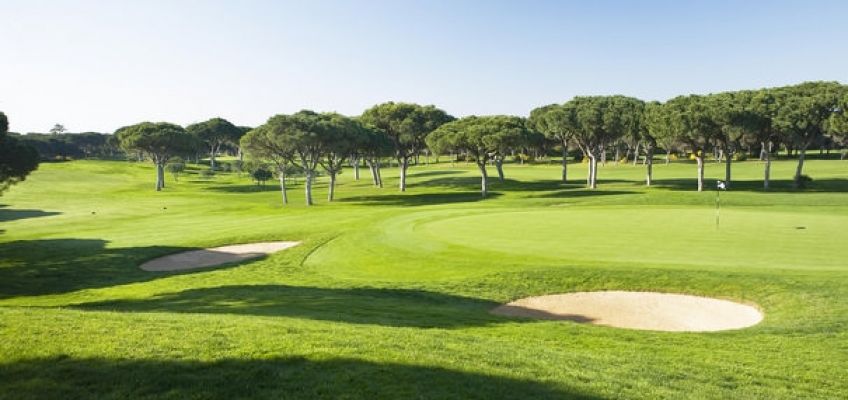 Priced From: $1,339.00
Valid to: November 30, 2018
* Prices shown include all taxes, per person, double occupancy unless noted otherwise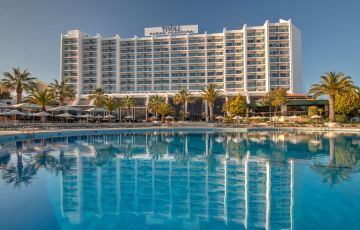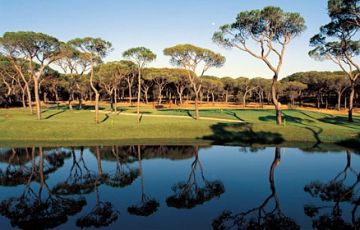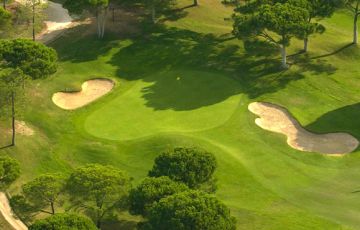 Enjoy an exciting 7 night, 5 round golf package to southern Portugal this year. Stay at the 5-star Tivoli Marina De Vilamoura located in the heart of Vilamoura and steps from the beach, casino and plenty of dining and nightlife. It's a perfect choice for great dining and wine tasting too. The 5 golf courses included in the package are minutes away and feature great design features like rolling, fast greens, tree-lined fairways, water and sand hazards and much more that will challenge all skill levels.
**note currency** FROM: €1339 (low season) to €1889 (peak season)
Package Highlights:
Includes: 7 nights accommodation - twin superior room
daily buffet breakfast
5 rounds of golf: Victoria, Millenium, Pinhal, Old Course, Laguna*
pre-booked tee times, all hotel and golf course taxes

*handicap cards needed for golf check-in: 25 for men, 28 for ladies
(does not include airfare, local transportation, golf carts, meals unless stated)

Please note that these are "FROM" per person prices and exact pricing may vary based on your actual travel dates, room type that's available and occupancy. If you have something specific in mind that is not exactly as shown we will customize a package to suit your needs. Low season and Peak Season rates vary from region to region and with our golf course and hotel partners. Pricing provided is a general guide to assist you in planning your next golf vacation.

We will always quote you a firm price prior to booking and deposit paid. Follow the link displayed for a golf package quote/submission and complete the form details with your specific dates and additional details that will help us with your request.

Space is subject to availability and certain dates and times may not apply due to black out dates. Feel free to call us using our toll free number located at the top of this page. Prices expressed on these pages are "per person" and based on double occupancy unless noted otherwise.

BCgolfguide.com Inc. is a registered travel agent in the province of BC, and member of IATA, ACTA, CPA of BC and IAGTO.

Tivoli Marina Hotel
Welcome to the Tivoli Marina Hotel Vilamoura, one of the finest hotels in Vilamoura is located right on one of the stunning local beaches with 30,00 acres of beautiful landscaped gardens and a great health and leisure complex. This 5 star Algarve property will impress even the most discerning of hotel traveller with its attention to detail, great service and comfortable rooms. The staff are professional, courteous and highly-trained and will strive to ensure your stay is as memorable and enjoyable as possible. Be sure to pack your golf clubs as this area is one of the best golf destinations in the world! Should you wish to tan by the beach just ask the concierge of the Tivoli for directions to some of the magnificent beaches in the area. There are a myriad of other attractions closeby to the hotel including Lagos Zoo, Aqualand, the entertainment park Krazy World and one of Europes best waterparks Slide & Splash. Truly something for every member of the family! Vilamoura is the Algarve's main bustling resort is where it all really happens. With stunning beaches, a marina, bars, restaurants, shopping arcades, casinos, several golf courses, a riding centre, tennis courts and a shooting range. Rooms include a variety of bedding options, balcony with sea view or marina view, TV with cable, mini bar, coffee maker, internet access and more.

Millenium Golf Course (Oceanico)
A fabulous addition to any golf package in the Algarve, this is a must play. This conventional par 72 course opened in the year 2000, although the original back nine was formerly part of the 27-hole Laguna Course. Refurbishment to the existing nine holes commenced in May 1999 and included the complete rebuilding of the tees, greens and bunkers, particularly for holes 8 and 9, the only ones on this loop with water hazards, with the aim to simplify the strategy of the course to make it more golfer-friendly. The renovated 9 holes were joined together with the new 9-hole loop to offer a layout of different character, style and playing quality. The work was undertaken by the well-established UK golf Architects Hawtree & Sons which culminated in the creation of the new, exciting 18-hole Oceanico Millennium golf course. The course is particularly open, although some holes (the 3rd to the 7th) wind between pine trees and are similar to the neighbouring fairways of the Oceanico Old Course and Oceanico Pinhal. In this more wooded area, the fairways are narrower and require greater accuracy - while the rest of the course has a clear landscape enriched by lakes at the 4th, 17th and 18th holes.

Victoria Golf Club (Oceanico)
At the Victoria Golf Course every care has been taken to ensure the preservation of the existing wetlands, the typical vegetation of carob, olives and almond trees, and several lakes, occupying 13 hectares, providing mirrors of water and strategic reservoirs for watering purposes. With 5/6 tees per hole, wide and undulating fairways, extensive water obstacles and well positioned bunkers; the Victoria golf course willreward heroic and ambitious shots. One extraordinary fact concerning Victoria Vilamoura Golf Course is that the Palmer design team masterly created 18 greens with totally different shapes and sizes. This is one of the distinguishing characteristics of the course, and for which local knowledge will be an advantage. In 2005, the Victoria Golf Course was the host for the World Cup, where some of the world best players participated. Located on the western edge of Vilamoura adjacent to the Millenium Golf Course.

Old Course (Oceanico)
Situated in the heart of Vilamoura a mere 20 minute drive from Faro airport, this Frank Pennink designed parkland style layout is one of the oldest in the region and renowned all over the golfing world. Often described as the Grande Dame of Algarve courses, it meanders throughout impressive pine trees - the principal hazard - over gently undulating natural terrain. Although it opened in 1969, the course was completely renovated and modernised 27 years later although no major changes were made to the magnificent layout. In addition to raising the Oceanico Old Course to new heights of quality, an attractive new clubhouse and adjacent putting green were also built at that time. As with all Oceanico courses, environmental protection practices are strictly adhered to by means of detailed management systems in line with guidelines established by ISO 14001 standards, Green Globe and Committed to Green programmes. This is one of the courses in Portugal that will always stay in the memory of visiting golfers.

Pinhal Golf Course (Oceanico)
This was the second golf course built in Vilamoura and inaugurated in 1976, having originally been designed by Frank Pennink, the architect of the nearby Oceanico Old Course. Several refinements were incorporated over the years, the most significant one by Robert Trent Jones Sr. in 1985. The course is typified by rolling parkland terrain covered with numerous umbrella and Atlantic pines that line many of the fairways and a few even stand out on fairways or near greens.
Ponds and a stream come into play on five holes but are not serious threats to above-average golfers. To keep up with modern technical advances in clubs and balls, several holes have recently been lengthened and the par 72 course now measures 6353m off the white tee markers. The clubhouse was completely renovated and modernised at the turn of the millennium and from the large veranda one can enjoy a panoramic view over the excellent driving range and practice facilities.

Laguna Golf Course (Oceanico)
Laid out over low lying coastal terrain, this course, with its many water hazards and few trees, is considerably different from the other ones in Vilamoura and many of its holes convey a links atmosphere. U.S. golf architect Joseph Lee designed this course which opened in 1990 and many previous visitors will recognise it as part of the former 27 hole Vilamoura III course. It has been subject to continual improvements over the years. Measuring 6121m from the white tees, the par 72 course includes several lakes which influence play on a total of 11 holes. In addition to acting as hazards and emergency water reservoirs, these lakes serve a useful purpose in attracting a variety of aquatic birds, both resident and migratory, as well as amphibians, otters and terrapins. Vilamoura's master developers, Lusotur, have also established an environmental nature park not far from the course. Apart from the lakes and an impressive total of 79 bunkers, another hazard is the wind that frequently blows over this somewhat exposed location. The Oceanico Laguna course shares a large, welcoming clubhouse with the neighbouring Oceanico Millennium course.
Get Directions
---