BCgolfguide.com has been provided exceptional golf travel services since 2002, with extreme attention to detail for our clients golf, hotel and shuttle services. We have garnered hundreds of accolades and testimonials from small groups to large corporate outings. Below is an excerpt of a handful of very happy golf travelers.

Post Your Google Review Here or Read what our golfers have to say about us.


Just wanted to send you an email to say how much I appreciate everything you did to organize our trip. Absolutely everything was perfect! You made me look really good as the organizer. You make golf travel easy! Everyone loved the fact that all they had to do was show up and everything was looked after. I highly recommend the Hampton Hotel. The staff was fabulous, room was exceptional, and the pool / hot tub / and even the water slide made for a great way to soothe some aching muscles at the end of the day. Even the breakfast was quite good and the topping on the cake was fresh baked cookies when we checked in at the desk. SWEET. I don't know how you managed to pull off the incredible weather we got but great job there too! Thanks again and you can look forward to booking our golf travel again next year. Paul Cowl

Ross, please accept my apologies for responding so late after our trip, but June is a very busy month for me. I just want to thank you for having our trip so well organized. The accommodations were great, and all of us were very impressed with the courses. Kelowna has another winner in the Black Mountain course ( None of us got close to your 79, but we will blame that on the alcohol factor). We are most definitely doing this again next year, and will be calling on you to get us set up again. On behalf of the Kelch golf travel group Thank you. Chris K.

I've been meaning to contact you, just to give you the 'thumbs up' on our golf travel package to Kelowna. The Coast Capri was a great place to stay, close to everything. We encountered a bit of drizzle/rain the first two days, but nothing to hold us back from golfing. We were very happy with the courses we played; and their hospitality was wonderful...particularly Sunset Ranch - I'm just sorry we didn't plan that day to stay there to eat, they seemed to have been the most friendly, and accommodating. Trena Cole and Ladies

I wanted to thank you for helping set up our golf trip last month. The accommodations at the Manteo were very good and the golf was fantastic. The round at Tower Ranch was the highlight. We look forward to returning to Kelowna or Kamloops (or Whistler?) next year. Booking golf travel through you was very easy and effective and we will go this route again. I will also recommend you to anyone else who is thinking golf. Thank you Rob Sim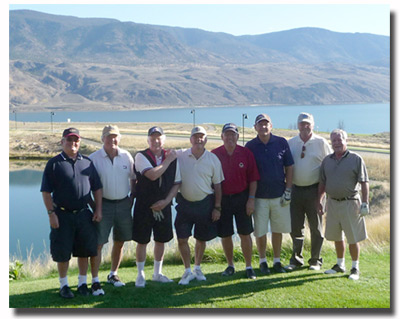 Hi Ross, Just to let you know that our golf outing in Kamloops was a complete success. The Hampton treated us well and provided a mini-suite in one of the rooms for our "post-game review". Rivershore gave us four pitchers of beer on the house because of a 25 minute delay on our t-time. We all enjoyed The Dunes and managed to escape with only one hole of rain. The highlight for all of us was Tobiano. The weather was perfect, the course is spectacular and we all agreed it is a "class act". We will definitely be using your services next September in the Kelowna area. On behalf of the Yumper group, thanks for all your golf travel assistance. Best Regards,
Bob