A Kelowna golf package is a great way to visit the Okanagan Valley, which is one of the most desirable places to live and vacation. Kelowna is one of the fastest-growing cities in Canada and is home to more than 20 golf courses.

A Kelowna golf package can include shuttle service to and from the airport. Also, shuttle service to the golf courses can be arranged. Book a kelowna golf package early for this service and to ensure best value. Make a Kelowna golf package request and let us handle all the details. We coordinate hotel room bookings and tee-time reservations. The Kelowna golf Range is also a great place to warm up. Drop in to visit Bob Anderson at his new and improved facility.
TaylorMade Performance Centre Kelowna – Located at the pristine Harvest Golf Club the TMPC Kelowna offers a one of a kind fitting experience that is offered for 1 on 1 sessions or groups up to four. Here you will find the largest selection of TaylorMade stock and custom heads and shafts in Canada. With the aide of the Trackman 4 Launch Monitor the TaylorMade Master Fitter will be able to ensure a tour level fit for every club in the bag. Book this great addition to your next golf vacation.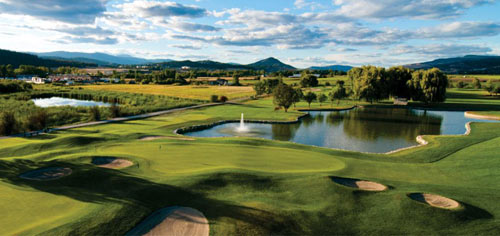 Kelowna Golf Courses
Gallagher's Canyon: Rated as one of the best golf courses in the country, Gallagher's Canyon is a spectacular par-72, 18-hole championship Kelowna golf course. In a Kelowna golf package, play its challenging fairways, well-protected greens and enjoy awe-inspiring vistas. Home of the PGA Tour Canada - McKenzie Tour Golf BC Championship in June, the annual event will ensure tournament playing conditions will greet players throughout the majority of the golf season.
The Harvest: Voted best golf course in Kelowna, this championship-length layout was designed by renowned Canadian course architect, Graham Cooke. Arriving early to enjoy your Kelowna golf package, warm up at one of the finest practice facilities in the entire Okanagan Valley. The Harvest GC provides an excellent locale for events of any size, including weddings.

Tower Ranch Golf Course: Tower Ranch Golf is a golfer's golf course! include this rugged layout with quick, true greens and immaculate conditions in a Kelowna golf package. A favorite, award-winning destination for golfers from around the world, Tower Ranch has been nominated and selected as a Top 3 Best Canadian Golf Course multiple times by SCORE Golf and Golf Digest. The team at Tower Ranch continues to improve on an already wonderful customer experience. The layout never disappoints. The views are absolutely stunning. It's a Kelowna golf package must play for traveling golfers.

Okanagan Golf Club (Quail and Bear): The Bear Course at the Okanagan Golf Club is one of two spectacular golf courses you can include in a Kelowna golf package. A 36-hole Kelowna golf resort planned by Nicklaus Design will ignite your passion for the game. The Bear's 18-hole, 6,885 yard, par-72 masterpiece opened for play in 1999. The Quail Golf Course is a magnificent par-72, 18-hole championship golf course. It's an Okanagan Valley and Kelowna golf package favorite. Designed by Canadian course architect Les Furber and built in 1994, this unique course features dramatic elevation changes and breathtaking views. The 6,794 yards of multi-tiered fairways meander around a majestic rock bluff.

Predator Ridge Golf Resort: ("Predator" and "Ridge" courses) - Designed by Canadian course architect Les Furber, The Predator Course offers a challenge for every level of player and is one of the best offerings of golf in Canada. The rolling hills, long grasses and undulating greens make for a truly unforgettable golf experience. Opened in 2010, the Ridge Course was designed and renovated by Canadian course architect Doug Carrick. The Ridge Course is defined by incredible vistas, wide, scenic fairways and beautiful granite rock outcroppings. The Predator Ridge Resort is the #1 drawing card for Kelowna golf packages.

Sunset Ranch Golf & Country Club: Sunset Ranch Golf & Country Club is always considered among the best courses in Okanagan Valley golf for a Kelowna golf package. It is conveniently located just minutes from the Kelowna International Airport (YLW). Sunset Ranch is all about natural beauty, rivaled only by its exceptional conditioning and play-ability. At the end of the 2015 season, ownership invested in a complete renovation of the green sites, which has further elevated the quality of the playing conditions. Sunset Ranch is definitely a Kelowna golf stay and play option to consider, a layout long enjoyed by locals and members alike.

Black Mountain Golf Course: Black Mountain is more than just a fun, unique, friendly par-71 layout. You can include this 18-hole breathtaking Okanagan Valley landscape in a Kelowna golf package. Look for the signature island green on the 5th hole! Expect to enjoy lush course conditions in a relaxed, inviting atmosphere. We're not trying to distract you from your game – we just want to ensure you have the perfect ambiance at Black Mountain Golf Course. The Black Mountain team creates a hip and fun vibe, establishing the facility as a must play for visitors to the Kelowna region.

Kelowna Golf & Country Club: A long established members course, the Kelowna Golf & Country Club offers a park-like setting. It is well-suited to the walking golfer. Located in the heart of Kelowna, it is minutes from major hotels included in a Kelowna golf package. With five par-3's and five par-5's, the layout is a somewhat unique. Enjoy a fast-paced round! Home to a host of well-run annual tournaments, including the storied Ogopogo Invitational, the Kelowna Golf and Country Club is steeped with history and an appreciation for long-standing golf traditions.
Shannon Lake Golf Course: Shannon Lake Golf Club, playing among towering pines and moderate elevation changes, is a true test to golfers of all abilities. After golf, Courses Restaurant in the new clubhouse (2015) offers tasty pub fare selections. Shannon Lake is located in West Kelowna, a short distance from the Coquihalla Connector. If you are traveling from the Lower Mainland region for a Kelowna golf package, this is a great facility to visit at the beginning or end of your Kelowna golf vacation. Some exciting renovation projects were completed in 2017, as a number of tee decks were re-shaped and designed to improve your golf experience at Shannon Lake.
Kelowna Springs Golf Course: Kelowna Springs Golf Club, designed by Canadian course architect Les Furber, has garnered accolades from both the press and golfers of all abilities. It opened for play in 1990. This is a Kelowna golf local favorite, with impeccably manicured fairways. Watch out for water hazards! Golfers are sure to notice the recent innovative maintenance plan, where fescue and natural grass have been allowed to flourish in areas of the property that do not come into play. A sporty, walkable layout, Kelowna Springs is an ever-improving facility and a great addition to a Kelowna golf package.

Shadow Ridge Golf Club: Looking for an easy intro to your Kelowna golf package, the Shadow Ridge golf course is the perfect fit. Three things make a great golf course; scenery, challenge and fun. Shadow Ridge has them all. A wide variety of holes, superb greens, water hazards, and majestic willow trees enhance your golfing experience. A friendly and professional staff ensures a pleasant and relaxed atmosphere. Full facilities include a progressive pro shop with club and power cart rentals, restaurant and lounge.

Two Eagles Golf Course & Academy: Two Eagles Golf Course and Academy brings a new concept to golfing enjoyment. By combining the championship qualities of a classic Les Furber design with the play-ability of a mid-length facility, Two Eagles provides an unequaled golf experience for your Kelowna golf package. The practice facility is outstanding, allowing the team at Two Eagles to implement a wide array of instructional and coaching programs. A Masters course well suited for the Kelowna golf region, don't let the course yardage fool you. The layout is solid! Before or after golf, lounge around in the comfortable and vibrant atmosphere of 19 Okanagan Grill & Bar.