A glance at our British Columbia Golf Visitor Guide confirms the province is surrounded by the Coastal Mountain range on its western border and the Columbia and Rocky Mountain ranges to the east. These are stunning backdrops, highly visible while playing the majority of golf courses in Canada's western-most province. British Columbia Golf Visitor Guide - How big is BC?
If British Columbia's southern most border was placed at the city of Paris, France, its northern border would extend north of the United Kingdom to Oslo, Norway. The province is physically much larger than most European countries, though the total population is estimated at just below five million people.

For the golfing tourist, British Columbia Golf Visitor Guide describes the majority of resort facilities, which are located mostly in the southern third of the province. Travel by automobile or motor coach is recommended. Driving times should consider mountainous terrain and traffic volumes in addition to mileage between destinations.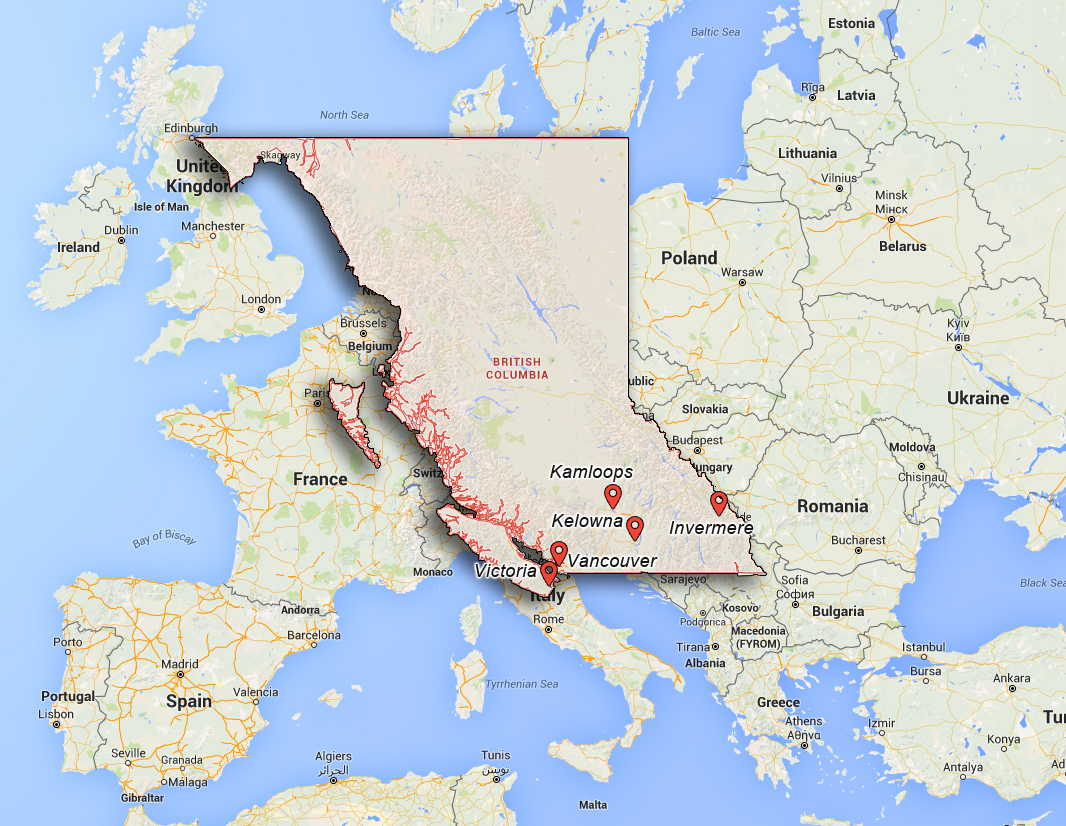 From west to east, here is a snap shot of each region.
VANCOUVER ISLAND

"The Island", as it is referred to by most British Columbians, is bordered by the Pacific Ocean and the Strait of Georgia. Major cities include Victoria, Nanaimo and the Courtney/Comox area.

Victoria International Airport (YYJ) is the major airport on Vancouver Island. Further north, the Comox Valley Airport (YQQ) is well-serviced from points across western Canada.

Many golf courses are located at the southern tip near Victoria, making the province's capital city a great golf destination. Private golf courses are occasionally accessible, including the Victoria Golf Club, Royal Colwood and the Uplands.

The Westin Bear Mountain Resort is a 36-hole facility, with a pair of layouts designed by Jack Nicklaus. Olympic View, Gorge Vale, Highland Pacific and Cordova Bay are strong golf courses in the Victoria region.

Non-golf activities include wine tours, historic building tours, the beautiful Butchart Gardens and the provincial Parliament buildings.

According to the British Columbia Golf Visitor Guide, Traveling north along the Trans Canada Highway to the Nanaimo and Parksville area is a good two-hour drive. The Fairwinds Golf Resort and Morningstar Golf Club are popular choices. Another hour north is the Courtenay/Comox area, home to the pristine Crown Isle Golf Resort.

And just less than an hour north is Campbell River, home to the highly-regarded Storey Creek Golf Club.

Non-golfers can enjoy a myriad of water sports and for the more adventurous souls, guided salmon fishing tours have become a popular past time.
Mileage – Driving Distances:
Victoria to Nanaimo 111km 1 hr, 40 min.
Nanaimo to Parksville 38km 38 min
Parksville to Courtenay/Comox 75km 45 min

LOWER MAINLAND - VANCOUVER
In effect, the Lower Mainland consists of the city of Vancouver and a number of cities inland from the Pacific Ocean.
While the city is home to many private golf courses, there are many accessible facilities such as Morgan Creek, Westwood Plateau, Mayfair lakes and Furry Creek. The Northview Golf & Country Club is a 36-hole facility that played host to the PGA Tour for seven years (1996-2002) as the Greater Vancouver Open and later, the Air Canada Championship.
Vancouver is an ideal place to either begin or end your golf trip. Vancouver International Airport (YVR) provides outstanding service and worldwide connections. Perhaps choose to play one golf course from the British Columbia Golf Visitor Guide then put away the sticks and tour Granville Island, Gastown, B.C.Place and many of the city's tourist attractions.
WHISTLER
A little over an hour's drive north of Vancouver's city centre along the spectacular Sea to Sky highway is Whistler, home to incredible year-round recreation.
The Fairmont Chateau Whistler Resort was named "Golf Resort of the Year" by the International Association of Golf Tour Operators (IAGTO) at the 2018 Annual IGTM conference held in Slovenia in October 2018.
The golfing public can feast on the Jack Nicklaus-designed Nicklaus North Golf Club and Arnold Palmer's design, the Whistler Golf Club. The Chateau Whistler Golf Club is a non-returning 18-hole layout carved through the mountain forest. Near Whistler, in Pemberton, is the must-play Big Sky Golf Club.
Whistler Village is a popular tourist haunt, with shopping, restaurants and local artisans. World class hiking trails and cycling are readily available. During the winter months, the skiing community takes over to enjoy the Whistler Blackcomb experience.
Mileage – Driving Distances:
Vancouver to Pemberton 153km 2 hr, 7 min
Pemberton to Whistler 32km 28 min

THOMPSON and OKANAGAN (Includes Shuswap)

From Kamloops in the north to Osoyoos in the south, the interior region is truly nature's playground.

The city of Kamloops offers what were once considered underrated golf courses.

According to the British Columbia Golf Visitor Guide, the addition of Tobiano in 2007 elevated the profile of the Kamloops region and seemingly encouraged facilities like Sunrivers, Rivershore, The Dunes and Eaglepoint to elevate their game. The Kamloops Golf and Country Club (circa 1914) was also renovated and completes a solid array of golfing options.

Just a 45-minute drive north of the city along the Yellowhead Highway to the Sun Peaks Resort provides year-round recreation with a terrific golf course and wonderful skiing.

The city of Kelowna has been long regarded as the hub of tourist activity in British Columbia's interior region.

A host of bucket-list courses await the touring golfer, such as Gallagher's Canyon, the Harvest Club, the 36-hole Okanagan Golf Club (Bear & Quail courses) and Tower Ranch are among the entire province's upper echelon experiences.

Not to be outdone are another tier of layouts that provide unique golf experiences. Kelowna Springs, Sunset Ranch, Black Mountain, Shannon Lake, Shadow Ridge and Two Eagles provide tremendous value for the golfing dollar.

As we move into the South Okanagan, which borders the United States about five miles south of the two of Osoyoos, we approach the Canadian desert. The golf courses in Summerland, Penticton, Oliver and Osoyoos is fabulous.

Our British Columbia Golf Visitor Guide includes details about airports in the region. Kelowna International Airport (YLW) is the major facility in the area, while there is always the option to fly into the Penticton Regional Airport (YYF).

The entire Okanagan Valley has become world renown for its collection of more than 100 wineries, both large commercial entities and many smaller boutique and organic locales. Touring the Lake Country, Kelowna, Bottleneck Trail and Naramata regions has become a popular component for tourists visiting British Columbia's interior.

Nature trails, hiking, cycling and even adventuresome activities like zip-lining continue to draw interest as well.

Summer temperatures in the Okanagan Valley frequently exceed 30-degrees Celsius (85-degree Fahrenheit).

Mileage – Driving Distances:
Kamloops to Vernon 115km 1 hr, 24 min
Vernon to Kelowna 51km 45 min
Kelowna to West Kelowna 8km 11 min
West Kelowna to Penticton 60km 50 min
Penticton to Oliver 42km 37 min
Oliver to Osoyoos 20km 19 min
Osoyoos to USA Border 5km 5 min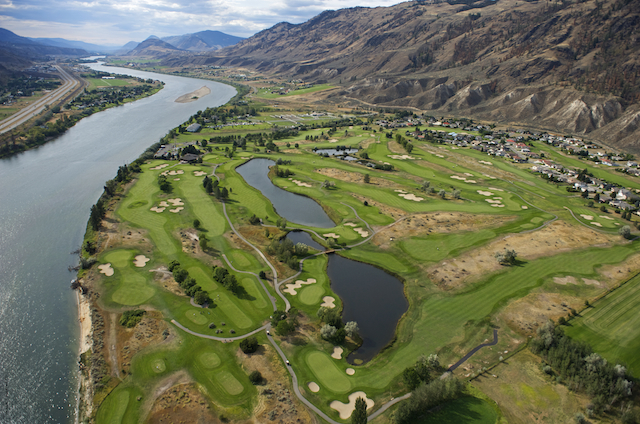 Rivershore Golf Links - Kamloops, B.C.
EAST KOOTENAYS and COLUMBIA VALLEY
The Crowsnest Pass route (Highway 3) along the southern border of British Columbia connects Osoyoos to the eastern-most region of the province.
From west to east, Castlegar, Nelson and Trail are set in mountainous locales. Continuing east, Creston and the popular Balfour/Kokanee Springs region await. Next is the area near the city of Cranbrook and a jog north takes you into the Radium Hot Springs.
The entire journey is flush with incredible golf courses. Christina Lake, Castlegar, Birchbank, Granite Pointe, Creston, Balfour and Kokanee Springs, Trickle Creek, Kimberley Golf Club, Fernie, Bootleg Gap, Wildstone, Shadow Mountain and St. Eugene Mission.
As you enter the Columbia Valley, the burgeoning menu explodes with Copper Point, Radium Resort, the Springs at Radium, Riverside, Mountainside, Eagle Ranch and Greywolf. Continuing north to Golden and Revelstoke, the crispness of the cool, clean mountain air is always evident.
Water sports are also popular in the Columbia Valley, whether you choose to soak in the hot springs, enjoy a leisurely boat ride or opt for an exhilarating run of white water rapids.
Nature trails, hiking and cycling also draw people to these regions and camping enthusiasts are seldom disappointed with the incredible natural experience.
Traffic volumes can occasionally slow your movement, but the sheer vastness of the mountains and rock formations will always encourage you to take pause and admire your surroundings. The region's wildlife is legendary; be sure to watch for those bighorn sheep!
Mileage – Driving Distances:
Osoyoos to Christina Lake 147km 1 hr, 45 min
Christina Lake to Castlegar 77km 57 min
Castlegar to Creston 123km 1 hr, 26 min
Creston to Cranbrook 105 km 1 hr, 13 min
Cranbrook to Invermere 133km 1 hr, 26 min
Invermere to Radium 17km 15 min
Radium to Golden 103km 1 hr, 6 min
Radium to Banff, AB 135km 1 hr, 40 min
Radium to Calgary, AB 258km 2 hr, 55 min
Radium to Vancouver 815km 8hr, 35 min
Gratuities (Tipping for Services)
Tipping in Canada is much the same as it is in the U.S. Generally when you are receiving services, such as from wait staff, cab drivers, hotel employees, and others, you are expected to give an extra bit of money in addition to the stated cost.

Tipping is not mandatory but generally expected because most of the service providers receive a relatively low base pay (minimum wage is about $10 an hour in Canada) and rely on tips to bring their earnings to a decent (sometimes very good) rate. In most cases, a tip in the range of 15% to 20% is perfectly acceptable.

Here are some more specific circumstances and guides on how to tip (amounts suggested are in Canadian dollars). Keep in mind is that sales tax in Canada is between 5% and 15%, depending on the province, but tipping calculations are suggested for pre-tax amounts.

Transportation Tipping
Cabs/taxis: Anywhere between 10% to 20% of the fare. For example, a good tip would be $2 on an $8 fare (easy to round up to a $10 bill) or approximately $5 or $6 on a $40 fare.

Airport/hotel shuttle
Not everyone tips these drivers, but a $2 tip is acceptable if your driver was friendly or helpful.

Tipping at a Hotel or Resort
Doorman: $2 if he hails you a cab.
Bellman: $2 to $5 per bag.
Chambermaid: $2 to $5 per day or a lump sum at end of your stay.
Room Service: Be sure to check whether a tip is included in the cost of room service, as it is not necessary to tip on top of this. Otherwise, 15% is common, or $2 to $5 if the staff member is delivering a no-cost item, like extra pillows.
Parking Valet: Typically, a $5 to $10 tip when picking up your car; some people also tip when leaving it.
Concierge: Tipping the concierge is not usual, but if you are particularly pleased with your service, a tip at the end of your stay will no doubt be welcomed.

Restaurant Tipping
Sometimes the tax percentage can help you figure out what the right restaurant tip should be. For example, in Nova Scotia, sales tax is 15%, so you can tip at least the tax amount of the bill. Or, in Alberta, where sales tax is 5%, just multiply the tax by 3 to get a minimum tip for good service.

Wait staff/servers:15% to 20% of the before-tax total is typical. Above that is exceptionally generous but not uncommon.
Bartender: The dollar per drink that applies in many U.S. cities isn't as strict here. Ten to twenty percent is standard or often a "keep the change" rule applies.
Sommelier: It's not usual to tip the sommelier (wine steward who helps pair wine with your meal) separately. Rather, tip the appropriate amount on the check (including wine, excluding tax) and expect the sommelier to receive his cut at the end of the night. Some people do slip the sommelier his or her own tip, however.​
Coat check: $1 to $2 per coat.

Electrical Power - Adapters
USB ports and auxiliary jacks are very common and generally quite readily available at airports, restaurants and also in most newer vehicles across Canada. Be prepared to use Type B North American NEMA 5-15 Wall Outlets (110-120 V and 60 Hz is most common).

Type B North American NEMA 5-15 Wall Outlet

Weather Prepare in advance https://www.hellobc.com/plan-your-trip/climate-weather/
The weather in British Columbia is influenced by latitude, mountains, and the Pacific Ocean. Temperature, average precipitation, and hours of sunshine can vary over short distances, but in general temperatures are warmer in the south and milder on the coast, and rainfall is heaviest in coastal communities.

Spring and fall can be warm and pleasant, especially in June and September. Daytime temperatures—particularly in southwestern BC and the southern interior—can allow for shorts, short-sleeved shirts, and dresses. But be sure to pack sweaters, trousers, and a light jacket as well.

Summers are hottest in BC's interior, where temperatures are often in the 30-40°C/86-104°F range. Nearer the coast, temperatures are milder. Shorts, short-sleeved shirts, and light dresses are recommended, with trousers and sweaters in the evenings.

Winters on the coast are temperate, and if snow falls it doesn't stay long. A warm coat and umbrella are sufficient weather protection in these mild coastal climes. Most of BC's interior, on the other hand, experiences freezing temperatures and snow that lasts from November to March. You'll need appropriate winter attire: a heavy coat, a warm hat, and gloves or mittens. The north experiences longer, more extreme winters for which you will need heavy duty winter gear.

Automobile Rentals
Specific rules and regulations will vary, depending upon the provider you choose. However, generally as the renter you must present a valid driver's licence and credit card at the time of rental, your name on it. All additional drivers must be at least 21 years of age and must present a valid driver's licence as well. Surcharges will apply to underage and new drivers.

Most vehicle rentals come with the basic third party liability insurance. Loss Damage Waiver (LDW). LDW is not insurance. It is an option that relieves the renter of financial responsibility, subject to a deductible, should the vehicle is damaged or stolen while under a rental agreement. At time of rental, staff at each provider will explain the optional coverage available to you.

If you would like this British Columbia Golf Visitor Guide in a handy PDF file along with additional travel information, please let us know. We can quote your golf travel plans and send along too help make the very best of your BC golf Trip. Thank you Glen Erickson for creating this information for our BC golf travelers. See our British Columbia golf visitor guide listing on HelloBC.