Swinging into Savings: Teeing Up the Perfect Golf Getaway
in British Columbia with a Hole-in-One Exchange Rate
Golf enthusiasts, get ready to tee off in style against the stunning backdrop of British Columbia, Canada! In this golf-centric guide, we'll explore the tremendous benefits of the current USA to Canada exchange rate, creating the ultimate opportunity for avid golfers to experience top-notch courses without teeing up a hefty budget.
The allure of British Columbia's golf courses is undeniable, and the favorable exchange rate ensures that your golf getaway won't put a dent in your budget. Enjoy championship-level courses, perfectly manicured fairways, and challenging holes—all while stretching your golfing dollars further.
British Columbia boasts an array of golfing landscapes, from mountainous terrains to coastal fairways. With the current exchange rate, golf enthusiasts can revel in the scenic beauty of courses like
Predator Ridge
, Greywolf, and
Tobiano
without worrying about the financial hazards. It's an opportunity to experience world-class golfing at a fraction of the cost.
Beyond the fairways, BC's culinary scene is a hole-in-one for foodies. Take advantage of the exchange rate to indulge in post-round dining experiences. From fresh Pacific seafood to locally sourced delights, your taste buds are in for a treat, and your wallet won't feel the pinch.

Vancouver and Victoria aren't just urban hubs—they're golfing gateways surrounded by diverse cultures. Explore museums, galleries, and performances, taking advantage of the favorable exchange rate to add cultural flair to your golf-centric itinerary.

British Columbia's golf courses are often nestled amidst nature's wonders. Use the exchange rate to your advantage and embark on wildlife excursions between rounds. Spot eagles, bears, and other local fauna in their natural habitats, making your golf trip a unique blend of sport and wildlife adventure.

For golf aficionados seeking the ultimate swing and savings combination, now is the time to plan your golfing expedition to British Columbia. The favorable USA to Canada exchange rate ensures that you can enjoy world-class golf courses, relish in delectable cuisine, and immerse yourself in the region's cultural and wildlife experiences—all without driving your budget into the rough. Pack your clubs, embrace the fairways, and get ready to score a golfing experience in British Columbia that's a perfect blend of precision and pars without the price tag!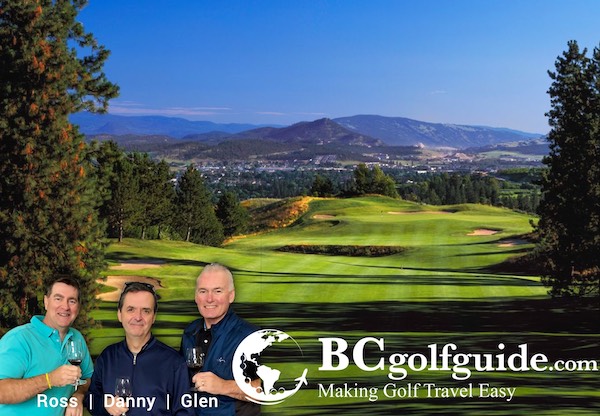 Book with BCgolfguide.com before coming to British Columbia!!

35% USD money exchange to Canadian means more value for your golfing group!

Access our navigation menu at the top of any page (or below) and explore our golf regions and suggested packages.


Want to chat with our team? Call us at 1-877-223-7226 to speak with Ross Marrington, Danny Leitch, or Glen Erickson.
Follow us on Instagram and / or Facebook to stay informed of offers and trip ideas and be sure to join our E-newsletter for more exclusive offers.
Explore the BC Golf Regions

Click here