Best of Alberta 7 night, 4 round Fairmont Resorts golf package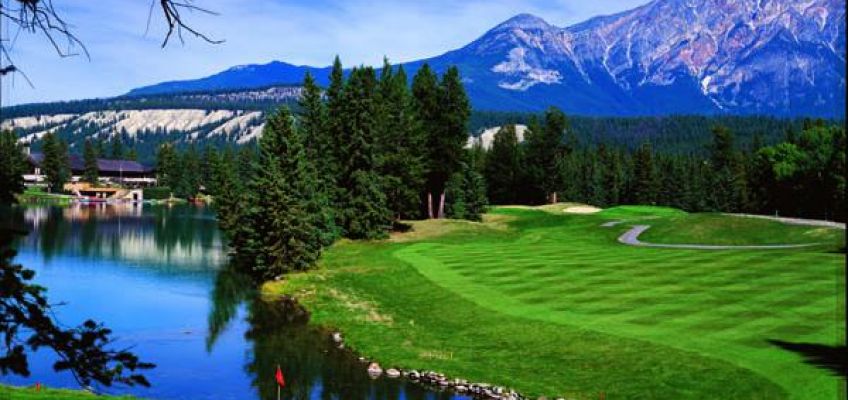 Priced From: $2,619.00
Valid to: December 31, 2018
* Prices shown include all taxes, per person, double occupancy unless noted otherwise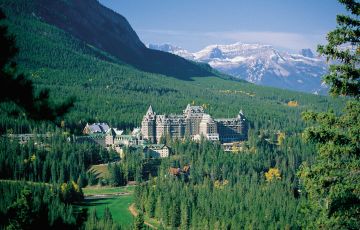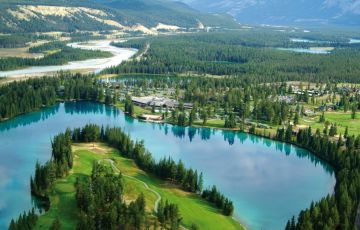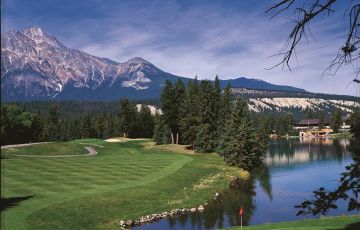 The best of mountain golf in Alberta. This exclusive 7 night, 4 round golf package gives you 5-star golf and accommodations at two of western Canada's resort icons; Fairmont Banff Springs Resort and Fairmont Jasper Park Lodge. You'll stay 4 nights in the heart of Banff and enjoy incredible service and vistas and then journey north for 3 nights to Jasper. Be sure to explore the glaciers and mountains on your journey. You'll also experience 2 of Canada's top golf courses at Banff Springs GC and Jasper Park Lodge GC. Bring a camera for these incredible Stanley Thompson classics. This is a perfect way to enjoy Canada's Rocky Mountains and play golf at the same time!

FROM: $2619.00 (low season) to $3529.00 (high season) per person - double occupancy
Includes:
7 nights accommodation - Fairmont room
4 rounds of golf per person: 2 at Banff Springs GC, 2 at Jasper Park Lodge GC
pre-booked tee times with shared cart, range use
all resort and golf course taxes, nightly resort fees
(does not include meals, transportation, National Park pass)

Please note that these are "From" prices and exact pricing may vary based on your actual travel dates / room type available / occupancy. If you have something specific in mind that is not exactly as shown we will customize a package to suit your needs.

We will always quote you a firm price prior to booking and deposits paid. Follow the link displayed for a golf package quote/submission and complete the form details with your specific dates and additional details that will help us with your request.

Space is subject to availability and certain dates and times may not apply due to black out dates. Feel free to call us using our toll free number located at the top of this page. Prices expressed on these pages are "per person" and based on double occupancy unless noted otherwise. BCgolfguide.com Inc. is a registered travel agent in the province of BC, and members of the IATA, ACTA, CPA of BC and IAGTO.

Follow the link displayed for a golf package quote/submission and complete the form details with your specific dates and additional details that will help us with your request.

Fairmont Banff Springs Hotel and Resort
The Fairmont Banff Springs is located in the heart of Banff National Park about 2 hours from Calgary. This Canadian classics setting offers stunning vistas, championship golf, world renowned skiing within minutes, hiking, fishing, exceptional hospitality and the grand Willow Stream Spa. It also features a variety of dining experiences (Sunday Brunch is incredible) from health conscious cuisine to magnificent steaks, sushi bar, wine bar, and lounges. Pamper yourself at the heart of the 38,000 square foot spa in the therapeutic mineral pool offering three cascading waterfall pools while gazing at the dramatic Rocky Mountain peaks. The town of Banff is a short stroll away for plenty of shopping options or people watching. Staying here is a true experience like no other.

Fairmont Jasper Park Lodge
Situated in Alberta's magnificent Jasper National Park, a UNESCO World Heritage Site, the iconic Fairmont Jasper Park Lodge resort invites you to experience our Great Canadian Lodge, surrounded by nature and abundant wildlife. Fairmont Jasper Park Lodge is a 700 acre year-round luxury mountain resort which wraps around the shores of pristine Lac Beauvert and Canada's #1 Golf Resort Course. The resort's charming village of cedar chalets and Luxury Signature Cabins, all connected by picturesque paths, offer guests unique access to explore the natural environment surrounding the resort. Enjoy a wide variety of outdoor recreational activities including golf, hiking, canoeing, kayaking, horseback riding and mountain biking in the summer and ice skating, snowshoeing and skiing in the winter. After an active day outdoors, rejuvenate with a signature treatment at the luxurious Fairmont Spa, inspired by the energy and beauty of Jasper National Park. In 2015, they celebrated their 100th year of hospitality. After one hundred years of welcoming guests from around the world, renovations have already begun to revitalize the Grand Canadian Lodge Experience and continue this unparalleled tradition for many more generations in the future.


Fairmont Banff Springs Golf Course
Renowned for its panoramic beauty, Fairmont Banff Springs Golf Course in Banff is a captivating and challenging layout set in the heart of Canada's Rocky Mountains. This Alberta golf course offers just two simple things for the perfect golf vacation. First, a breathtaking view in every direction and second, a magnificent layout that thrills every golfer fortunate enough to spend a day here. Amateurs and professionals alike are constantly amazed by its panoramic challenge. From the actual hole design to the optical illusions created by the surrounding mountains, this Alberta golf course will delight and tempt you.

"There are NO golf courses that can rival the Stanley Thompson course for unreal beauty. The course has an interesting design and layout and was in perfect condition. Good landing areas and nice greens. This green fee is absolutely worth it." – Richard H. of Annandale, Virginia, Trip Advisor

The Fairmont Banff Springs Golf Course is open for play from mid-May to mid-October. Please note that these dates are weather dependent, so please check for updates.

Ranked #4 Canada's Best Public Golf Courses by SCOREGolf - 2015
Ranked #6 in SCOREGolf's Top 100 Courses - 2014
Named the winner of the Extraordinary Golf Hotel Award by Extraordinary Traveller Magazine - 2014
Ranked #2 in Links magazine's Top 10 Golf Courses - 2012
Ranked #7 in SCOREGolf's Top 100 Courses - 2012
Silver Award winner in Golf West's Annual Platinum Readers Choice in Alberta - 2012
Ranked #24 in Golf Digest's Top 75 Golf resorts biennial list (US & Canadian Courses) - 2011
Ranked #2 Best Public Course in Alberta by SCOREGolf - 2011
Ranked #10 Best Canadian Golf (Classic) Courses by Golfweek - 2011
Fairmont Banff Springs Golf Course certified Audubon Cooperative Sanctuary - 2006



Fairmont Jasper Park Lodge GC
It took 50 teams of horses and 200 men working together for a year in order to clear the land of boulders and debris to prepare it for what would become one of Canada's premiere golf courses. Since the opening of the mountain golf course in 1925, this jewel set deep in the heart of the Canadian Rockies has been the setting of unforgettable memories for all of those who come to play. Stanley Thompson, Canada's master golf course architect, displayed some of the finest work of his career with this design. The 18-hole layout offers elevated tee boxes, dramatic bunkering and holes aligned with distant mountain vistas. He built wide fairways that carve through thick forest, and maintained a partnership with the environment's natural contours, blending beautiful landscapes with challenging terrain. As a result, few golf courses in the world can match the rugged majesty of this national treasure.
The Fairmont Jasper Park Lodge initiated a restoration project in 1994 to return this legendary Canada golf course back to its initial layout. Using Thompson's original blueprints from 1924, the main focus of the project was spent on restoring the bunkers and tee boxes in an effort to recreate the fundamental design.Highly acclaimed for its challenging layout and spectacular beauty, the Jasper Park Lodge Golf Club is consistently rated by SCOREGolf Magazine as the #1 Best Golf Resort in Canada. It has also received 4.5 Stars from Golf Digest, the Gold Tee award from Meetings and Incentive Magazine 7 years in a row, and the Successful Meetings Magazine Pinnacle Award 6 years running. Most recently, although annually among the best Public Courses in Canada, in 2013, SCOREGolf Magazine rated the Fairmont Jasper Park Lodge Golf Club the #1 Public course in Canada as well.
Get Directions
---