Golf Shuswap Fabulous Four Golf Vacation
Priced From: $699.00
Valid to: December 31, 2018
* Prices shown include all taxes, per person, double occupancy unless noted otherwise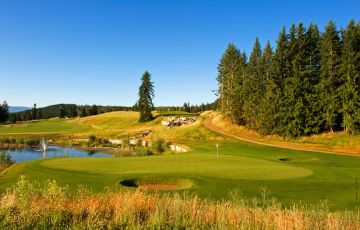 A BC hidden gem. Enjoy the Shuswap area of BC this season with this 4 night, 4 round golf package to Salmon Arm. You'll stay at the Prestige Harbourfront Resort and Convention Centre located on the shore of Shuswap Lake, adjacent to City Park. You'll play 4 fabulous courses including the award winning Salmon Arm Golf Club, Shuswap National (formerly Canoe Creek GC), Hyde Mountain and Talking Rock. Stay longer and play more of the Shuswap area golf courses.
FROM: $699.00 per person - double occupancy
Package highlights:
4 nights accommodation: standard
4 rounds of golf per person: Shuswap National, Salmon Arm GC, Hyde Mountain, Talking Rock
pre-booked tee times with shared cart
all resort and golf course taxes
(does not include local transportation, meals)
Please note that these are "From" prices and exact pricing may vary
based on your actual travel dates / room type available / occupancy. If
you have something specific in mind that is not exactly as shown we
will customize a package to suit your needs.
We will always
quote you a firm price prior to booking and deposits paid. Follow the
link displayed for a golf package quote/submission and complete the form
details with your specific dates and additional details that will help
us with your request.
Space is subject to availability and
certain dates and times may not apply due to black out dates. Feel free
to call us using our toll free number located at the top of this page.
Prices expressed on these pages are "per person" and based on double
occupancy unless noted otherwise. BCgolfguide.com Inc. is a registered
travel agent in the province of BC, and members of the IATA, ACTA, CPA
of BC and IAGTO.
Follow the link displayed for a golf package
quote/submission and complete the form details with your specific dates
and additional details that will help us with your request.

Comfort Inn & Suites Salmon Arm
Let the friendly team of professionals show you why the Comfort Inn Salmon Arm is a favorite with tourists and business travellers alike. Halfway between Vancouver and Calgary, conveniently located at the top of the hill overlooking downtown; minutes from shopping attractions and directly across the street from the Sunwave Centre. Enjoy free daily complimentary continental buffet served each morning from 6:30am to 9:30am. Combine that with free Internet access, indoor pool, fitness room and world-class banquet and meeting facilities and it is no wonder that they are the first hotel choice in Salmon Arm - the Comfort Inn Salmon Arm.
Shuswap National Golf Course (formerly canoe creek golf course)
Shuswap National golf course has a unique design brings you a bit of the British Isles, offering more than 7000 yards of open fields, grass-faced bunkers, very playable greens and striking water features. This new addition to the region's wide spectrum of golf facilities is Dave Barr's first signature course.

Shuswap National golf course offers a new look and a very rewarding golf experience. The course features creeks, waterfalls, fountains and natural marshes, with fescue defining many of the fairways. This is a traditional look with a modern approach. The unique layout allows you to hit the driver off the tee in some situations, while a more conservative club selection is required in others. Pot bunkers are scattered strategically throughout the golf course and simply avoiding them is a good option. Shuswap National golf course is well known for its immaculate greens. They are open, accessible and very receptive to approach shots; subtle undulations add to the challenge of negotiating these spectacular greens.
Hole number three at Shuswap National golf course is considered it's signature hole. An absolutely amazing par 3 hole elevated to a very wide but narrow green. Undulations are abundant, as is the water feature trickling down into the pond below. You can easily be distracted when you are the deck. If you are nervous about the water, take an extra club, keep your head down, and swing through and easy!

Visitors will enjoy the hospitality of the fully licensed patios and indoor seating areas as well as the convenience of the expanded and easily accessible practice areas. Golfers who discovered the course in 2008 will find that the new facilities now provide comfort and service in keeping with the course itself. Those visiting for the first time will find that Shuswap National golf course exceeds all expectations. Nothing else plays like this!

hyde mountain on mara lake golf course
You have arrived at the Shuswap regions finest 18 hole public golf course, Hyde Mountain Golf Course, located in Sicamous, British Columbia. Conveniently located halfway between Vancouver and Calgary if traveling the Number 1 Highway or only one hour and forty-five minutes driving time north on highway 97 from the Kelowna Airport.

Designed by Les Furber, Hyde Mountain golf is an 18 hole championship course that features dramatic elevation changes and phenomenal lake views and cliff side golf shots. Most courses have their feature hole but Hyde Mountain is unique. We have several feature holes but Geronimo, our number 4 hole has an elevation drop from the tee of some 140 feet to the landing area. It offers a very challenging tee shot but do not forget to bring your camera as the panoramic view from this tee is spectacular.

For a unique experience we a have special service for marine vacationers. Hyde Mountain offers a complementary shuttle service from our dock up to our Loggers Restaurant and Lounge. This fully licensed facility comes complete with patio that overlooks beautiful Mara Lake.
Driving Range

Hyde Mountain offers full practice facilities. Included is a full length driving range as well as a putting and chipping green. Our driving features a grass tee area as well as an artificial turf area with a multitude of targets throughout the fairway. Whether your purpose is to warm up before your round or you wish to work on your game improvement we have the facilities for you.

Full Restaurant

Enjoy a Lunch or Dinner with our spectacular view of the lake and mountains.

Pro Shop

Proshop and complete practice facilities staffed by CPGA Professionals

Marina Access

Complimentary dockside shuttle service from our 24 slip marina up to our Clubhouse and Restaurant.

Camping

Overnight camping available, No hook ups, but picnic tables and fire pits are available.

salmon arm golf club
Located in the beautiful Shuswap Valley just minutes from downtown Salmon Arm, the Salmon Arm Golf Club is the perfect way to enjoy a day with family & friends. Offering its guests a truly unforgettable & unique setting, the Salmon Arm Golf Club boasts two stunning courses, a fully equipped Golf Shop and exceptional culinary creations at the Ironwood Restaurant & Lounge.

Champions Course: The highly regarded Champions Course has earned its place amongst the British Columbia "Must Play" list. Designed by Les Furber its 6,738-yard layout, offers jaw-dropping views of the Shuswap Mountains with every shot. Unfolding over meticulously manicured terrain, bunkers and waterholes lurk amidst tall fir, cedar and pine trees to offer an impressive test of golf for players of all abilities. Blessedly free of the fairway homes & condos often seen at B.C. Courses, Salmon Arm Golf Club offers mountain golf at its unspoiled best.

Heritage Course: This historical 9-hole layout is a unique challenge of Par 3 and Par 4 holes. It is perfect for golfers with varying levels of golf experience, business and community group events, to hone your short game skills & makes an excellent warm-up facility prior to a round on the larger course.

At the Salmon Arm Golf Club, you'll find a full slate of CPGA Professionals in the Golf Shop, generous 9-minute tee-off intervals, roving beverage service, gourmet sandwiches at the 9th Hole Concession and friendly service in the Ironwood Restaurant & Lounge.

Groups of 16 plus - please ask us about special food offerings when booking your golf trip.

• SCOREGolf "Your Favs Top 100" Best Courses In Canada 2014 – # 15 Salmon Arm Golf Club
• PGA of BC Pros' Top Tracks 2014 HIDDEN GEMS - # 2 - Salmon Arm Golf Club
• PGA of BC Pro's Top Tracks 2014 PROVINCIAL "TOP 25" - # 17 - Salmon Arm Golf Club

The Salmon Arm Golf Club is a Not-for-Profit Organization that has been in existence since 1928. As a Society owned facility, our goal is to provide a top quality experience for our clients & a Course that is challenging and available to the community. We strive to honor the history of our Golf Club, preserve its environmental beauty & the nature of our landscape. We are an Audubon Certified Cooperative Sanctuary.

Come & enjoy the Salmon Arm Golf Club's top-notch service & extraordinary golf!


talking rock resort and quaaout lodge
A Link to Natural Beauty, Talking Rock Golf Resort and Quaaout Lodge, located on the shores of Little Shuswap Lake offers an experience rich in native traditions. Now boasting a championship 18 hole course, Talking Rock golf will take each and every player on an epic golfing adventure through rugged, mountainous terrain on a sprawling 325-acre site entirely owned by the Little Shuswap Indian Band.

Located midway between Vancouver and Calgary, Talking Rock Golf Resort and Quaaout Lodge is just minutes off the Trans Canada Highway. The peaceful location of the resort makes it a distinct destination for travelers wishing to enjoy all the amenities of a full service resort without all the commotion found in the city.

The 18 hole championship Talking Rock golf course opened on August 1st of 2007 and is destined to become a golfer's paradise. "We're working hard to make Talking Rock Golf Resort the # 1 course in the interior," says Little Shuswap Indian Band Chief Felix Arnouse. The name "Talking Rock" was selected by the Band in recognition of their ancestors who often recorded historic events and legends by painting or carving on large rocks, know as pictographs. Little alteration of the lands was required thus creating a course of natural and rugged character that requires strategy and thought for players of all skills and abilities.

Talking Rock Golf Course offers full practice facilities including a 16-acre driving range academy, two practice tees, practice greens and bunkers as well as lesson packages. A fully stocked snack kiosk and beverage cart ensures no golfer will be left undernourished. Talking Rock Golf Course has four sets of tees allowing all levels of skills and abilities an enjoyable experience. Of the most appreciated attributes of the course is an opportunity to cool down after your round with a dip in the pristine and refreshing Little Shuswap Lake. White sandy beaches and a full service resort lodge ensure that each experience is nothing but complete.
Get Directions
---