Play the Ocean Course at Kiawah with this 5 night, 5 round golf vacation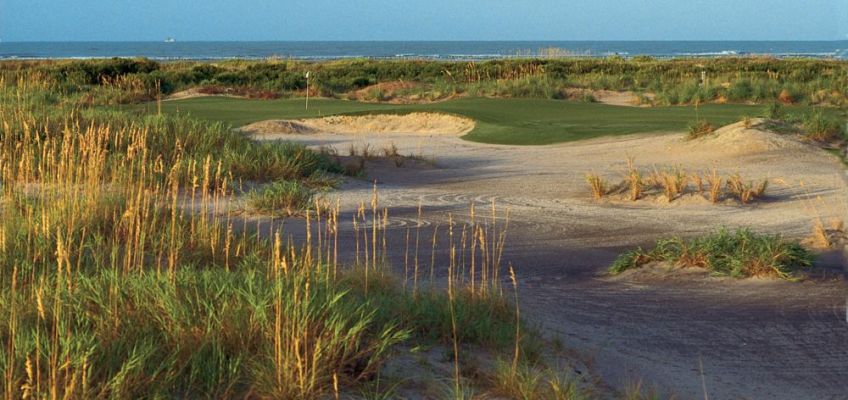 Priced From: $989.00
Valid to: December 31, 2018
* Prices shown include all taxes, per person, double occupancy unless noted otherwise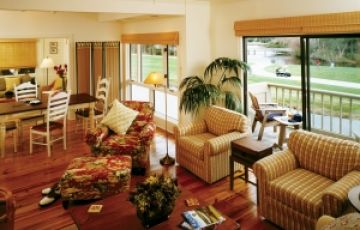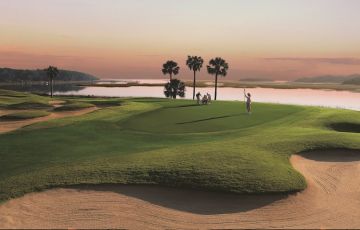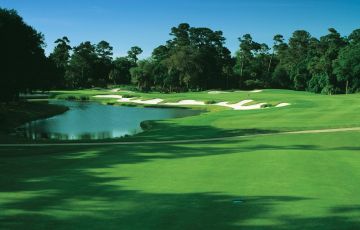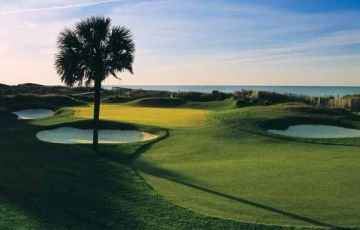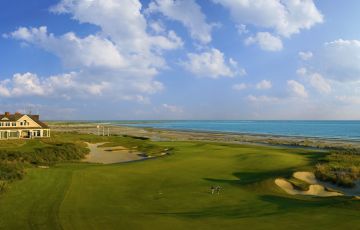 One of the top golf resorts in the World; Kiawah Island Golf Resort just hosted the PGA TOUR on their award-winning, Pete Dye-designed Ocean Course. This is your chance to play where the pros played and add this incredible golf course to your bucket list. One of 5 championship golf courses at the resort, the Ocean Course requires accuracy from tee to green and if the wind is up expect your scores to be too. Kiawah Island Golf Resort is only 30 minutes from Charleston, SC and a wonderful spot for couples, family, ladies or guys junkets. Choose from multi-bedroom accommodations or the wonderful Sanctuary Resort. Tennis, Spa, shops, hiking, biking or beach time can also be enjoyed. Package highlights:

**note currency** FROM: $989.00USD per person (low season) to $1549.00USD (high season) - quad occupancy
Includes:
5 nights accommodation: 2 bedroom scenic unit
5 rounds of golf per person: 1 round on Oak Point, Cougar Point, Osprey Point, Turtle Point and Ocean Course*
pre-booked tee times with shared carts, range use, resort shuttle
all resort taxes
*tee times prior to 12pm on Ocean Course do not include cart.
Note: caddie tipping fees are not included at Ocean Course. Requested tipping is $70.00USD per bag.
Forecaddies required with carts after 12pm. Tipping for forecaddie is $25.00USD per bag.
Only 1 day of housekeeping (towel and garbage change) is included in package
Other accommodation options available, ask for larger units!
(does not include airfare, meals, local transportation)

Please note that these are "From" prices and exact pricing may vary based on your actual travel dates / room type available / occupancy. If you have something specific in mind that is not exactly as shown we will customize a package to suit your needs. Off season and Peak Season varies from region to region and with our golf course and hotel partners. Pricing provided is a general guide to assist you in planning your next golf vacation.

We will always quote you a firm price prior to booking and deposits paid. Follow the link displayed for a golf package quote/submission and complete the form details with your specific dates and additional details that will help us with your request.

Space is subject to availability and certain dates and times may not apply due to black out dates. Feel free to call us using our toll free number located at the top of this page. Prices expressed on these pages are "per person" and based on double occupancy unless noted otherwise.

BCgolfguide.com Inc. is a registered travel agent in the province of BC, and members of the IATA, ACTA, CPA of BC and IAGTO.

Follow the link displayed for a golf package quote/submission and complete the form details with your specific dates and additional details that will help us with your request.


Kiawah Island Resort
Located on a beautiful barrier island just a few miles from historic Charleston, South Carolina lies Kiawah Island Golf Resort, the Official Golf & Tennis Resort at Kiawah Island. Endless possibilities await guests to this island resort. Experience for yourself why readers of Golf World Magazine voted Kiawah Island Golf Resort "#1 Resort in the U.S." Five award-winning championship golf courses including the Ocean Course home of the 2007 Senior PGA and 2012 PGA Championships, offering challenging play for golfers of all levels. Hard and clay tennis courts, a variety of recreational activities are sure to please everyone in your family. From kayaking, nature tours, bicycling to beach fun at the "Top Family Resort", as voted by Travel + Leisure Family Magazine. Choose from multi bedroom home and condo rentals or stay at the award-winning oceanfront Sanctuary Hotel. Enjoy outstanding dining options that include The Ocean Room, the resort's premier steakhouse, The Atlantic Room at Ocean Course the signature seafood restaurant, Tomasso at Turtle Point, Charleston's finest Italian food and Jasmine Porch with authentic lowcountry cuisine, plus many oher restaurant options located throughout the island that are sure to please.

kiawah island golf resort - oak point gc
Oak Point is a shotmaker's course. Strategy and a thinking approach to the golf course will be rewarded over pure power. In this sense, it is a bit of a throwback to the classic courses of the 1920s where the ability to place the ball in a certain portion of the fairway or a certain spot of the green was more important than power. Throw in the beautiful vistas and it is easy to understand why Oak Point recently received a near-perfect 4½ stars from the readers of Golf Digest magazine in their biennial "Best Places to Play" poll where it was rated one of the best values in South Carolina. Guests of Oak Point enjoy a comfortable clubhouse designed in a classic Lowcountry style. It features hardwood oak floors and an expansive porch lined with rocking chairs overlooking the 18th green and the Haulover Creek. The clubhouse's full service bar and grill offers a casual atmosphere with hearty meals making it a must stop after a great day on the links. If you are lucky, you may even catch a glimpse of Atlantic bottlenose dolphins cruising the waters right outside the clubhouse.

kiawah island golf resort - osprey point gc
Generally, courses of the caliber of Osprey Point are in private club settings with restricted memberships and high membership fees. In fact, its architect, Tom Fazio, originally developed it as a members' only type course. However, since Osprey Point is now part of Kiawah Island Golf Resort, anyone can enjoy this beautiful Lowcountry gem. Not only is Osprey Point a world-class layout, Osprey Point's large, elegant clubhouse is available for guest's use. It's a favorite of not only after-round libations and dining, it's a favorite location for wedding receptions and special event functions.A favourite of resort guests, Fazio used a superb natural canvas to create a masterpiece in playability and variety. The setting for the course features four large, natural lakes, fingers of saltwater marsh, and dense maritime forests of live oaks, pines, palmettos and magnolias. Into that backdrop, Fazio blended a par-72 layout that takes advantage of its setting. The course offers a wide variety of holes, each presenting its own unique challenges and beauty, which are bound to produce an enjoyable round. Each hole is unique and memorable. There are four distinctive par-3s, four extremely distinctive par-5s and ten outstanding par-4s ranging in length from 340 yards to 461 yards from the championship tees.

kiawah island golf resort - cougar point gc
One of the most dramatic vistas on the island is the middle of Cougar Point's front nine, along the Kiawah River, making this course a very memorable one. Originally named Marsh Point, Cougar Point was redesigned by Gary Player in 1996 and plays 6,875 yards. It features a great blend of short and long par-4s, great risk/reward par-5s and extremely scenic and challenging par-3s.
Cougar Point's long par-4s feature wide landing areas putting the driver in the player's hands, and open-run-up areas in front of the green making them reachable by the shorter hitters using a wood or long-iron. Its short par-4s feature great "target golf" where players must find specific landing areas on their drives to avoid obstacles and provide the best angle to the greens.
It has become a great strategic layout where players need to think their way around the course. For example, on No. 5, players want to be to the right to avoid hitting over and around trees. On No. 7 and No. 8, players must be to the left to avoid trees guarding approach shots. No. 6 has a spectacular view, and No. 17 is considered by many to be one of the prettiest and most challenging golf holes on the island. It was recently awarded a near-perfect 4½ stars in Golf Digest's "Best Places to Play" reader's poll.

kiawah island golf resort - turtle point gc
Jack Nicklaus once said that his number one goal in golf course design was to "make the player use his mind ahead of his muscles – to control his emotions sufficiently to really think through his options before drawing a club from the bag." To that we say, welcome to Turtle Point Golf Club at Kiawah Island Golf Resort, one of Jack's early designs and steeped in the finest traditions of classic golf course architecture. Because of its traditional design, many of the better players visiting Kiawah Island Golf Resort would rather play Turtle Point than any of the other courses on the island. With narrow fairway corridors, small greens, strategically placed water hazards and plenty of out-of-bounds, Turtle Point calls for great accuracy and intelligent strategies. Players not driving the ball well will struggle for par. Since it is one of the longest courses on the island, proficiency with fairway woods and long irons is a must. So is the ability to scramble. Like many of Jack's early courses, the greens on Turtle Point are small. So players need to be able to hit shots high if they want them to stop. The course calls for players to be able to shape their shots both left-to-right and right-to-left. They will need to be proficient with every club in the bag and won't necessarily hit a driver on every hole. And true to Jack's playing philosophy, Turtle Point plays best hitting to specific landing areas to get the best angles into the greens. Turtle Point experiences a lot of wind, as do all of the courses on Kiawah Island. The wind blows in different directions throughout the day. Trees protect many areas at Turtle Point so players won't always sense how the wind might affect their shots. Local knowledge is very important in dealing with these phantom winds. This exciting course was selected to hold many important championships including the Carolinas' Amateur, the Carolinas' PGA, the South Carolina Amateur and the 1990 PGA Cup Matches, the club professionals version of the Ryder Cup.
Turtle Point rated a near perfect "4 ½ Stars" in the 2006 Golf Digest "Best Places to Play" golf course guidebook.

kiawah island golf resort - ocean course
The Ocean Course at Kiawah Island Golf Resort is to have hosted the 2007 Senior PGA and will host the 2012 PGA Championships. The Ocean Course will become only the fourth course to host each of the PGA of America's major championships. Probably no other golf course in the world outside of the United Kingdom and Ireland is affected as much by the wind. From one round to the next, a player can experience up to an 8-club difference on holes depending upon the direction and strength of the wind. Built in 1991 by Pete Dye, there are no prevailing winds on the course. Dye took this into account when designing the course. In fact, he designed two courses into one – one for an easterly wind and one for a westerly wind. Located on the eastern-most end of Kiawah Island, The Ocean Course has more seaside holes than any other course in the Northern Hemisphere – 10 right along the Atlantic with the other 8 running parallel to those. Although it was originally designed to sit behind the dunes, Dye's wife, Alice, suggested raising the entire course to allow players unobstructed views of Kiawah's beautiful Atlantic coastline from every hole. This improved view, however, made the course substantially more demanding as it also exposed it to the area's brisk and unpredictable sea breezes. The Ocean Course gained instant notoriety as the host of the most dramatic "War by the Shore," abattle decided literally by the final putt of Sunday's final match in 1991's Ryder Cup Matches. In 1997, The Ocean Course hosted the World Cup of Golf, with the world's finest golfers from 32 countries competing in the stroke play tournament. The inaugural UBS Cup took place on the course in 2001, and in 2003 the course hosted the World Cup Championships World Cup. The PGA Professional National Championship was played in June 2005. The Ocean Course made its big screen debut in November 2000 when the movie "The Legend of Bagger Vance" opened at theaters nation-wide.
Get Directions
---