May EXCLUSIVE 2 Night Golf Special at Copper Point Resort
Priced From: $395.00
Valid to: April 30, 2018
* Prices shown include all taxes, per person, double occupancy unless noted otherwise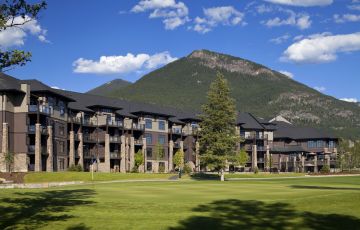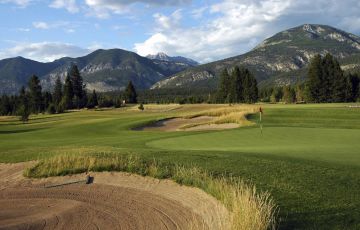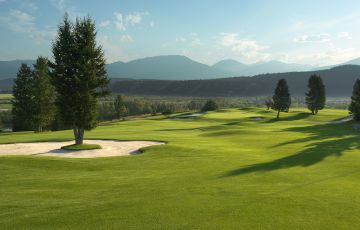 May EXCLUSIVE Golf Package Special at Copper Point Resort - Invermere, BC:

Stay 2 nights and play 36 holes at day at Copper Point GC. This is our biggest selling Columbia Valley Resort and you'll enjoy the large rooms with 1 large bed in each bedroom, balcony, kitchens and BBQ's in the 1 and 2 bedroom suites, dining room/lounge in the lobby and much more. This sample package includes 2 nights accommodation and 2 days of 36 holes on the Ridge and Point courses at Copper Point GC. We can customize your package for what you're looking to do. Add more nights and more golf!

**Must be booked by April 30, 2018 for travel in May 2018 only. Black out dates may apply
Not available May Long Weekend, May 25-27

$395.00 per person - double occupancy (standard resort room)
Package includes:
2 nights accommodation: standard resort room
2, 36 hole days at Copper Point GC (Ridge and Point courses)
pre-booked tee times (both rounds) with shared cart, range use
all resort and golf course taxes
(does not include meals, transportation)

$495.00 per person - single occupancy: standard resort room
$525.00 per person - double occupancy: 1 bedroom loft unit with trundle bed
$410.00 per person - quad occupancy: 2 bedroom unit

Please note that these are "From" prices and exact pricing may vary based on your actual travel dates / room type available / occupancy. If you have something specific in mind that is not exactly as shown we will customize a package to suit your needs.

We will always quote you a firm price prior to booking and deposits paid. Follow the link displayed for a golf package quote/submission and complete the form details with your specific dates and additional details that will help us with your request.

Space is subject to availability and certain dates and times may not apply due to black out dates. Feel free to call us using our toll free number located at the top of this page. Prices expressed on these pages are "per person" and based on double occupancy unless noted otherwise. BCgolfguide.com Inc. is a registered travel agent in the province of BC, and members of the IATA, ACTA, CPA of BC and IAGTO.




Copper Point Resort
Copper Point Resort
Our biggest selling Resort in the Valley! This year, enjoy a whole new level of stay and play in the Valley. Copper Point Resort, the Columbia Valley's newest upscale hotel, is the perfect complement to four-season fun and athletic appetites. Located just south of Radium, surround yourself with gorgeous Rocky Mountain views and a staff that loves outdoor pursuits as much as you do. After a day on the onsite championship Copper Point Golf Course, float in the stunning indoor or outdoor pool or take a few cozy moments to snuggle up by your fireplace. Copper Point Resort's comfortably chic guest rooms and suites are a step above the rest in the valley. And the sleek new Elements Grill, with views of the 1st hole, makes an ideal setting for recounting the day's best golf shots. Relax after a day on the course with a deep tissue massage at the full service Spa. Choose from standard resort rooms to 1 and 2 bedroom suites and loft units offering a large bed in each bedroom. Most units feature full, modern kitchens, hard wood floors, balconies or patios with a BBQ, flat screen TV's and lots of room. Add a lock-off room and make it a 3 bedroom unit. The Ridge Course at Copper Point is on-site with the Copper Course at Copper Point located across the road. Other championship courses including Eagle Ranch, Greywolf, Fairmont Riverside and Radium Springs are minutes away and the town of Invermere with it's shops and plenty of dining ideas is less than a 10 minute drive or ask the front desk staff to shuttle you to town. If you're looking for a weekend getaway with the ladies, guys or a full corporate group outing then experience Copper Point Resort. It's a great option for value, top service and fond memories.
Copper Point Golf Club (The Point - Championship course)
Copper Point Golf Club is an 36-hole facility located just south of Radium. This is a golf experience that will exceed your expectations from beginning to end. The Ridge Course is an 18-hole 'shorter' course that's perfect for new golfers or players looking to get the most out of the day. The Championship Copper Course is an award-winner and will challenge players of all levels with it's rolling greens, tight fairways and well-placed water and sand traps. You'll use every club in your bag. Their clubhouse patio which overlooks the 18th green is great for those post-round stories.
Radium Golf Course
The shorter course has been transformed into a par 72 beauty measuring up to 6,269 yards. Each hole now has four sets of tees to accommodate golfers of all skill levels. The forward tees play 5,389 yards and allow those who appreciated the shorter mountain course to continue to play from a similar length with an improved golf experience. Other changes include a new green being completed on the 1st hole, the reintroduction of the spectacular elevated tees on the 2nd, resurfacing of tee boxes on the 12th hole , re-contouring and and expansion of the 13th fairway and the reconditioning of bunkers throughout the course. In addition, the front nine of the course has been rerouted to provide golfers with signature views of the area and enhanced playability. The course continues to feature the dazzling vistas, exceptional conditioning and player-friendly attributes you've always loved. The Radium Course can be forgiving to the average golfer – just like you would expect from an old friend – while offering challenges for the low handicapper, making it a perfect complement to The Springs.



The Springs Golf Course
Nestled beside the Rocky Mountains, The Springs is set high along the banks of the mighty Columbia River. The wide open spaces of the Columbia Valley, the snow-capped Purcell Mountains to the west and the imposing Rockies to the east create a stunning backdrop. Playing between 4,944 and 6,818 yards, this meticulously maintained par 72 course unfolds along the Columbia River and blends seamlessly into the landscape – combining dramatic golf shots with naturally beautiful views. Add a relaxed, unpretentious atmosphere, attentive service and one of the best practice facilities in Canada, and The Springs is a Canadian classic you'll remember.




Get Directions
---