Casa de Campo 7 night golf vacation
Priced From: $3,819.00
Valid to: November 30, 2018
* Prices shown include all taxes, per person, double occupancy unless noted otherwise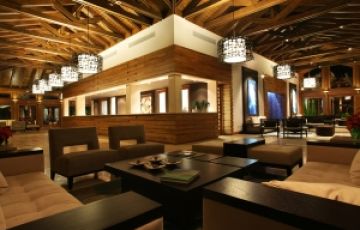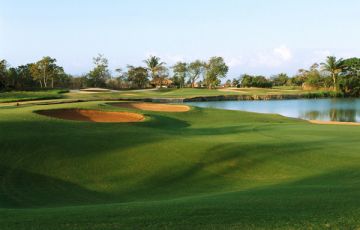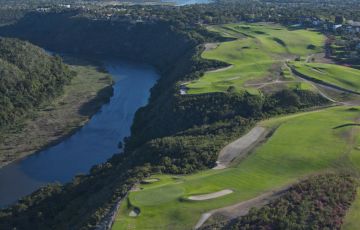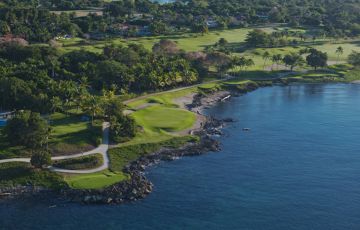 Experience one of the top golf resorts in the World with this 7 night golf package. Casa de Campo is always ranked in the top 25 Best Golf Resorts for many reasons other than the 3 incredible golf courses located on-site. The accommodations are 5-star along with the 13 restaurants and lounges, spa, tennis centre, equestrian centre, deep sea fishing and much more.

**note currency** FROM: $3819.00USD per person - double occupancy
Includes:
7 nights accommodation - Pete Dye Golf Lodge
use of 4-passenger touring cart daily
American breakfast, lunch and dinner or room service with applicable delivery charge (surcharge may apply for certain menu items)
unlimited drinks in resort restaurants, bar and lounges and Oasis golf cart (bottles, mini-bar, premium bottled water, specialty cognacs, premium liquor brands are not included)
1 daily round of golf on any of the 3 courses: Links GC, Dye Fore and Teeth of the Dog
pre-booked tee times, cart for 18 holes per day, range use, club storage
high-speed wireless internet, use of fitness centre
all resort and golf course taxes
(does not include airfare, local transfers, mandatory caddie per group on Teeth of the Dog at $25.00US per caddie per round)

Please note that these are "From" prices and exact pricing may vary based on your actual travel dates / room type available / occupancy. If you have something specific in mind that is not exactly as shown we will customize a package to suit your needs. Off season and Peak Season varies from region to region and with our golf course and hotel partners. Pricing provided is a general guide to assist you in planning your next golf vacation.

We will always quote you a firm price prior to booking and deposits paid. Follow the link displayed for a golf package quote/submission and complete the form details with your specific dates and additional details that will help us with your request.

Space is subject to availability and certain dates and times may not apply due to black out dates. Feel free to call us using our toll free number located at the top of this page. Prices expressed on these pages are "per person" and based on double occupancy unless noted otherwise.

BCgolfguide.com Inc. is a registered travel agent in the province of BC, and members of the IATA, ACTA, CPA of BC and IAGTO.

Follow the link displayed for a golf package quote/submission and complete the form details with your specific dates and additional details that will help us with your request.

Casa de Campo
Casa de Campo holds a very special place in the hearts of all who have visited. An amazing 7,000-acre hotel, resort and residential community, unlike any other Caribbean destination, Casa de Campo is a tropical gem on the southeastern coast of the Dominican Republic. Its unique cache of facilities and impeccable service by a warm Dominican staff are treasured by people of all ages who come from around the world. A tropical playground with world-class toys, Casa de Campo's unsurpassed amenities, choice of hotel and villa accommodations, variety of dining options and ease of accessibility by air or by sea, is the perfect vacation spot for families, golfers, couples, friends traveling together, for group meetings, incentives and destination weddings!
In addition to the phenomenal golf, Casa de Campo has many exciting sporting options, each featuring an expert staff and the most comprehensive facilities found in the Caribbean! Novices can try new sports, and experts can polish existing skills in tennis, sport shooting, and at our Equestrian Center. Stay in shape at the Fitness Center or simply relax at our private beach where you can enjoy a host of watersports or rejuvenate at Casa de Campo Spa or with retail therapy at our many shops and boutiques! Families enjoy the many bonding activities scheduled, as well as our supervised programs for kids and teens.
Links Golf Course at Casa de Campo
The beautiful inland Links course at Casa de Campo may not seem as exciting or challenging as its sea-side and cliff-hugging siblings, but don´t be deceived. The Links is interior on the Resort property with spectacular views of the Caribbean and the Resort. Its moderately hilly track, with tall bahia and guinea grass roughs plus multiple sand traps keep you on your toes. Thought by some to be reminiscent of traditional British and Scottish courses, there are several lagoons and even lakes with wading birds. There are five holes where water comes into play on this course making it a challenge unto itself. Ask any golfer who has played The Links and you will hear that this course is equally as challenging as the Teeth. It´s a demanding, merciless course for the unwary, with water coming into play on five holes.
Dye Fore GC at Casa de Campo
The numbers are staggering: 18 holes, 7,740 yards in length; 7 cliff-side holes dropping 300 feet to the Chavon River below; 40 mph gusting winds - and breathtaking 360 degree views! Introducing Pete Dye´s latest gem at Casa de Campo: Dye Fore. Of the 18 picturesque holes on the Dye Fore course, #12 and #15 are two of the greatest par three holes in the world. "Dye Fore has spectacular views of the Caribbean Sea, the Dominican mountains - the highest mountains in all the Caribbean, the Chavón River below, the Casa de Campo Marina and the Altos de Chavón artists´ village," said Gilles Gagnon, Director of Golf at Casa de Campo. "Visually, the course is intimidating and the par three´s are in a word... incredible." The Dye Fore addition to Casa de Campo´s golf triad is said to rival the "Teeth of the Dog."

Teeth of the Dog GC at Casa de Campo
Ranked as the number one course in the Caribbean and 43rd in the top 100 courses, worldwide, by Golf Magazine, Pete Dye´s classic Teeth of the Dog attracts the best professional and amateur golfers in the world. "The opportunity to carve out Teeth of the Dog was a once-in-a-lifetime experience," Pete Dye wrote in his book, Bury Me In a Pot Bunker. "Without proper heavy machinery to crack the coral, the tireless Dominican crew used sledgehammers, pickaxes and chisels." The result was a true masterpiece! Tricky shots such as a devilish dogleg and signature Dye obstacles captivate the world´s best. Toss-in trade winds courtesy of Mother Nature and "seven holes created by God," said Dye, who lays claim to creating only the other eleven, and you discover the magnetic force of this amazing course. But beware... if you dare to challenge the Dog, "at some point in your game, this Dog WILL bite you... guaranteed," chuckles Gilles Gagnon, Director of Golf at Casa de Campo. Top-notch caddies are ready and eager to guide you through the challenge of this beautiful course.
Get Directions
---