Destination BC Exclusive Fall Golf Special to Kelowna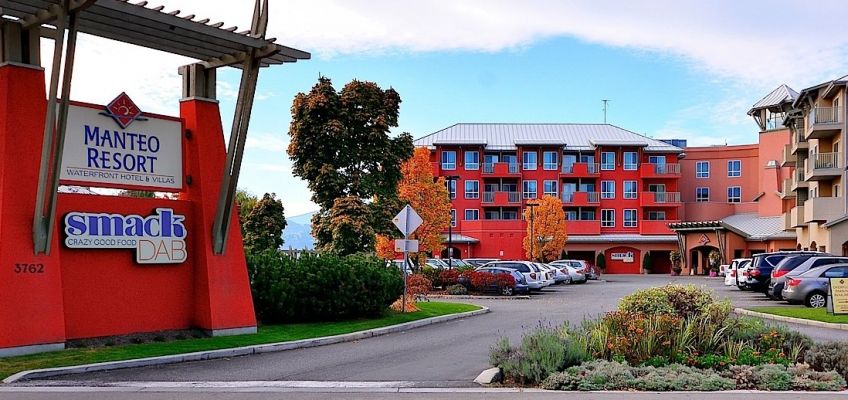 Priced From: $349.00
Valid to: October 31, 2017
* Prices shown include all taxes, per person, double occupancy unless noted otherwise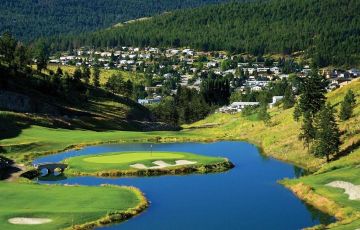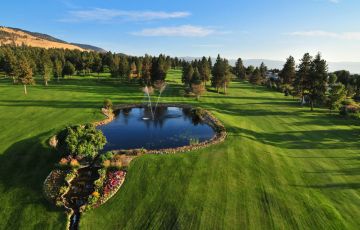 Exclusive Fall 2017 Offer
Manteo Resort Waterfront Hotel and Villas
From: $349 per person - all taxes inc. Oct 2 to Oct 31st

(Subject to space available at time of booking)
Two nights - Deluxe Guestroom (2 queens or 1 king)

Complimentary upgrade to lakeside at check in, based on availability

Complimentary buffet breakfast in Smack DAB Restaurant (2 guests max)

Complimentary welcome bottle of Okanagan Wine and turn down service

One dinner for two at Smack DAB Restaurant (at Manteo Resort) $100

One round of golf at Black Mnt with shared cart

One round of golf at Sunset Ranch with shared cart

Additional nights at $149 plus taxes, based on availability
Valid for Deluxe Guestrooms only. Ask about upgrade rates for One Bedroom Suites and Villas.

Ask about September pricing

Manteo Resort - Waterfront Hotel & Villas

Find your sanctuary here in the heart of Kelowna! Manteo Resort's 102 guestrooms, suites, and villas are both cozy and relaxing, brimming with perks like complimentary, newly upgraded Wi-Fi, in-room safes, and ultra-plush bedding. Upgrade to our lakefront accommodations for simply breathtaking views of Okanagan Lake. Stretch out in front of your flat-screen TV, or relax and enjoy the sunset on your private balcony or patio. And be sure to head to Smack DAB for our delicious buffet breakfast, available at a reduced rate for our guests – or for lunch, dinner, or casual drinks.
Manteo also has complimentary shuttle service to and from the Kelowna International Airport. Advance reservations are required and we will assist in coordinating this for you.
Black Mountain Golf Club
Black Mountain Golf Club is known for its spectacular course conditions from early spring to late fall. The course gives the golfer a feeling that is not found anywhere else in the area. Black Mountain Golf Club is a public Kelowna golf course that caters to players that enjoy large quick bent grass greens, perfectly manicured fairways, and an array of golf holes like no other in the Okanagan.
Sunset Ranch Golf Course
One of the best Kelowna Golf Courses for value and play-ability - Sunset Ranch Kelowna Golf Course was chosen by Golf Digest in the 2009 version of "Golf Digest's Best Places to Play", and voted "Finalist: Kelowna's Best Golf Course 2011″ in Okanagan Life magazine and voted Finalist – Kelowna's Best Golf Course- Best of Kelowna 2013!
BCgolfguide.com Inc. is a registered travel agent in the province of BC, and members of the IATA, ACTA, CPA of BC and IAGTO.

Follow the Book Now link displayed for a golf package quote/submission and complete the form details with your specific dates and additional details that will help us with your request.


Manteo Resort - Waterfront Hotel & Villas
Treat yourself to the finest waterfront accommodations on Okanagan Lake at Manteo Resort. All of our lodging includes free Wi-Fi, flat-screen TVs, private balconies or patios with beautiful views, luxurious feather beds and plenty of space to spread out and relax. Whether you're looking for a cozy, classic room or something more luxurious, Manteo Resort has accommodations of every size and shape.
All Manteo Resort accommodations include the following:
Beautiful lake, mountain or garden views
Free Wi-Fi
Private balconies or patios
Flat-screen TVs
Luxurious duvets, feather beds and feather pillows
Alarm clocks with iPod docking stations
In-room safes
Daily newspaper delivery
Robes
Coffeemakers
Discounted hotel breakfasts at Smack DAB
No Service Fee Guarantee
We give our guests the "Manteo Resort No Surprise Service Fee Guarantee."
At Manteo Resort there are many pleasant surprises. Like the exceptional service, the extraordinary comfort of your room, the long list of amenities and the perfect surroundings on Okanagan Lake. What you won't be surprised by is a long list of extra charges. That's right. No resort fees, no charge for local phone calls, Internet, national newspaper, or parking. Manteo Resort – be pleasantly surprised!
Manteo Resort's scenic location, smack dab on Okanagan Lake, provides an unparalleled dining experience in Kelowna. By combining delightful cuisine and spectacular views, our Smack DAB restaurant has become a favorite among visitors and locals alike.

Watch boats and take in the breathtaking views from the largest lakeside patio in the city while trying our crazy good food. Smack DAB's menu is filled with new-style classics and big bold flavours that you're sure to love.

Guests who choose to sit in our lively indoor dining room can watch Smack DAB's chefs cook meals in a classic forno oven, thanks to the restaurant's open concept kitchen.

Our bar serves the largest selection of craft beer in Kelowna – 12 taps and 20 by the bottle – all brewed by British Columbia and Pacific Northwest producers. Okanagan-inspired wines and seasonal cocktails are also available.

Whether you want a quick beer or a romantic lakeside dinner, Smack DAB at Manteo Resort is the place to be for premium casual dining in Kelowna.

black mountain golf club
Black Mountain golf course is more than just a fun, unique, friendly full par-71 challenging golf course located in Kelowna, BC. It features 18-holes worth of breathtaking Okanagan landscape and a signature island green. We value spectacular, lush course conditions with a relaxed, inviting atmosphere. We're not trying to distract you from your game – we just want to ensure you have the perfect ambiance.
Golf groups traveling on an Okanagan golf package have quickly learned the Black Mountain Golf Course is a course that provides extreme fun and a test of their golf skills. The front nine can be very demanding with critical position to allow for par chances and avoid the dreaded double bogie! Our favorite is hole number 4. An elevated tee box that varies in distance with the combination of tee box location ( with a total of 5 ) along with pin placement and the wind direction. Golf tip - setup slightly right of the green, even if you do not draw the ball back, a kick off the hill if you are far enough will often provide very favorable!

The Grill at Black Mountain golf is our answer to "what smells so good!?" Mouth-watering locally influenced selections, The Grill will satisfy. With affordable prices, you won't mistake your bill for your scorecard. Enjoy an ice-cold beverage with friends after a round and find out why "that's delicious" is more than just a common saying around here. Nachos are a favorite at Black Mountain golf course restaurant.

Thoughtfully and meticulously crafted, Black Mountain golf is a multi-generational, master-planned golf community located in Kelowna, British Columbia.

sunset ranch golf & country club
One of the best Kelowna Golf Courses for value and playability, Sunset Ranch Golf Course was chosen by Golf Digest in the 2009 version of "Golf Digest's Best Places to Play", and voted "Finalist: Kelowna's Best Golf Course 2011″ in Okanagan Life magazine!
Sunset Ranch Golf & Country Club is therefore considered to be among the best courses in Okanagan golf. Conveniently located just minutes from the Kelowna BC International Airport, Sunset Ranch's natural beauty is rivaled only by its exceptional course conditions and playability for golfers of all skill level.
A few golf tips for playing Sunset Ranch Golf and Country Club. Hole 1 - A testy par 5, dogleg right which is way out there at about 230 yards, so a big poke is required. Second shot, keep the ball down the left side of the fairway to avoid blockage from the sole fir tree that will hinder any wedge into the green. The alternative if you are right side, hit a chopped down 5 or 6 iron into the front of the green side bank, take the speed off, this can work with the correct speed.

A "must play" Sunset Ranch golf - Stunning vistas, rolling terrain, and the ever-present Scotty Creek contribute to the beauty and challenge of this Kelowna golf course. Come and enjoy Kelowna's Best Value for Championship Golf! BCgolfguide.com has the best golf packages with Sunset Ranch golf course included in the rotation.

There is always something going on at the clubhouse at Sunset Ranch Golf & Country Club! The beautiful clubhouse consisting of 2 large patios, a 40 seat lounge, and a 120 seat dining room makes it the ideal location for your event. From Cocktail Parties to Buffet Dinners, the Sunset Ranch Food and Beverage Department can customize your event to add your own personal touch.

Get Directions
---