Pinehurst Resort 4 night stay and play package
Priced From: $1,199.00
Valid to: December 31, 2018
* Prices shown include all taxes, per person, double occupancy unless noted otherwise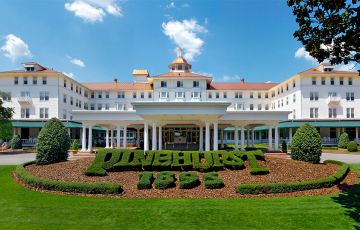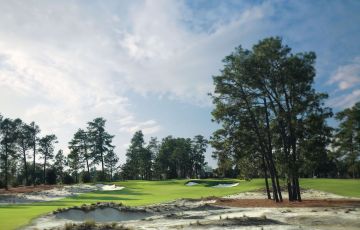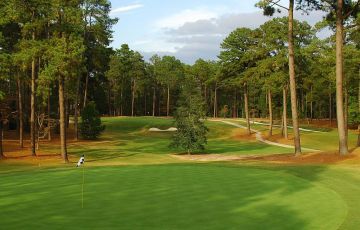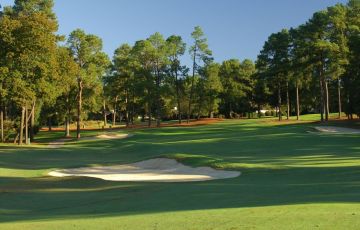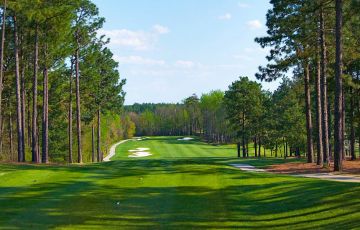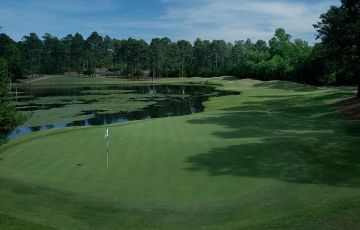 Pinehurst Resort in North Carolina is a true mecca for great golf. Enjoy great southern charm, hospitality, dining and small town feel. Then there's the golf. Nine championship golf courses including the famous #2 course. This is your year to experience a great destination with this 4 night golf package. Stay longer and play more!
**note currency** FROM: $1199USD (low season) to $2495USD (peak season)
Package Highlights:
4 nights accommodation - deluxe room at Carolina Inn (1 or 2 beds)
daily breakfast
2 rounds of golf per person: choice of #1, #3, #5, #6, #7, #8 or #9
1 round on #2**
pre-booked tee times, shared cart, range use, club storage, resort shuttle, all resort and golf course taxes

(does not include local transportation, meals unless stated)
**caddies not included, paid locally
Please note that these are "FROM" per person prices and exact pricing may vary based on your actual travel dates, room type that's available and occupancy. If you have something specific in mind that is not exactly as shown we will customize a package to suit your needs. Low season and Peak Season rates vary from region to region and with our golf course and hotel partners. Pricing provided is a general guide to assist you in planning your next golf vacation.
We will always quote you a firm price prior to booking and deposit paid. Follow the link displayed for a golf package quote/submission and complete the form details with your specific dates and additional details that will help us with your request.
Space is subject to availability and certain dates and times may not apply due to black out dates. Feel free to call us using our toll free number located at the top of this page. Prices expressed on these pages are "per person" and based on double occupancy unless noted otherwise.

Pinehurst Resort
Founded in 1895 in the heart of the North Carolina Sandhills, Pinehurst Resort features nine world-class golf courses, an award-winning spa, three historic hotels, 40 condominiums, tennis and other recreational activities. Widely known as the cradle of American golf, Pinehurst has served as host to more single golf championships than any other site in America, with events including the U.S. Open, PGA Championship, Ryder Cup Matches and many other national championships. In 2014, Pinehurst and No. 2 hosted unprecedented U.S. Open and U.S. Women's Open Championships in back-to-back weeks.
Pinehurst Resort was originally established in 1895 by James Walker Tufts as a health retreat. The towering pines and mild southern breezes were thought to have medicinal effects. The firm of Frederick Law Olmstead, the landscape designer acclaimed for creating New York City's Central Park, prepared the physical plan for Pinehurst.

Accommodations:
Pinehurst offers three historic hotels, as well as condominiums and villas, all within walking distance of one another and each located within the charming Village of Pinehurst. Complimentary resort transportation is offered from all accommodations to golf and other resort amenities.
• The Carolina (or the Carolina Hotel) opened in 1901 and was soon dubbed the "Queen of the South." This signature hotel has 230 guest rooms including suites.The Carolina is on the National Register of Historic Places.
• The Holly (or the Holly Inn) was Pinehurst's first hotel and is located in the heart of The Village. The Four Diamond Holly features 82 guest rooms and suites each as unique as the hotel itself. Every detail has been attended to. Decorating the walls and floors are a series of natural botanical prints and images, reminiscent of times gone by. You'll see the fine touches in every nook, from the jewel-toned Tiffany lamps, to the reading selection in the library, and to the comfort of a rocking chair in your guest room.
• The Manor (or the Manor Inn) is located a short walk from the Carolina Hotel and is the most modest of Pinehurst's 3 hotels. Built in 1923, the Manor features 42 guest rooms including suites and adjoining rooms.
• The Carolina Villas are located adjacent to the Carolina Hotel and feature 4 separately - keyed bedrooms each with 2 queen beds, connecting to a central living area and kitchen. First floor Villas feature a private patio. Second floor Villas feature a private porch. The Villas are ideal for golf groups.


Pinehurst - No. 2
Pinehurst No. 2, the centerpiece of Pinehurst Resort, remains one of the world's most celebrated golf courses. It has served as the site of more single golf championships than any course in America and, in 2014, hosted 14 days of championship play with back to back U.S. Open and U.S. Women's Open Championships for the first time in their history. Opened in 1907, No. 2 was designed by Donald Ross, who called it "the fairest test of championship golf I have ever designed." Ross was associated with the course for nearly a half-century, improving the course continually until his death in 1948. No. 2 is best known for its crowned, undulating greens, which are some of the most complex and widely hailed in the world. Ross believed in providing golfers with strategic choices, and Pinehurst No. 2 was intended to epitomize that philosophy. In February of 2010, the design firm of Bill Coore & Ben Crenshaw began to restore the natural and strategic characteristics that were the essence of Ross's original design. The project included the removal of about 35 acres of turf and the reintroduction of hardpan, natural bunker edges and native wire grasses. Today, you are playing the restored course as originally envisioned.

Pinehurst - No. 4
**currently closed for renovations by Gil Hanse and reopens late fall 2018**

No. 4 (Tom Fazio) combines the classical routing of Donald Ross with the contemporary vision of Tom Fazio, who re-imagined the course in 2000. Fazio, who considered No. 4 his tribute to Pinehurst, tipped his hat to Ross with crowned greens on many holes, and the addition of more than 140 pot bunkers. These, combined with several sprawling waste bunkers and more traditional sand traps, give the track a dizzying 188 sand hazards. Though adjacent to No. 2, No. 4 has a distinctively different look, in large part thanks to the lake that acts as its centerpiece. The lake comes into play on several holes, including the par-5 13th, which demands a drive to a small landing area bounded by the lake on the left and bunkers on the right. From here, big hitters will be tempted to go for the green – which is tucked between sand and water – in two. Two par-3s, the 4th and the 14th, require you to carry the lake if you're going to be putting for birdie. Most agree that Fazio elevated a good course to a great one with his work on No. 4. Indeed, it was selected as the co-site of the 2008 U.S. Amateur.
Pinehurst - No. 6
No. 6 (Tom Fazio) rests a few miles from the center of Pinehurst, and is also a departure from the first five courses in design and temperament. It's the first Pinehurst effort by Tom Fazio, who can claim more courses ranked among the top 100 in the U.S. than any other architect. Tom began work on No. 6 in 1975 with his uncle George, a famed designer in his own right. The result was a more rugged, undulating track that demands bigger drives and more aggressive approaches. Tom returned in 2005 to carve new bunkers, soften angles and seed faster greens. The addition of native wiregrass throughout the course gives it a distinctive Pinehurst feel. Between the water, bunkers, wetlands and woods, there are plenty of perils on this par-71 track. The back nine is among Pinehurst's most challenging halves.
Pinehurst - No. 8
Building a new course grand enough to celebrate Pinehurst's first 100 years might intimidate some architects, but Tom Fazio took on the assignment with gusto. No. 8 – which opened in 1996 – combines classical Donald Ross concepts (like dips and swales around the greens and false fronts) with the whimsical snarls that have become Fazio's calling card. Fazio took full advantage of the 420 acres of rolling terrain and natural wetlands to fashion a course that's visually enthralling, challenging and yet fun to play; it's a nod to No. 2, but hardly a replication. Some feel that No. 8 synthesizes all the elements of the Pinehurst golf experience into one layout better than any of the other courses, and many mid- and higher-handicappers find it the most enjoyable track to play. The greens here are larger than on No. 2 – and the roll-offs and collection areas not quite as severe – though with their sloping edges, you shouldn't get complacent on your approach shots. Close proximity of greens to subsequent tees and beautiful scenery make No. 8 a pleasure to walk, but it's no stroll in the park. This championship track has twice been home to the PGA Club Pro Championship. Just a short drive away from the main club, the Pinehurst Spirit is quite alive at No. 8.

Pinehurst - No. 5
No. 5 was designed in 1961 by Ellis Maples, a protege of Donald Ross, and part of North Carolina's first family of golf course design and construction. (His father Frank, was Pinehurst's golf course superintendent for over 40 years, beginning in 1907) Like Ross, Maples believed that it was the designer's job to find the golf course that resided in the land's structure, and his fealty to the land is evident in No. 5's variety—holes meandering up and down, left and right, and over water. (No. 5 has more water hazards than any of the other courses at Pinehurst.) The combination of water carries, elevated greens and overall greater yardage favors longer hitters. One of Pinehurst's prettiest holes, the par-3 15th, is here. Known as the Cathedral Hole, it's fronted by a pond and encircled by a stand of ancient pines, the tops of which resemble the pipes of an organ. The Cathedral Hole actually predates No. 5; it was once the sixth hole on No. 3. No. 5 offers classic Pinehurst golf—more challenging than Nos. 1 and 3, but less taxing than No. 2. It won't disappoint.



Pinehurst - No. 1
Pinehurst features nine golf courses by world-class designers Donald Ross, Rees Jones, Jack Nicklaus and Tom Fazio. Pinehurst No. 2 is consistantly placed among the nations top courses. No. 4 and No. 8 are also nationally ranked.

Pinehurst No. 1 (Donald Ross) Recalling his Scottish heritage, Ross made liberal use of bunkers, both across the fairway and around the green. Don't let the short 6,089-yard par 70 fool you; wild drives or a sloppy short game can make for a long day. No. 1 was a great start for Pinehurst, and it's a great start for your visit.



Pinehurst - No. 3
Pinehurst No.3 (Donald Ross) -This classic Donald Ross design (circa 1910) is the shortest course at Pinehurst at just 5,862 yards. But don't let its modest distance fool you. Tiny elevated greens – averaging just 4,500 square feet each – demand precision, the kind of delicate approaches that will surely come in handy as you gear up for No. 2.

Pinehurst - No. 7
Pinehurst No. 7 (Rees Jones) - Pinehurst No. 7 was designed by Rees Jones in 1986 and is located on the site of a forgotten nine-hole employee course that was laid out by Donald Ross. At 7,216 yards, No. 7 is one of Pinehurst longest tracks, unfolding over dramatic, hilly terrain that's dotted with wetlands in lower-lying areas. Elevated tees let you register the challenges that wait; elevated greens demand approaches struck with authority. No. 7 has many colorful flourishes. Old bunkers from the employee course that Jones uncovered during initial routing adorn the tee of the par-4 4th hole; one wetlands area, the "Devil's Gut," must be cleared on your approach to the short par-4 7th hole, and Jones' trademark "Fingers" bunker demands accuracy on 16.



Pinehurst - No. 9
Pinehurst No. 9 (Jack Nicklaus) - Built by Jack Nicklaus in 1988, Pinehurst No. 9 is a magnificent 7,122-yard course and is as meticulously designed as it is compelling. An intriguingly well-balanced course, this Nicklaus classic features wide fairways and undulating putting surfaces that test your mind and your true golfing ability. Each hole has been customized to create a great diversity in the way it can be played. Added to this uniqueness are tall pines, grassy swales, groomed waste areas and a natural variety of lakes and streambeds beautifully fashioned to give No. 9 its own distinctive look.
Get Directions
---