Prestige Beach House Kelowna 3 night - 3 round golf package
Priced From: $549.00
Valid to: December 31, 2018
* Prices shown include all taxes, per person, double occupancy unless noted otherwise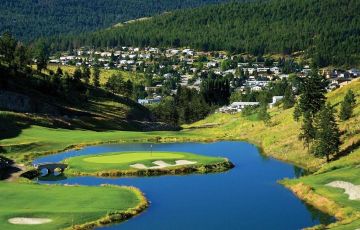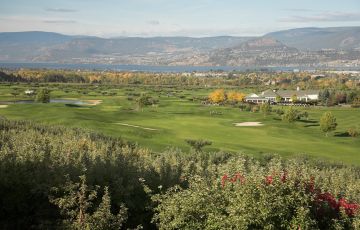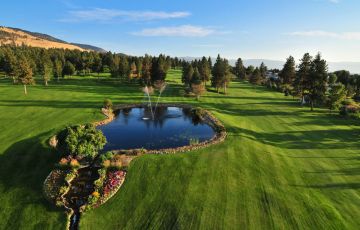 Stay downtown, play 3 great Kelowna golf courses and save! This 3 night, 3 round package includes accommodation at the Prestige Beach House Kelowna located adjacent to the waterfront. Enjoy the casino, shops and plenty of dining options a few steps away. You'll also enjoy 3 unique golf courses including Sunset Ranch with it's tree-lined fairways, Black Mountain with it's rolling contours and Harvest GC with it's wonderful views and open fairways. Stay longer and play more golf.
FROM: $549.00 per person - double occupancy (May onward) Travel in April and save more!
Includes:

3 nights - standard room with 1 or 2 beds

3 rounds of golf per person: Harvest (or swap for Quail, Bear, Gallagher's, Tower) along with Sunset Ranch, Black Mountain (Black Mnt played on afternoon of arrival day)

pre-booked tee times with shared cart

all hotel and golf course taxes
(does not include meals, local transportation)


Please note that these are "From" prices and exact pricing may vary
based on your actual travel dates / room type available / occupancy. If
you have something specific in mind that is not exactly as shown we
will customize a package to suit your needs.

We will always
quote you a firm price prior to booking and deposits paid. Follow the
link displayed for a golf package quote/submission and complete the form
details with your specific dates and additional details that will help
us with your request.

Space is subject to availability and
certain dates and times may not apply due to black out dates. Feel free
to call us using our toll free number located at the top of this page.
Prices expressed on these pages are "per person" and based on double
occupancy unless noted otherwise. BCgolfguide.com Inc. is a registered
travel agent in the province of BC, and members of the IATA, ACTA, CPA
of BC and IAGTO.

Follow the link displayed for a golf package
quote/submission and complete the form details with your specific dates
and additional details that will help us with your request.

Prestige Beach House Kelowna
Situated directly across from Kelowna's famous Hot Sands Beach, the elegant Prestige Beach House Kelowna is conveniently located close to tourist attractions, business, shopping and recreational areas. A short walk along the waterfront is Prospera Place, Lake City Casino, Kelowna's cultural district and many other attractions and shopping boutiques. World-class golf and ski resorts are located nearby. Enjoy activities such as boating, hiking, swimming and winery tours. You'll discover that every member of our staff possesses a refreshing combination of friendliness and professionalism. As a guest of The Prestige Beach House Kelowna, you are assured the highest level of integrity and customer service.

The Prestige Beach House now offers additional amenities such as cruiser bikes, sporting equipment, games, and beach toys which are complimentary, so guests can venture out and experience Kelowna. Recent updates to the property include the replacement of our balcony doors (with new, sound-controlled glass), re tiling of the balconies themselves, and removal of the exterior glass enclosures. Guest rooms will also continue to be improved with updated soft furnishings (curtains, bed scarves, etc.) and decor being added in the spring 2017.

The onsite restaurant West Coast Grill has made a wonderful partner for us in Kelowna, with locals and visitors alike enjoying the seafood inspired menu. The new Cach��© lounge opened just last week and offers craft cocktails and a great menu to share amongst friends.

black mountain golf club
Black Mountain golf course is more than just a fun, unique, friendly full par-71 challenging golf course located in Kelowna, BC. It features 18-holes worth of breathtaking Okanagan landscape and a signature island green. We value spectacular, lush course conditions with a relaxed, inviting atmosphere. We're not trying to distract you from your game – we just want to ensure you have the perfect ambiance.
Golf groups traveling on an Okanagan golf package have quickly learned the Black Mountain Golf Course is a course that provides extreme fun and a test of their golf skills. The front nine can be very demanding with critical position to allow for par chances and avoid the dreaded double bogie! Our favorite is hole number 4. An elevated tee box that varies in distance with the combination of tee box location ( with a total of 5 ) along with pin placement and the wind direction. Golf tip - setup slightly right of the green, even if you do not draw the ball back, a kick off the hill if you are far enough will often provide very favorable!

The Grill at Black Mountain golf is our answer to "what smells so good!?" Mouth-watering locally influenced selections, The Grill will satisfy. With affordable prices, you won't mistake your bill for your scorecard. Enjoy an ice-cold beverage with friends after a round and find out why "that's delicious" is more than just a common saying around here. Nachos are a favorite at Black Mountain golf course restaurant.

Thoughtfully and meticulously crafted, Black Mountain golf is a multi-generational, master-planned golf community located in Kelowna, British Columbia.
harvest golf club
Spectacular Okanagan views, award winning service, attention to detail and golf that is second to none! At 7109 yards, The Harvest Golf Club, voted best golf course in Kelowna, is a championship length layout designed by renowned Canadian golf course architect, Graham Cooke. The Harvest Golf Club provides an excellent location for events of any size making us the best wedding venue in Kelowna. Every detail of the Clubhouse has been carefully considered for the enjoyment of our guests.
The Harvest Golf Club is one of the most meticulous golf courses in the area when it comes to "Attention to Detail" , General Manager Gilles Dufort ensures the local and out of town golf traveler will have a top notch experience. With bag boys circling the parking lot to run you up to the clubhouse and preparing your cart to the starter that will give you a detailed synopsis of what to expect on the course.

Include The Harvest Golf Club in your next Okanagan golf vacation! Along with being one of nature's most picturesque playing fields, The Harvest Golf Club also features the Okanagan's largest Practice Facility. With 16,000 sq. ft. of grass tees, target areas, a 1,800 sq. ft. putting green, 2 dedicated chipping greens with sand bunkers, and staffed with PGA of Canada Professionals to help you take your game to the next level, The Harvest Practice Facility is the best in the Okanagan. We invite you to hit a bucket of balls or spend time working on your short game anytime. The Harvest Golf Club Practice Facility is open to everyone.
The Harvest Grille is recognized as one of the top casual dining spots in Kelowna.

The Harvest Grille Restaurant in Kelowna offers a unique Okanagan flavour with west coast flair, Chef Michael Miller created a menu that is sure to excite your taste buds! Everything from our 19th Greens Salad to the Prime Rib Dip to a Lamb Sirloin, The Harvest Grille will satisfy even the most discerning eater. And lets not forget the world class views from our Patio and Veranda.


sunset ranch golf & country club
One of the best Kelowna Golf Courses for value and playability, Sunset Ranch Golf Course was chosen by Golf Digest in the 2009 version of "Golf Digest's Best Places to Play", and voted "Finalist: Kelowna's Best Golf Course 2011″ in Okanagan Life magazine!
Sunset Ranch Golf & Country Club is therefore considered to be among the best courses in Okanagan golf. Conveniently located just minutes from the Kelowna BC International Airport, Sunset Ranch's natural beauty is rivaled only by its exceptional course conditions and playability for golfers of all skill level.
A few golf tips for playing Sunset Ranch Golf and Country Club. Hole 1 - A testy par 5, dogleg right which is way out there at about 230 yards, so a big poke is required. Second shot, keep the ball down the left side of the fairway to avoid blockage from the sole fir tree that will hinder any wedge into the green. The alternative if you are right side, hit a chopped down 5 or 6 iron into the front of the green side bank, take the speed off, this can work with the correct speed.

A "must play" Sunset Ranch golf - Stunning vistas, rolling terrain, and the ever-present Scotty Creek contribute to the beauty and challenge of this Kelowna golf course. Come and enjoy Kelowna's Best Value for Championship Golf! BCgolfguide.com has the best golf packages with Sunset Ranch golf course included in the rotation.

There is always something going on at the clubhouse at Sunset Ranch Golf & Country Club! The beautiful clubhouse consisting of 2 large patios, a 40 seat lounge, and a 120 seat dining room makes it the ideal location for your event. From Cocktail Parties to Buffet Dinners, the Sunset Ranch Food and Beverage Department can customize your event to add your own personal touch.

Get Directions
---