Hotel Zed Kelowna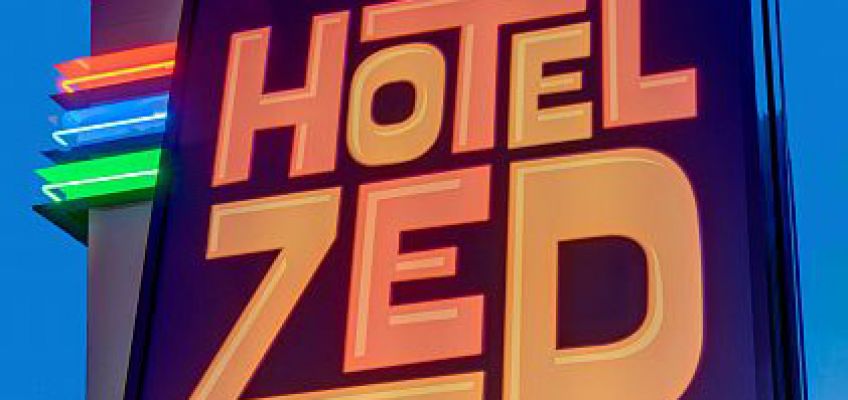 Priced From: $299.00
Valid to: April 30, 2017
* Prices shown include all taxes, per person, double occupancy unless noted otherwise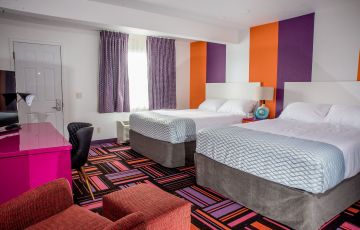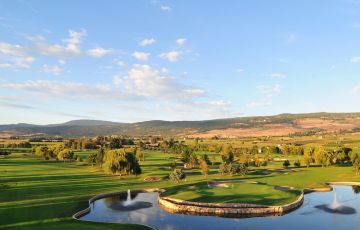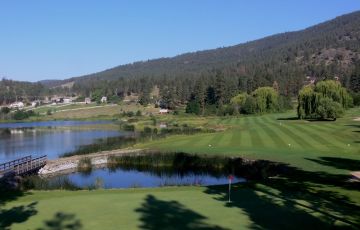 Looking for a Funky way to spend a spring golf break in Kelowna? Look no further Hotel Zed is it!
Enjoy 2 nights at the Hotel Zed - standard room type only (queen or king bed) and golf Shannon Lake, Shadow Ridge and Kelowna Springs - shared carts / all taxes - double occ from $299 anytime in April 2017 - Excluding Easter weekend. We can offer alt prices based on other room types. Rooms with queen and double from $319 pp

Shared carts / all taxes / walk to dining - just around the corner from this fun hotel! You gotta try it once. Enjoy the roof top deck after golf too.
Please note that these are "From" prices and exact pricing may vary based on your actual travel dates / room type available / occupancy. If you have something specific in mind that is not exactly as shown we will customize a package to suite your needs.
We will always quote you a firm price prior to booking and deposits paid. Follow the link displayed for a golf package quote/submission and complete the form details with your specific dates and additional details that will help us with your request.
Space is subject to availability and certain dates and times may not apply due to black out dates. Feel free to call us using our toll free number located at the top of this page. Prices expressed on these pages are "per person" and based on double occupancy unless noted otherwise.
BCgolfguide.com Inc. is a registered travel agent in the province of BC, and members of the IATA, ACTA, CPA of BC and IAGTO.
Follow the link displayed for a golf package quote/submission and complete the form details with your specific dates and additional details that will help us with your request.

Hotel Zed Kelowna
There has never been a more fun hotel in Kelowna BC, like, EVER. Smack dab downtown! Across the street from the lake, the park, the beaches, the boardwalk, the watersports & waterpark!
We have free roller skates. Who does that? Plus we've got a fleet of free bikes, including kids bikes and a tandem for you to take out.
There's a Ping Pong Lounge to completely and utterly hang out in. Wii, ping pong, games and ample places to play cards. Plus there's free awesome coffee all day long in our lobby.
Private mini disco, with perpetual fog machine. Waltz on in… plug in your phone… disco lights jive to your playlist. Impromptu dance parties just got more excellent.
Pool, hot tub, large sauna and sun bathing deck. This is Kelowna after all. Typewriters and Zed postcards in our lobby, plus a vinyl listening station and board games.
Stunning rooftop patio overlooking Kelowna's City Park and the Okanagan Lake! Sit around the fire pit, soak in the views, watch the sun set in a rocking chair.
What did we tell you? The most fun hotel EVER! And we haven't even told you about the completely renovated and fully funkified rooms yet…
kelowna springs golf club
Kelowna Springs Golf Club, designed by renowned Canadian golf course architect Les Furber, has garnered accolades from both the press and golfers of all abilities since first opening in 1990.

PRESS - Okanagan Life Magazine recognizes Kelowna Springs golf club as the second best 'Readers Choice' golf course in Kelowna. Dreamscapes Travel Magazine (Globe & Mail) recognizes Kelowna Springs as one of 6 'play the best for less gems' across Canada. Click here to read the article. Golf for Women magazine once rated Kelowna Springs the top semi-private course in Canada.

In addition to the full length, Championship 18 hole layout, you will find Legends Classic Grill – the Club's restaurant and banquet facilities with a decor paying homage to the legends of golf.
Legends Classic Grill is on the second level of the Clubhouse at Kelowna Springs Golf Club and features two decks overlooking the golf course, and is open to the public. Legends Classic Grill is on the second level of the Clubhouse at Kelowna Springs Golf Club and features two decks overlooking the golf course, and is open to the public. Our menu features traditional clubhouse favourites and fine dining choices influenced by Pacific Northwest tastes. We are open for daily breakfast, lunch and dinner service from the start of each golf season until the end of October.

In addition to our regular daily service, we offer several great weekly specials. Sunday Brunch is offered weekly from early April through to Thanksgiving Day weekend between 10am and 1pm - classic Brunch favourites are served fresh from the kitchen (prices vary from $8 to $12 generally, and the menu will feature new items twice each month). Special Easter & Mother's Day brunches are also available - reservations are recommended on these days. Also on Sundays, we offer a complete Prime Rib Dinner for Two, including a bottle of wine, for $64 (from 4:30pm). Add nine holes of golf in the late afternoon and the price is $109 - check with the Golf Shop to confirm availability and current start times.
shadow ridge golf club
One of Kelowna, British Columbia's most exciting 18 hole golf courses. Three things make a great golf course,scenery,challenge and fun. Shadow Ridge golf course has them all. Opened in 1988, Shadow Ridge Golf Club offers a wide variety of holes, excellent greens, water hazards, and majestic willow trees to enhance your complete golfing experience. A wide variety of holes, superb greens, water hazards, and majestic willow trees enhance your golfing experience. A friendly and professional staff ensures a pleasant and relaxed atmosphere. Shadow Ridge golf offers full facilities include a pro shop with club and power cart rentals, restaurant and lounge. Tournaments are welcome with groups of any size.
Shadow Ridge golf club is ideal for a Kelowna golf package where you could visit here as your first Kelowna golf course on your rotation. It is relatively straight forward and easy to play, just be sure to place your ball on the correct side of the fairway, the tall and mature Willow trees will force you to play punch shots and hinder your ability to get the green to make par!
The Shadow Ridge Golf Course is fully stocked carrying the latest equipment from the golf industry's leading manufacturers. The prominent brand in our shop for 2015 is Nike Golf featuring the game changing line of Covert woods and irons. Nike Golf equipment is the club of choice for Tiger Woods, Rory McIlroy and Nick Watney along with many other top players on tours worldwide. In addition we also stock Cleveland Golf equipment featuring the Classic Family of woods and hybrids along with altitude irons and rotex wedges. We carry a full range of quality apparel from manufacturers such as Antigua, Cutter & Buck, Greg Norman, Nike Golf, Loft 8, Jamie Sadock, Sun Ice, and Puma Golf.


shannon lake golf club
Shannon Lake Golf Club, playing amongst towering pines and moderate elevation changes, is a true test to golfers of all abilities. The signature 8th hole is a 425-yard risk/reward par 4, played alongside beautiful Shannon Lake. One would have to consider Shannon Lake golf course a hidden gem for the Okanagan Valley. Situated in West Kelowna (formally Westbank) the 6,294-yard layout will have you using every golf club in the bag.
The Shannon Lake Golf Club unveiled its new clubhouse in conjunction with the beginning of the 2015 season. Visit Courses Restaurant for a wide array of menu items, a constantly evolving wine list, and local craft brewery selections. Also in store of 2017 are renovated teeing areas on holes #3, #7 and #14.

Be sure to determine the pin location on hole #3. A treacherous tired green with a high demand for a wedge in. If you hit the hill without a good kick forward, be prepared for a putt that can be easily 40 to 50 feet if the pin location is tucked in the top back! You will cross the quite residential road to get to the elevated forth tee. you may notice the flowers, a local resident takes it upon herself to beautify the tee box. Play a high 6 iron, perhaps 5 demanding on your skill and length off the tee. Not a lot of error for margin left or right. The green is relatively flat, par is considered good here. Hole 5 is not long, but your 2nd shot is critical. Suggestions, play a 3 or 4 iron or long hybrid down the middle, do not pull it left, trees and bunkers will hinder your ability to have a shot to the green, which has a stream running along the front. A gentle hill behind the green will allow for some fortunate bounces down to the green.
The back nine at the Shannon Lake golf course provides some neat peek a boo vistas looking down to Okanagan Lake. Hole #12 climbs upwards and if you are daring, Strike a strong 3-wood and you can be green side, but beware of the ridge in the green. Making birdie here is very "do-able" if your approach is well received into the green.
Hole #13 is a short par 5, but requires two well placed shots. Driver off the tee here is a no-no. An easy 3- or 5-wood will suffice, then your second shot up the hill requires easily two extra clubs extra. So, eye it up before you make a club selection. This two tiered green also gives you a chance at birdie, or more often, a bogey. Once you head over to hole #14, you have arrived at the highest point of the Shannon Lake Golf Club. Another easy par 4, assuming you hit it straight down the middle, a mid- to long-iron off the tee is all you need here. Look for turtles in the deep pond to the left of the green.

A day at Shannon Lake Golf Course will be most enjoyable. It is ideal to plan golfing here either on an arrival or departure day should you be traveling the Kelowna - Merritt connector via home to/from the lower mainland. Shannon Lake Golf Club is located just off Highway 97, immediately north of West Kelowna, and only 10 minutes from downtown Kelowna.
Get Directions
---