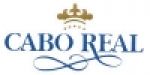 Cabo Real
Carretera Transpeninsular , Cabo San Lucas Baja California Sur
Home to two PGA Senior Slams, and a host of other prestigious golf tournaments, the 7,037 yard Cabo Real Golf Course designed by Robert Trent Jones II has what is considered the toughest front nine of golf in Los Cabos. Its three spectacular ocean front holes put Cabo Real on the golf world map in 1996 when whales put on a spectacular show breaching just yards offshore during the Senior Slam golf tournament. Long considered the favorite of many pros, the Cabo Real course is a must during any visit.
Cabo Real is one of the stars of the San Jose del Cabo – Cabo San Lucas corridor. As Trent Jones Jr. remarked, "I attempted to create a high-quality course to look as though it had been entirely designed by the landscape itself, in which each hole provides an ocean view". This process resulted in a layout that blends into the environment, so that desert hues, fairways and greens, hills, mountains and the ocean all form a harmonious pattern. It might be fair to say that the architect has more discovered the course that designed it.
No photos for this course.
Nice layout. Very pretty flowers and scenery. It was a terrificly beautiful course but there were a lot of dry brown spots on the tees, fairways and some of the greens look like they may have had a fungus or some other destructive parasite. There were some tremendous elevation changes on some of the holes with beautiful vistas of the ocean.
-Tom Beck
---