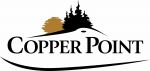 Copper Point Golf Club (The Point - Championship course)
651 Hwy 93/95, Invermere British Columbia
Copper Point Golf Club is an 36-hole facility located just south of Radium. This is a golf experience that will exceed your expectations from beginning to end. The Ridge Course is an 18-hole 'shorter' course that's perfect for new golfers or players looking to get the most out of the day. The Championship Copper Course is an award-winner and will challenge players of all levels with it's rolling greens, tight fairways and well-placed water and sand traps. You'll use every club in your bag. Their clubhouse patio which overlooks the 18th green is great for those post-round stories.
The golf course was in amazing shape and had very friendly and helping staff. Would definitley book to play this course again.
-Dalton Klippert
---
Lori Empey - 2010-05-31
Hole: 15
Length: 122
Club: 8-Iron
---
Tony Powls - 2009-02-28
Hole: 2
Length: 164
Club: 5-Iron
---
Bob Dufresne - 2008-04-15
Hole: 12
Length: 232 yds
Club: 3 Wood
---