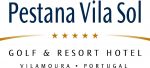 Vila Sol Golf Course
Morgandinhos, Alto do Semino, Vilamoura Portugal
Donald Steel, course architect was careful to maintain the original topographical nature of this spacious undulating terrain. Any changes that originally made were kept to the minimum when necessary in order to preserve the natural environmental state of the land. The first nine holes are quite demanding for the golfer. Starting with a par-4 of 381 metres, then followed be an even longer par-4 hole, only to be followed by another par-4 of 385 metres. Not content with this challenge there is now the sixth and eighth holes, both par-5s with each a little under 500 metres. The homeward nine seems slightly easier with two par-3 holes that are very attractively designed. The golfer should beware of the par-5 on the fourteenth as it is particularly difficult to achieve par with a tricky green awaiting the player. Located at the Vila Sol Resort in Vilamoura and about 25 minutes from Faro.