Golf Blog update for 2019

Please access our new golf blog at our new home -
bc golf course and travel blog here
Dec 23rd - The Hell2Heaven Golf Challenge

California Golf Challenge Celebrates Extremes, Adventure
FOR IMMEDIATE RELEASE: What may resemble golf's version of mood swings, players will experience the lowest of lows and highest of highs in one day at the Hell 2 Heaven Golf Challenge. This bucket-list event, set for the summer solstice, June 21, 2018, is destined to be a marriage made in, ahem, Heaven!
Daring participants will begin their odyssey in Las Vegas by boarding (or self-drive) a deluxe motor coach for a 3-day/2-night journey to Death Valley and Mammoth Lakes, CA for an adventure guaranteed to provide lowlights and highlights during a one-day, 36-hole competition on two of the most contrasting courses imaginable on the planet.
"During my global travels, I'm always searching for out-of-the-box golf experiences," said Robert Kaufman, chief architect of the Hell 2 Heaven Golf Challenge. "Luckily, I discovered one here in California where Mother Nature created some unbelievable landscapes to serve as a backdrop for a golf challenge that cannot be duplicated anywhere else in the world."
Welcome to Hell: After spending the night at Death Valley National Park, the first 18 holes of the Hell 2 Heaven Golf Challenge will be contested at Furnace Creek GC, the world's lowest elevated course situated 214 feet below sea level with lush fairways and summer temperatures that routinely hit 115-plus degrees. For us mere mortals, that qualifies this region as Hell, as well as deserving its own ring in Dante's Inferno.
Redemption: Heated over your morning round? Don't sweat it. Following a 4-5 hour journey alongside the majestic Eastern Sierra, enter a polar opposite universe at Mammoth Lakes with ideal summertime temperatures and a chance to atone at Sierra Star GC, the highest elevated course in the Golden State at 8,000 feet. Tip: modify club selection due to the altitude change. After playing in the valley of death, this four-season mountain playground is a heaven to die for.
Ready For The Challenge? The Hell 2 Heaven Golf Challenge, a benefit for the Prostate Cancer Foundation and Southern California Golf Association Junior Golf, is open to golfers of any skill level. Cost for a two-person team is $1,900. Singles, at $950, will be paired. The all-inclusive package includes: two nights accommodations, two rounds of golf, transportation, meals, tee package, and much more. The winning team earns a 4-day/3- night golf getaway package for four people to The Boulders Resort & Spa in Carefree, AZ.
For more information and to take advantage of the early bird registration, visit Hell2HeavenGolfChallenge.com.

July 6th - BCgolfguide attends major International golf travel conference

Recently, Ross and Danny attended a large conference in Miami for the International Association of Golf Tour Operators (IAGTO).
BC Golf Guide is an active member.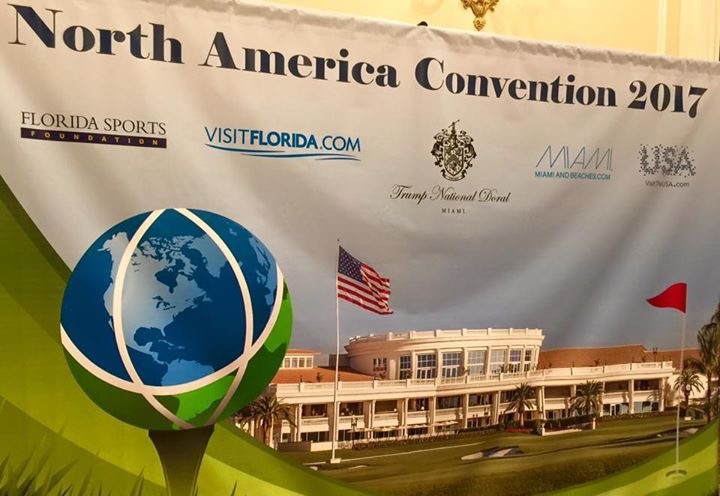 This annual conference attracts hundreds of fellow golf tour operators, golf course and hotel suppliers, destination marketing firms and more for three days of group and one-on-one meetings examining the golf travel world.
Ross attended to wave the B.C. flag and spoke to dozens of tour operators from around the world about the exciting golf regions we represent throughout the province.
Many tour operators had clients that were interested in coming to Canada - some for the first time - and engaged Ross on costs, sample itineraries and more.
Danny met with over 40 U.S. and international hotel and golf course suppliers for specials and great deals to promote to our large database of golfers.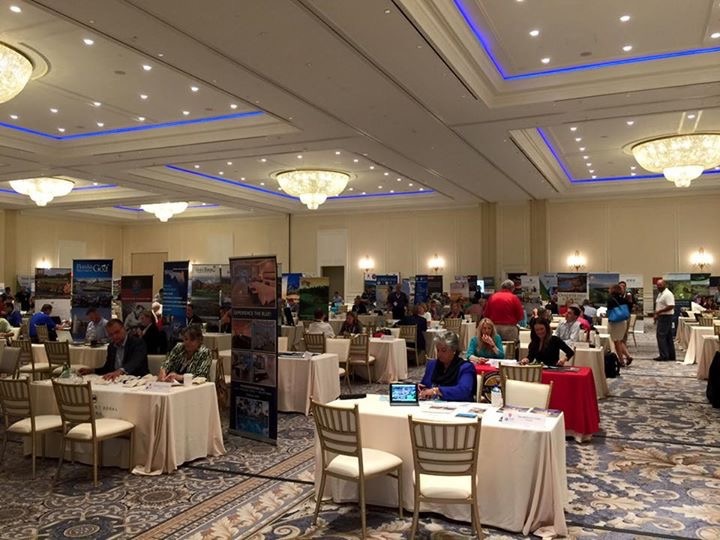 Hotels and courses in California, Arizona, Florida, Hawaii, the Carolinas, Mexico, Portugal, Ireland, Scotland, England and Spain were introduced to what would attract the Canadian golfer to their region. Many specials will be coming soon.
Next year the conference is being held in Bend, Oregon and plans are already in the works to offer a B.C golf trip or two to the attendees to showcase golf in B.C.
A special thank you to our resort partners in Florida for their outstanding hospitality including PGA National Resort & Spa, Luis and his crew at Turnberry Isle Resort, and to Paulo and Carrie at Trump National Doral Resort in Miami for hosting the event.
Cheers to all!
March 29th - Kamloops Golf Course Opening updates

Courses noted below are now open...
Sun Rivers Golf Course
Eaglepoint Golf Course
Rivershore Golf Links
Kamloops G& CC
The Dunes at Kamloops

Tobiano Golf Course - April 1st. no fooling!!!
Talking Rock Golf Course - TBA (sometime in early April)

March 28th - More Course Opening updates

Okanagan Golf diehards, here is a quick summary of courses open and opening soon.... Conditions in many cases are very wet, carts may not be allowed on the course, please check with each course prior to booking.

Now Open
Kelowna Golf & Country Club
Kelowna springs

The Harvest Golf Club
Two Eagles Golf Course
Orchard Greens Golf Club
Mission Creek Golf Club
Michaelbrook Golf Club

Summerland Golf Course
Shannon Lake Golf Course
Friday Mar 31st

The Bear Course at Okanagan Golf Club
Sunset Ranch Golf & Country Club
Shadow Ridge Golf Club (9 holes)
The Pinnacle Course at Gallagher's Canyon Golf & Country Club
Vernon Golf & CC
Sat. April 1

Black Mountain Golf Club (tentative)
Thurs. April 6th

Tower Ranch Golf & Country Club
Fri. April 7th
Gallagher's Canyon Golf & Country Club
The Rise Golf Course
The Quail at Okanagan Golf Club
Wed. April 12th
The Predator Course at Predator Ridge Resort
The Ridge Course

March 15th - More Course Opening updates

Eaglepoint Golf Course Kamloops - Opening Friday! We will be opening Friday March 17th on holes 3 thru 9 for walking only. It will be $15 per round for the 7 hole experience. We will open more holes and for the use of carts as weather permits. If the weather calls for tee times or a cross over or to be closed due to possible weather / frost conditions then that is what we will do. With this knowledge, please call in the day before to make sure that you are aware of what is happening on any given day.
Harvest Golf Club
- Spring may finally be here!! In the last 72 hours we have seen a fair amount of snow melt and we have been able to get on the course and assess the conditions. Looking at the forecast, we still anticipate the course opening date to be FRIDAY, MARCH 24th, but this will still be dependent on the weather cooperating. If this projected opening date changes, we will of course update you immediately. The Driving Range will open with the golf course on the targeted date of Friday, March 24th and will be on mats. Again, this is weather dependent and you will be notified of any changes. Expect walking only for the first week of open play.
March 13th - Golf Course Opening updates

Columbia Valley Area Springs Course: April 7th - Radium Course: April 14th - more to come in the days to come, please book mark this page!
The Range
in Kelowna is now open - I will be hitting balls this week finally!
Kelowna Region - Black Mnt hopes to open March 31st, but more likely the following week. Sunset Ranch Golf Course is also hopeful for April 1st - check back with us!
Two Eagles in West Kelowna - expecting Wednesday March 15 for walking and this weekend for power cart traffic.
Okanagan GC - Quail and Bear - Bear Course March 31st....Quail Course April 7th....both still weather dependent....
Gallagher's Canyon is planning on March 31st, weather dependent
Shannon Lake hoping on March 20th but not 100% confirmed
Predator Ridge on track for April 12th - both courses.
Looking for something unique to do when in Kelowna - how about renting an exotic car from August Exotic Car Rentals and Tours? Ask BCgolfguide.com how you can combine this with a golf package too -
www.augustexotictours.com/
Kamloops Region -
March 9th - 2017 BC GOLF HOUSE SOCIETY TRADITION GOLF CLASSIC

March 10th, 2017 - REGISTRATION IS NOW OPEN FOR THE 2017 BC GOLF HOUSE SOCIETY TRADITION GOLF CLASSIC.
MONDAY MAY 29, 2017, 1:00 PM SHOTGUN SHAUGHNESSY GOLF & COUNTRY CLUB
The
British Columbia Golf House
Society is a registered non-profit, created in 1987 with the express purpose of preserving, recording and displaying the history of golf and the golfers of the province. It is membership based Society and looks to golfers in British Columbia for support through memberships, sponsorship's, and donations. The Tradition Golf Classic is the most important fundraiser each year for the BC Golf House Society.
Thanks to the generous support of the Board of Directors, the management and staff of the Shaughnessy G&CC and especially Mr. Ken Woods, Shaughnessy member, the 2017 Tradition Golf Classic will be held at Shaughnessy, the home of the Canadian Open in western Canada. All proceeds from the event will go to support the BC Golf House Society's goal:
"To preserve BC's rich golfing history". The Tradition event will feature foursomes with all players playing their own ball in a 2 of 4 best net format followed by a reception and banquet after the golf. Many terrific silent and live auction items will be available. Cost $250.00 PER PLAYER -
Register here
March 8th - New Ownership at Canoe Creek Golf Course - Salmon Arm

Sean Foss and brother, Michael are the new owners of the
Canoe Creek Golf Course
in the Shuswap. Some big changes are coming and a re-branding the golf course, a major renovation on the clubhouse, and improving the overall look and feel of the property. All these are expected to be fully implemented for the 2018 golf season.
New for 2017 includes a brand new golf cart fleet and a paved parking lot. There will also be a basic food and beverage service for this season - minimal in comparison to what will be offered in 2018. Ownership is retaining the services of Ray and Mike Riva going forward. An important step to the success of the operation considering the phenomenal shape they have kept the course in over the years.
March 2nd - Winter Thaw is finally coming to the Okanagan

The Penticton GC reported they planned to open on the 1st, early season rates apply! Call to check on space 250-492-8727. Other courses are letting us know thrir planned dates, stay tuned as we update this page. The Osoyoos Golf Club plans to open on March 4th - Planned dates for Golf BC courses are below.

Gallagher's Canyon: March 24
The Pinnacle: March 24
The Bear: March 24
The Quail: April 7
Nicklaus North: May 5

March 1st - Kamloops Golf and Country Club - March 1st

Congrats to Alec Hubert - named the fifth Head Professional at the Kamloops Golf & Country Club following a brief but quality line of past pros that include....
Rod Palmer 1952 – 1972
Mike Graas 1972 – 2011
Harold Simkins 2011 – 2015
Brice MacDermott 2015 – 2017
Alec Hubert 2017
Alec has been a member of the PGA of Canada since 2008 when he decided to pursue a career in golf and was given a start at the prestigious Royal Ottawa Golf Club. It was here that Alec was mentored by some of the National Capital Region's best CPGA professionals. At The Royal Ottawa GC he was able to learn all of the aspects of operating a pro shop and was able to hone his ability as an instructor. In 2011 he was awarded the Assistant Professional of the Year within the Ottawa Zone and in 2013 Alec earned Class A status within the PGA of Canada. In 2014 Alec joined a team of instructors at the Fairmont Hot Springs Resort and continued to hone his craft as a leader, instructor and player. In both the 2014/15 seasons Alec won the Kootenay Pro Series Order of Merit and Tour Championships.

Golf Show Season is here - Golf Blog for February 13th
Welcome to the first golf blog for 2017. Be sure to catch us at the
Vancouver Golf Show
coming up February 18th and 19th at the PNE Forum Building. We will have approximately 50
Prestige Hotel and Resorts
golf towels to give away each day. Win a mini Kelowna golf trip compliments of us, Prestige Hotels and Sunset Ranch Golf Course
Following the Vancouver show, we have 3 more on the rooster!
Seattle Golf Show
is a long established show where we love to visit the emerald city and educate the Pacific Northwest golf crowd all about Golf travel in British Columbia. March 4th and 5th at the CenturyLink Field Events Centre.
The Alberta PGA manages both the
Edmonton and Calgary Golf shows
, which are March 11-12th (EDM) and March 25-26th ( CAL). Where ever you are, make sometime to attend a show, we would love to see you in person.
We encourage you to follow us on your favorite social media channel(s).
Feb 13th, 2017
Featured contributors include Glen Erickson / Danny Leitch / Ross Marrington and guest bloggers.