Accent Inn Kelowna 4 night, 4 round golf package
Priced From: $799.00
Valid to: December 31, 2018
* Prices shown include all taxes, per person, double occupancy unless noted otherwise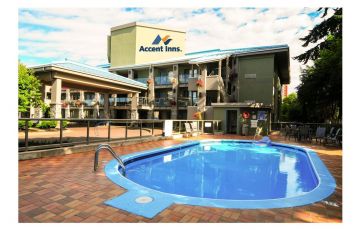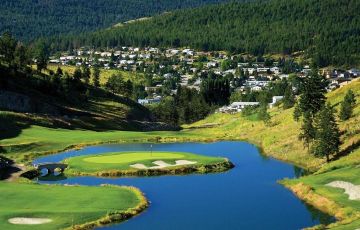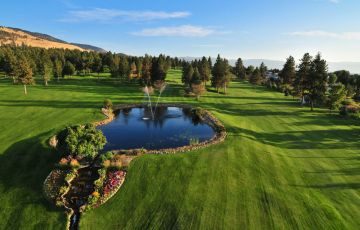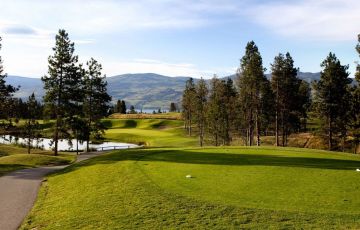 Located downtown, the Accent Inn Kelowna is the perfect choice for your next Okanagan golf getaway. Only steps to dining, shops and nightlife. You'll enjoy free parking, free wireless access, daily continental breakfast, seasonal outdoor pool, and lots more while playing 4 of the regions top golf courses; Sunset Ranch, Black Mountain, Kelowna Springs and Shannon Lake. Stay longer and play more golf!

FROM: $799.00 per person - double occupancy (May dates onward) Travel in April and save more!
Includes:
4 nights accommodation - standard room with 1 or 2 beds
daily continental breakfast
4 rounds of golf per person: Kelowna Springs, Two Eagles, Sunset Ranch, Black Mountain
pre-booked tee times with shared cart
all hotel and golf course taxes
(does not include meals unless stated, transportation)

Let us customize your next Accent Inn golf package today! Ask about upgrades to kitchenette or suites. Long weekends are very busy.

Please note that these are "From" prices and exact pricing may vary
based on your actual travel dates / room type available / occupancy. If
you have something specific in mind that is not exactly as shown we
will customize a package to suit your needs.

We will always
quote you a firm price prior to booking and deposits paid. Follow the
link displayed for a golf package quote/submission and complete the form
details with your specific dates and additional details that will help
us with your request.

Space is subject to availability and
certain dates and times may not apply due to black out dates. Feel free
to call us using our toll free number located at the top of this page.
Prices expressed on these pages are "per person" and based on double
occupancy unless noted otherwise. BCgolfguide.com Inc. is a registered
travel agent in the province of BC, and members of the IATA, ACTA, CPA
of BC and IAGTO.

Follow the link displayed for a golf package
quote/submission and complete the form details with your specific dates
and additional details that will help us with your request.

Accent Inn - Kelowna
The Accent Inn Kelowna is the perfect venue to host a Kelowna golf group vacation. One of our more well priced Kelowna hotels which we bundle in our Okanagan / Kelowna golf vacation packages. Conveniently located at the corner of Highway 97 (Harvey) and Gordon Street. An ABC family restaurant is located on the property and handy to walk over for breakfast or a lat night snack.
The Accent Inn Kelowna offers standard rooms with 1 queen or 2 doubles, kitchenette suites for those slightly longer Kelowna golf vacations, as well as 1 bedroom suites for extra extra space for golf groups. The Kelowna Accent Inn offers free parking, free wifi, free local calls and seasonal pool.
Located just across the street is a cold beer and wine store (Cap's) as well as the Capri Strip Mall for anything else you may need for your Kelowna golf stay and play trip this season.
black mountain golf club
Black Mountain golf course is more than just a fun, unique, friendly full par-71 challenging golf course located in Kelowna, BC. It features 18-holes worth of breathtaking Okanagan landscape and a signature island green. We value spectacular, lush course conditions with a relaxed, inviting atmosphere. We're not trying to distract you from your game – we just want to ensure you have the perfect ambiance.
Golf groups traveling on an Okanagan golf package have quickly learned the Black Mountain Golf Course is a course that provides extreme fun and a test of their golf skills. The front nine can be very demanding with critical position to allow for par chances and avoid the dreaded double bogie! Our favorite is hole number 4. An elevated tee box that varies in distance with the combination of tee box location ( with a total of 5 ) along with pin placement and the wind direction. Golf tip - setup slightly right of the green, even if you do not draw the ball back, a kick off the hill if you are far enough will often provide very favorable!

The Grill at Black Mountain golf is our answer to "what smells so good!?" Mouth-watering locally influenced selections, The Grill will satisfy. With affordable prices, you won't mistake your bill for your scorecard. Enjoy an ice-cold beverage with friends after a round and find out why "that's delicious" is more than just a common saying around here. Nachos are a favorite at Black Mountain golf course restaurant.

Thoughtfully and meticulously crafted, Black Mountain golf is a multi-generational, master-planned golf community located in Kelowna, British Columbia.
kelowna springs golf club
Kelowna Springs Golf Club, designed by renowned Canadian golf course architect Les Furber, has garnered accolades from both the press and golfers of all abilities since first opening in 1990.

PRESS - Okanagan Life Magazine recognizes Kelowna Springs golf club as the second best 'Readers Choice' golf course in Kelowna. Dreamscapes Travel Magazine (Globe & Mail) recognizes Kelowna Springs as one of 6 'play the best for less gems' across Canada. Click here to read the article. Golf for Women magazine once rated Kelowna Springs the top semi-private course in Canada.

In addition to the full length, Championship 18 hole layout, you will find Legends Classic Grill – the Club's restaurant and banquet facilities with a decor paying homage to the legends of golf.
Legends Classic Grill is on the second level of the Clubhouse at Kelowna Springs Golf Club and features two decks overlooking the golf course, and is open to the public. Legends Classic Grill is on the second level of the Clubhouse at Kelowna Springs Golf Club and features two decks overlooking the golf course, and is open to the public. Our menu features traditional clubhouse favourites and fine dining choices influenced by Pacific Northwest tastes. We are open for daily breakfast, lunch and dinner service from the start of each golf season until the end of October.

In addition to our regular daily service, we offer several great weekly specials. Sunday Brunch is offered weekly from early April through to Thanksgiving Day weekend between 10am and 1pm - classic Brunch favourites are served fresh from the kitchen (prices vary from $8 to $12 generally, and the menu will feature new items twice each month). Special Easter & Mother's Day brunches are also available - reservations are recommended on these days. Also on Sundays, we offer a complete Prime Rib Dinner for Two, including a bottle of wine, for $64 (from 4:30pm). Add nine holes of golf in the late afternoon and the price is $109 - check with the Golf Shop to confirm availability and current start times.

sunset ranch golf & country club
One of the best Kelowna Golf Courses for value and playability, Sunset Ranch Golf Course was chosen by Golf Digest in the 2009 version of "Golf Digest's Best Places to Play", and voted "Finalist: Kelowna's Best Golf Course 2011″ in Okanagan Life magazine!
Sunset Ranch Golf & Country Club is therefore considered to be among the best courses in Okanagan golf. Conveniently located just minutes from the Kelowna BC International Airport, Sunset Ranch's natural beauty is rivaled only by its exceptional course conditions and playability for golfers of all skill level.
A few golf tips for playing Sunset Ranch Golf and Country Club. Hole 1 - A testy par 5, dogleg right which is way out there at about 230 yards, so a big poke is required. Second shot, keep the ball down the left side of the fairway to avoid blockage from the sole fir tree that will hinder any wedge into the green. The alternative if you are right side, hit a chopped down 5 or 6 iron into the front of the green side bank, take the speed off, this can work with the correct speed.

A "must play" Sunset Ranch golf - Stunning vistas, rolling terrain, and the ever-present Scotty Creek contribute to the beauty and challenge of this Kelowna golf course. Come and enjoy Kelowna's Best Value for Championship Golf! BCgolfguide.com has the best golf packages with Sunset Ranch golf course included in the rotation.

There is always something going on at the clubhouse at Sunset Ranch Golf & Country Club! The beautiful clubhouse consisting of 2 large patios, a 40 seat lounge, and a 120 seat dining room makes it the ideal location for your event. From Cocktail Parties to Buffet Dinners, the Sunset Ranch Food and Beverage Department can customize your event to add your own personal touch.


two eagles golf course and academy
Two Eagles Golf Course and Academy brings a new concept to golfing enjoyment. Combining the championship qualities of a classic GDS Les Furber design with the playability of a mid length facility, Two Eagles provides an unequaled golf experience. A Masters course at just over 5000 yards. Do not like this steer you away from enjoying Two Eagles Golf Course.

Add in the rolling hills and Ponderosa Pines overlooking Okanagan Lake, and it is an experience you will want to repeat over and over. Regardless of your age and ability, Two Eagles golf course is an extremely friendly enviornment to learn, to grow and enjoy the game of golf.
If you are planning a Kelowna golf trip this season and perhaps traveling from the Lower mainland or Vancouver, Two Eagles Golf Course and Academy is ideal for your first round. As you drive into West Kelowna, you maybe amazed at the growth in recent years. Watch for the Best Western Wine Country Inn on your right hand side, just after the Canadian Tire, turn right at Elks Road.

Two Eagles is tucked behind the strip mall and hotel. Enjoy the practice facilities at Two Eagles golf course. The Two Eagles Golf Academy encompasses everything you need to improve your golf game. Enjoy the state of the art driving range with 18 practice stalls off state of the art Synlawn synthetic turf. The range is generous in length and includes six target greens as well as numerous yardage markers. The Two Eagles Golf Course and Academy is housed on the upper grass teck deck and features an indoor, heated hitting bay and fitting room. The 15,000 sq ft practice green is the place to upgrade all your short game shots, from chips and pitches to sand shots and putts. Enjoy all this while overlooking the manicured Two Eagles Golf Course and Okanagan Lake.

Get Directions
---