Accent Inn Victoria 4 night, 4 round golf package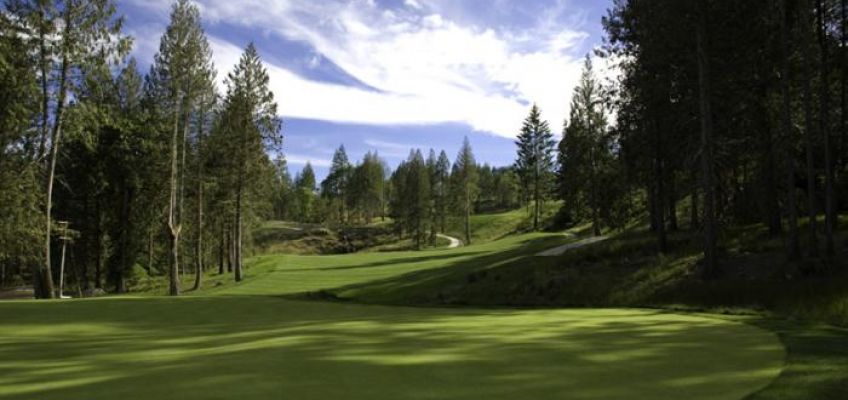 Priced From: $365.00
Valid to: October 8, 2018
* Prices shown include all taxes, per person, double occupancy unless noted otherwise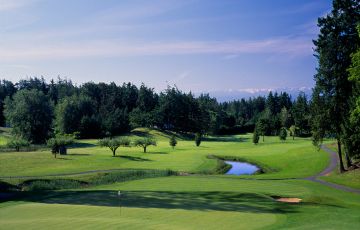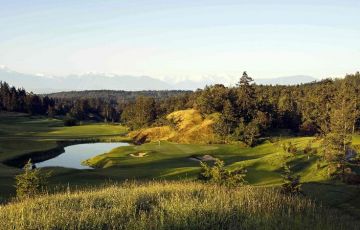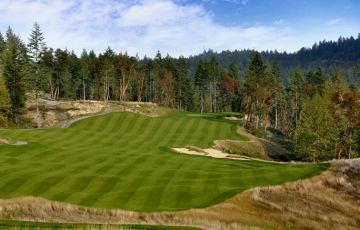 Located only a few minutes from the Inner Harbour, Butchart Gardens and the exciting downtown, the Accent Inn Victoria is the perfect choice for your next Victoria golf getaway. You'll enjoy free parking, free wireless access, free continental breakfast and lots more while playing 4 of the regions top golf courses; Highland Pacific, Olympic View, Arbutus Ridge GC and Bear Mountain-Valley GC. Stay longer and play more golf!

FROM: $365.00 (low season) to $795.00 (high season) - double occupancy
Includes:
4 nights accommodation - standard room
daily continental breakfast
4 rounds of golf per person: Highland Pacific, Olympic View, Arbutus Ridge, Bear Mountain-Valley GC
pre-booked tee times with shared cart
all resort and golf course taxes
(does not include meals unless stated, local transportation)

Please note that these are "FROM" per person prices and exact pricing may vary based on your actual travel dates, room type that's available and occupancy. If you have something specific in mind that is not exactly as shown we will customize a package to suit your needs. Low season and Peak Season rates vary from region to region and with our golf course and hotel partners. Pricing provided is a general guide to assist you in planning your next golf vacation.

We will always quote you a firm price prior to booking and deposit paid. Follow the link displayed for a golf package quote/submission and complete the form details with your specific dates and additional details that will help us with your request.

Space is subject to availability and certain dates and times may not apply due to black out dates. Feel free to call us using our toll free number located at the top of this page. Prices expressed on these pages are "per person" and based on double occupancy unless noted otherwise.

BCgolfguide.com Inc. is a registered travel agent in the province of BC, and member of IATA, ACTA, CPA of BC and IAGTO.

Follow the link displayed for a golf package quote/submission and complete the form details with your specific dates and additional details that will help us with your request.

Accent Inn Victoria
Accent Inn Victoria:
The Accent Inn Victoria is a good choice for your next golf package to the Island. You'll be very close to plenty of shops, restaurants and local nightlife. And for a healthy walk or cycling trek, there's the Galloping Goose trail just around the corner. From the famous Butchart Gardens to antique shopping, whale watching, the Royal BC Museum and numerous sporting activities like scuba diving and hiking, the city of Victoria is full of interesting things to see and do. Best of all, at the end of the day you're guaranteed a really comfy bed in a spotlessly clean room at the Accent Inn Victoria.
If your golf package is on a smaller budget, then include the Accent Inn Victoria for a fabulous Island experience. It's located on the edge of downtown, only 20 minutes from the airport and 8 minutes from the inner harbour. You're only a short drive to courses like Olympic View, Highland Pacific, Bear Mountain (36 holes) and Cordova Bay. The 118 large rooms feature A/C, queen and king size beds with Beautyrest mattresses, free high speed internet and free in room coffee and tea. You'll also get free parking and free continental breakfast to start your day. Plus receive complimentary access to Steve Nash Fitness World, a full facility gym with weights, aerobics, sauna and hot tub and plenty of cardio machines. It's located a block away from the hotel.
The Accent Inn Victoria also has a free local shuttle to take you downtown for a cruise or float-plane trip or to people watch. A two night, 2 round golf package at the Accent Inn Victoria is very attractive so call us today.
Arbutus Ridge Golf Club
Arbutus Ridge Golf Club near Victoria has a Four Star Golf Digest Rating and was voted the Best Destination Golf Course in British Columbia by readers of Golf Nerve Magazine. Arbutus Ridge golf club is owned and operated by the GolfBC Group and is your first choice for golf in the Victoria and Cowichan area, on Vancouver Island.

Arbutus Ridge is located in the seaside community of Cobble Hill within the Cowichan Valley amongst nine of Vancouver Island's finest wineries and 10 minutes from the cultural city of Duncan. The terrifically scenic 20 minute drive from the outskirts of Victoria or 40 minutes from Nanaimo prepares you for the pure natural charm of the country setting. The Arbutus Ridge Golf Club is a part of the Victoria golf mecca and in the heart of Cowichan's wine country.

Etched in your memory will be three of the most demanding finishing golf holes on Vancouver Island, punctuated by the knee-rattling 214-yard par 3 island green on the 17th hole.
If it's your golf game you need help with, consider Victoria and Vancouver Island's finest location for a golf school, golf clinic, or private golf lesson at the GBC Golf Academy. Arbutus Ridge golf course boasts a full-featured practice facility with five target greens and two short game areas. The instructional team is honorary, with the Director of Instruction winning the 2003 Canadian Assistants Championship and 2006 PGA of BC Championship.

Head straight to the Satellite Bar & Grille and enjoy the scenic patio overlooking the 18th hole. The handsome glass-fronted clubhouse juts over a hill,looking out to the Satellite Channel and offers a combination of mountain and ocean views.

Arbutus Ridge Golf Club is renowned for offering the best vistas on Vancouver Island and friendly, genuine service. Victoria is the gateway to Vancouver Island where there are over 40 golf courses to choose from, Arbutus Ridge is golf on Vancouver Island at its finest!
We are only 25 minutes from the outskirts of Victoria (from the highway turn off where you drive 5-10 minutes from that turn off to Bear Mountain and Olympic View)

Accolades:
4 star rating for "Best Places to Play", Golf Digest
Rated #2 in Canada, Readers Digest Top 13 Golf Courses in Canada 2012
Host of the CN Future Links Championship, 2011
Host of the British Columbia Provincial Women's Amateur / Mid Amateur Championship, 2010
2nd Place in Customer Service Cowichan Chamber of Commerce Black Tie Awards 2009
Sustainability Award, Tourism Vancouver Island 2009
One of Canada's Ten Best Golf Courses for your Money, UP! Magazine 2009
Certificate in Environmental Planning, Audubon International 2008
Best Destination Golf Course in BC, Golf Nerve Magazine 2006
Hole #17, Top Golf Holes on Vancouver Island, Pacific Golf Magazine 2006
Host of the Canadian Junior Girls Championship, 2005
Golf Course of the Year, golfcoursereports.com, 2004
Host of the BC Junior Girls Championship, 2003 & 2004
Olympic View Golf Club
Olympic View Golf Club, is a beautiful Par 72, 18 hole championship golf course located just 20 minutes from downtown Victoria on the southern tip of some great Vancouver Island golf trip options. Victoria, BC's capital city is home to Canada's mildest winters, allowing visitors and locals alike to enjoy golf year round BC golf trips.

Olympic View Golf Club boasts a variety of golf holes that compliment individual masterpieces. Nestled deep inside a pristine forest, natural beauty is punctuated by two waterfalls, twelve lakes, roaming deer, soaring eagles, and the beautiful snow peaked Olympic Mountains in the horizon. If some of the golf shots on this target venue quicken your pulse, the tranquility of our setting should help to calm and center you. The 17th hole encompasses enough natural beauty for an entire course. From the tee, aim toward a breathtaking 40 foot waterfall that frames the green 455 yards away.

This signature hole plays through a steep, narrow valley past a huge rock column and an elegant Japanese garden. It's no wonder Olympic View golf was the first golf course in British Columbia that Tiger Woods played, as an amateur in 1994.

Olympic View golf also hosts the award winning GBC Golf Academy. The GBC Golf Academy at Olympic View was voted the #1 Practice Facility in BC by Pacific Golf Magazine – Readers Choice Awards 2005. The state-of-the-art facility features expansive grass tee decks, five target greens and three comprehensive short game areas. Covering over 14 acres and stretching to 330 yards, the facility offers everything to simulate real golf situations and better your entire game.
Accolades
"Employee of the Year Award" (winner Ken Langdon, nominee Jeff Palmer) 2012, WestShore Chamber of Commerce
"Top 10 Best Public Golf Facility in British Columbia," Score Golf Magazine 2011
4 star rating for "Best Places to Play",Golf Digest 2008
"Business of the Year" 2006 & "Best Service Professional" 2005, Westshore Chamber of Commerce
"#20 Best Golf Experience in Canada and USA West", Fairways and Greens Magazine 2006
"Teacher of the Year", BC PGA 2002 & 2006
Highland Pacific Golf
Highland Pacific Golf was created for golfers who want to enjoy a scenic, challenging championship golf course that is playable all year round. Highland Pacific overlooks the majestic Olympic Mountains, the Strait of Juan de Fuca and Thetis Lake Park. Don't let the views distract you…this course has some surprises in store!

The Pacific Nine at Highland Pacific golf, with its incredible vistas and rolling fairways, was opened in October 2008 and the Highland Nine opened June , 2010. Total course length is 6,603 yards with six different sets of tee markers for all skill levels.
A bit of Highland Pacific golf history...
Nearly 50 years ago, local architect, historian and artist Herb Plasterer bought 190 acres of property next to Thetis Lake and envisioned building a public golf course on the property. Rather than subdivide the land straddling Saanich and View Royal municipalities, Herb and his wife Rose Maria wanted to maintain the property's natural beauty with space accessible to the public as a buffer to the adjacent parks. The natural features of the property lent itself well to his vision of outdoor recreation for the community.

Herb did not fulfill this dream in his lifetime so Rose Maria Plasterer and family s relied on the vision, craftsmanship and practical expertise of golf course architect Chris Young to create this uniquely beautiful and challenging golf course. The family chose the name Highland Pacific golf to honour the memory and the vision of Herb Plasterer. The HP logo used to represent Highland Pacific Golf is modeled after the chiseled signature used by Herb Plasterer on his art pieces.


AWARDS & DISTINCTIONS
Top 100 Ranges in North America, Golf Range Magazine 2008, 2009, 2010, 2011
Named on of British Columbia's top courses by Globe and Mail golf writer Brian Kendall.
"Amazing range and practice facility at Highland Pacific Golf…stunning course…some great elevation changes and some wonderful green sites." - Bob Weeks, ScoreGolf

Bear Mountain Golf Resort (Valley Course)
The Valley Course at The Westin Bear Mountain Golf Resort & Spa, meanders through forest, borders lakes, and traverses creeks and rivers throughout its 18 holes, while offering spectacular views of British Columbia's beautiful landscape. In contrast to the existing Mountain course, the par 71 Valley course measures 6807 yards from the Golden Bear tees - around 400 yards shorter than its sibling. Factor in elevated tee boxes, more generous fairway widths, fewer bunkers and larger greens and the Valley course will likely be considered a 'friendlier' version of the original. Rolling through terrain at elevations of between 300 and 500 feet above sea level, there is still plenty of challenge, and many holes that could be considered the signature hole. One of 2 championship courses on-site.
Bear Mountain Resort has onsite accommodations with the Westin offering up a variety of rooms and suites. Choose from 156 elegant, well-appointed guestrooms or one bedroom suites boasting expansive views of the golf course fairways and Mount Finlayson. All guestrooms and suites feature our signature Heavenly Bed, luxurious bathrooms with deep soaker tubs, natural slate flooring. A limited selection of pet-friendly rooms are also available.
Get Directions
---