Incredible 7 night Lisbon Portugal golf package
Priced From: $1,419.00
Valid to: November 30, 2018
* Prices shown include all taxes, per person, double occupancy unless noted otherwise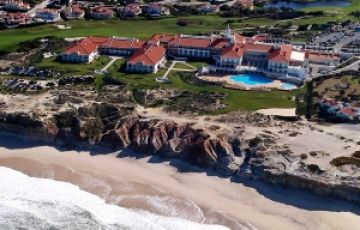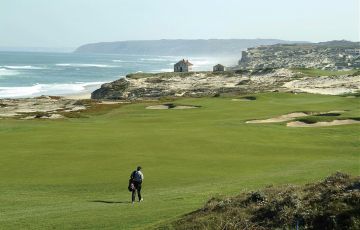 Enjoy this 7 night golf package to Praia D'EL Rey Marriott Resort located a short drive north of Lisbon. This seaside 4.5 star resort is perfect for couples with it's championship golf course, spa, beach, dining choices and much more. This package features 7 nights accommodation and 6 rounds of great golf. Be sure to take a day trip into Lisbon (40 minutes south) for true Portugal culture in one of Europe's greatest cities.
**note currency** FROM: €1419 (low season) to €1789 (peak season)
Package Highlights:
7 nights accommodation - standard resort room with 2 beds
daily buffet breakfast
6 rounds of golf: 3 on-site and 3 at Bom Successo GC*
pre-booked tee times, all hotel and golf course taxes
(does not include airfare, local transportation, golf carts, meals unless stated)
*Golf handicap cards may be needed for golf check-in: 32 for men, 36 for ladies
Please note that these are "FROM" per person prices and exact pricing may vary based on your actual travel dates, room type that's available and occupancy. If you have something specific in mind that is not exactly as shown we will customize a package to suit your needs. Low season and Peak Season rates vary from region to region and with our golf course and hotel partners. Pricing provided is a general guide to assist you in planning your next golf vacation.
We will always quote you a firm price prior to booking and deposit paid. Follow the link displayed for a golf package quote/submission and complete the form details with your specific dates and additional details that will help us with your request.
Space is subject to availability and certain dates and times may not apply due to black out dates. Feel free to call us using our toll free number located at the top of this page. Prices expressed on these pages are "per person" and based on double occupancy unless noted otherwise.
BCgolfguide.com Inc. is a registered travel agent in the province of BC, and member of IATA, ACTA, CPA of BC and IAGTO.
Praia D'El Rey Golf & Beach Resort
Voted as one of the top golf resorts in Europe, Praia D'El Rey (A Marriott Resort) is a beachfront gem that's perfect for for families, couples and serious golfers alike. Located an hour west of Lisbon, this is a complete resort offering 18-holes of championship golf, full spa, dining options and an array of activities off the course. Two pools, fitness centre, bike rentals, tennis centre, hiking trails and a kids club featuring archery, paintball, body boarding and loads more. The golf course is a combination of parkland and seaside holes with deep bunkers, rolling greens and sand dunes. Be sure to tune up your game with their golf academy.
Accommodation options range from large resort rooms with either golf course or sea views along with multi-bedroom apartments and vacation homes complete with full kitchens and modern amenities.

Praia D'el Rey Golf Course
Designed by the American architect Cabell B. Robinson, the Praia D'El Rey golf course has the characteristics of an authentic "links" (on the sea side). Praia d'El Rey is certainly one of the most picturesque layouts in Europe, set in extensive grounds of pine forest and undulating dunes with spectacular views over the Atlantic and the Berlenga Islands beyond. The Praia d'El Rey golf course is visually stunning and tremendously exciting to play. Because of the endless variations of the terrain you'll never play it the same. Cabell has designed Praia d'El Rey golf course to be the complete golfing challenge with bold deep bunkers, undulating greens, and natural sand border areas contrasting sharply with the lush green fairways. He feels very strongly that the golf course must be fun for everyone to play. Praia D'El Rey, rated 13th best course in Europe by Golf World magazine, has become one of the major golfing destinations in Europe. The whole golf course, however, allows plenty of sporting variety. Worth a mention is the view over Berlengas at hole 2, the beautiful scenery at hole 11, the view over the Atlantic Ocean all along hole 12 and at hole 14, the challenges presented by wind variation. Hole 17's huge extension (570 metres) makes it the second longest Par 5 in the country and one of the longest of Europe.
Get Directions
---