Royal Anne Hotel Kelowna Golf Trip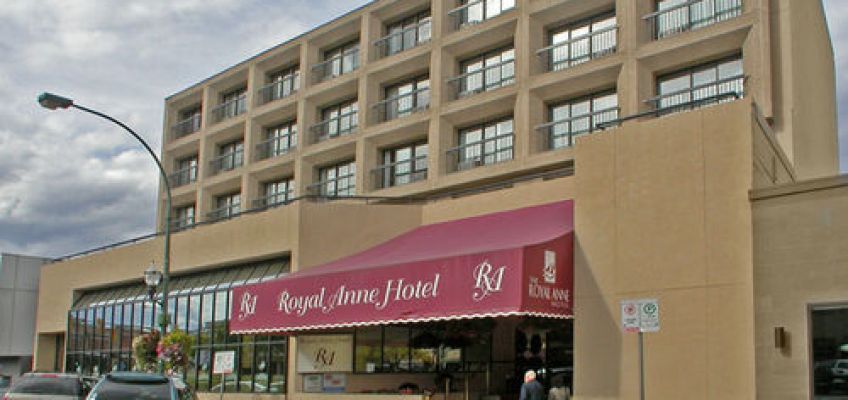 Priced From: $419.00
Valid to: December 31, 2018
* Prices shown include all taxes, per person, double occupancy unless noted otherwise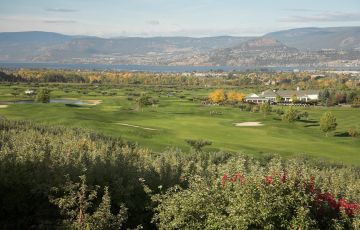 The "Heart" of Downtown Kelowna! The Royal Anne Hotel offers both
business and vacationing travelers the ideal mix of splendid
accommodation and ready proximity to key business areas and major
tourist attractions. For those on business the hotel is just steps from
City Hall, the Courthouse complex and several major office buildings;
for other visitors they are 2 blocks from Prospera Place Center,
Okanagan Lake, Lake City Casino and The Grand Okanagan Hotel and
Conference Centre.

FROM: $419.00 per person - double occupancy (mid week, May 1 onward, April may be lower!)
Includes:
2 nights accommodation - standard room with 1 or 2 beds
2 rounds of golf per person: Gallagher's Canyon and Harvest Golf Club
pre-booked tee times with shared cart, range balls
all hotel and golf course taxes
(does not include meals, transportation)

Please note that these are "From" prices and exact pricing may vary
based on your actual travel dates / room type available / occupancy. If
you have something specific in mind that is not exactly as shown we
will customize a package to suit your needs.

We will always
quote you a firm price prior to booking and deposits paid. Follow the
link displayed for a golf package quote/submission and complete the form
details with your specific dates and additional details that will help
us with your request.

Space is subject to availability and
certain dates and times may not apply due to black out dates. Feel free
to call us using our toll free number located at the top of this page.
Prices expressed on these pages are "per person" and based on double
occupancy unless noted otherwise. BCgolfguide.com Inc. is a registered
travel agent in the province of BC, and members of the IATA, ACTA, CPA
of BC and IAGTO.

Follow the link displayed for a golf package
quote/submission and complete the form details with your specific dates
and additional details that will help us with your request.

Royal Anne Hotel Kelowna
The Royal Anne Hotel offers classic boutique style accommodation combined with an ideal location to both business and leisure travelers.

With a fantastic location in the heart of downtown Kelowna, the Royal Anne Hotel is a city landmark & one of Kelowna's shining, nostalgic treasures. A favorite 'home away from home' for corporate travelers wanting the convenience of Kelowna's thriving downtown core & for vacationers seeking fun in the sun, on the nearby shores of Okanagan Lake. Just steps away from specialty stores, popular attractions & a vast selection of restaurants, beautiful boutique style accommodations await your arrival. Backed by great value, superb quality & remarkable customer service, the Royal Anne Hotel is your perfect choice for your stay in Kelowna.
gallagher's canyon golf club
Rated as one of the best golf courses in the country, Gallagher's Canyon golf club is a spectacular par 72, 18-hole championship golf course full of challenging fairways, well-protected greens and awe-inspiring vistas.

Throughout the course, you'll marvel at the scenery around you as play through tall groves of Ponderosa pines and along the very edge of the picturesque Gallagher's Canyon golf club. Be sure to have your camera when you reach hole 9 for a great "selfie"opportunity.
Hole 2 at Gallagher's Canyon Golf Club - Here is a very tempting short par 4 that begs you to swing the driver. Don't - its risky if you spray left or right! A fairway wood or long iron to the crest of the hill is the smart tee shot here. Pay special attention to pin location as the approach shot can be surprisingly deceiving. Be sure to place the ball below the hole for a birdie chance.

Hole 10 at Gallagher's Canyon Golf Club - A wide downhill sloping fairway gives you a generous start to the back nine. Again, a long drive will give you the opportunity to go for the well-protected green in two shots. Approach shots from the upper fairway will play about 1 to 1 1/2 clubs shorter. The green is quite large so make note of the pin's location.

Just minutes from downtown Kelowna and framed by forested mountains and rocky bluffs beneath clear blue northern skies, Gallagher's Canyon golf club offers the quintessential Okanagan golf experience: rugged yet refined. Miles of orchards and vineyards punctuate the surrounding hills that rise from nearby Lake Okanagan. Gallagher's Canyon golf club peerless golf facility encompasses the championship Canyon Course as well as the distinctively charming nine-hole Pinnacle Course, which will challenge masters and apprentices alike.

After golf, visualize your approach to our well-appointed clubhouse, where our chef tees up a memorable dining experience using the famously fresh local fruits and vegetables of the Okanagan Valley. Or head over to our unrivaled GBC Golf Academy at Gallaghers Canyon golf club, where dedicated CPGA instructors offer their own menu of ways to improve your game.

Discover why SCORE Golf Magazine ranks Gallaghers Canyon Golf Club among the top 50 courses in Canada. When planning your Kelowna golf vacation, call the experts at BCgolfguide.com at 1-877-223-7226. They will take great care of you and your Okanagan golf trip needs, from hotels and shuttle arrangements too!

harvest golf club
Spectacular Okanagan views, award winning service, attention to detail and golf that is second to none! At 7109 yards, The Harvest Golf Club, voted best golf course in Kelowna, is a championship length layout designed by renowned Canadian golf course architect, Graham Cooke. The Harvest Golf Club provides an excellent location for events of any size making us the best wedding venue in Kelowna. Every detail of the Clubhouse has been carefully considered for the enjoyment of our guests.
The Harvest Golf Club is one of the most meticulous golf courses in the area when it comes to "Attention to Detail" , General Manager Gilles Dufort ensures the local and out of town golf traveler will have a top notch experience. With bag boys circling the parking lot to run you up to the clubhouse and preparing your cart to the starter that will give you a detailed synopsis of what to expect on the course.

Include The Harvest Golf Club in your next Okanagan golf vacation! Along with being one of nature's most picturesque playing fields, The Harvest Golf Club also features the Okanagan's largest Practice Facility. With 16,000 sq. ft. of grass tees, target areas, a 1,800 sq. ft. putting green, 2 dedicated chipping greens with sand bunkers, and staffed with PGA of Canada Professionals to help you take your game to the next level, The Harvest Practice Facility is the best in the Okanagan. We invite you to hit a bucket of balls or spend time working on your short game anytime. The Harvest Golf Club Practice Facility is open to everyone.
The Harvest Grille is recognized as one of the top casual dining spots in Kelowna.

The Harvest Grille Restaurant in Kelowna offers a unique Okanagan flavour with west coast flair, Chef Michael Miller created a menu that is sure to excite your taste buds! Everything from our 19th Greens Salad to the Prime Rib Dip to a Lamb Sirloin, The Harvest Grille will satisfy even the most discerning eater. And lets not forget the world class views from our Patio and Veranda.

Get Directions
---