Scotland St. Andrews 7 night golf package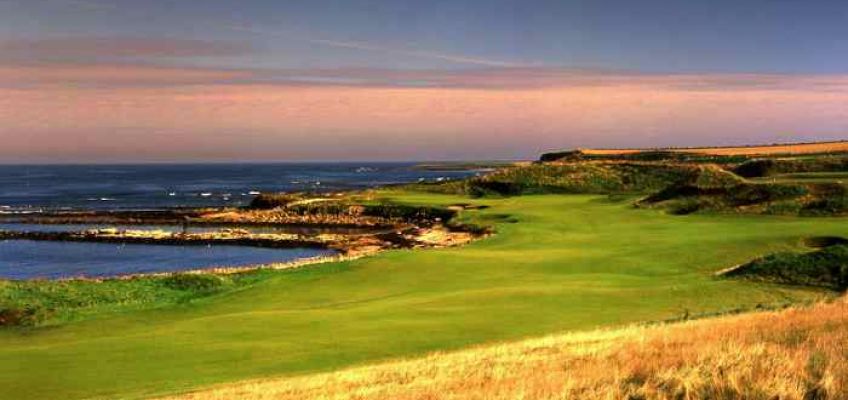 Priced From: $1,829.00
Valid to: November 30, 2018
* Prices shown include all taxes, per person, double occupancy unless noted otherwise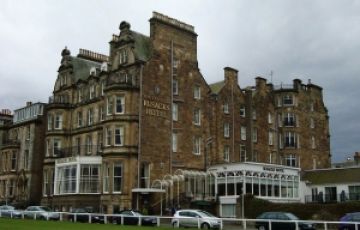 Stay and play in the heart of St. Andrews at the MacDonald Rusacks Hotel. Overlooking the 18th fairway of the famous Old Course, this hotel is quite possibly the most popular golf hotel in all of Scotland. There are plenty of dining, shopping and pub options right out the front door and great golf nearby including the New Course, Crail and Kingsbarns. A full breakfast will get you started each day on your classic Scotland golf package.
**note currency** FROM: 1829GBP (low season) to 2259GBP (peak season)
Package Highlights:
7 nights accommodation - Macdonald Rusacks Hotel
full breakfast daily
4 rounds of golf per person: New Course, Crail, Lundin Links, Kingsbarns
Ballot for the Old Course included (green fees paid locally if successful)
7 day minivan rental with automatic transmission, unlimited mileage (Edinburgh Airport pick up and drop)
all hotel and golf course taxes
(does not include airfare, meals unless stated, power carts, caddies, local taxes, optional insurance on car rental)
*Golf handicap cards may be needed for golf check-in
**price based on 4 travellers, two to a room
Please note that these are "FROM" per person prices and exact pricing may vary based on your actual travel dates, room type that's available and occupancy. If you have something specific in mind that is not exactly as shown we will customize a package to suit your needs. Low season and Peak Season rates vary from region to region and with our golf course and hotel partners. Pricing provided is a general guide to assist you in planning your next golf vacation.
We will always quote you a firm price prior to booking and deposit paid. Follow the link displayed for a golf package quote/submission and complete the form details with your specific dates and additional details that will help us with your request.
Space is subject to availability and certain dates and times may not apply due to black out dates. Feel free to call us using our toll free number located at the top of this page. Prices expressed on these pages are "per person" and based on double occupancy unless noted otherwise.
BCgolfguide.com Inc. is a registered travel agent in the province of BC, and member of IATA, ACTA, CPA of BC and IAGTO.
Macdonald Rusacks Hotel
St. Andrews is a must-visit destination: from harbouring Royal romance, to its vast beach, Cathedral, aquarium, Stanza Poetry Festival and boutiques. Oh, and did we mention golf? The Macdonald Rusacks Hotel is within a sand wedge of the 18th hole of the famous Old Course. Stylishly remodelled on a golfing theme, Macdonald Rusacks Hotel offers luxurious accommodation occupied by some of the great names in the game's history. The award-winning Rocca Bar & Grill serves up fine food and drink against a backdrop of the world's oldest golf course. Magnificent views out to sea take in St Andrews' West Sands, immortalised in the Oscar winning Chariots of Fire. Unquestionably Scotland's greatest golfing hotel.
St. Andrews Links - New Course
The New Course is often regarded as the oldest "new" course in the world. A classic links course with undulating fairways and delightfully challenging greens, it was set out in 1895 by Old Tom Morris. Named the New to differentiate it from the original course at the Links which
became the Old Course, the course remains one of the finest examples of Morris'
work to be found anywhere.The construction of the New Course was paid for by the Royal and Ancient Golf Club, which engaged B Hall Blyth, an Edinburgh civil engineer, to plan the New
Course, and entrusted the layout to Morris and his right-hand man David Honeyman.
The result is a classic links course which is a first class golfing challenge. The course has the traditional out and back layout, with the 18th green just to the right of the first tee. It also has, in the great St Andrews tradition, shared fairways and even a double green at the 3rd and 15th holes. If the New was situated next to any other course in the world than the Old its star would have shone with a far greater degree of brilliance.
Get Directions
---