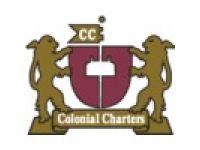 301 Charter Dr, Longs Colonial Charters Golf Club
The Colonial Charters 18-hole, par 71 course is a friendly Myrtle Beach golf course and a pleasure for golfers of any skill level to play. It will challenge you while providing a relaxing, picturesque wooded backdrop. The course is sufficiently challenging for everyone, and success depends upon your club choices. It is short enough and challenging enough for women, juniors, seniors, and beginners. Test your accuracy with our fairways, water hazards and bunkers; we have everything you need to challenge you and improve your game. All in all, our goal is to provide you with a quality experience that includes exceptional service and a comfortable atmosphere. A "shotmaker's course with options," you don't have to play the course a certain way. All but two holes feature a water hazard – two of them feature greenside waterfalls – and there's four forced carry, holes #9, 11, 16 and 17 on the back side. Long hitters also enjoy the course, especially the high risk-reward holes. TifDwarf Bermuda greens ensure smooth-rolling putts. We also feature a chipping and putting green, plus a driving range. PGA staff members, including a locally legendary trick-shot artist, are available for lessons.
---
Get Directions
---
There are no reviews for this course.