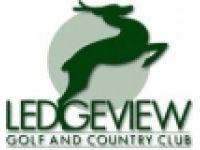 35997 McKee Rd., Abbotsford, British Columbia Ledgeview Golf & Country Club
No photos for this course.
Wendy Davidoff - 2011-09-14
Hole: 17
Length: 110
Club: 9-Iron
---
Don McNeill - 2011-07-27
Hole: 8
Length: 197
Club: 6-Iron
---
---
Get Directions
---
Was driving by and thought we would play the course as we had read about it. I must admit I had high expectations and was disappointed. Clubhouse is run down and not inviting. Staff was not helpful or friendly in the proshop seemed more interested in talking about their weekend than helping us. Not impressed at all especially at the green fee rates! Course was not conditioned to what was expected and at full rates.
I would not recommend this course... just not inviting.
---
Beautifully nestled into the treed hillside landscape of the Fraser Valley, Ledgeview Gof and Country Club is well worth discovering. Travelling for business from Williams Lake in BC's interior, I have played the course several times over the past few years and have never been disappointed. Ledgeview is most easily accesible to Canadians in the Greater Vancouver area and Americans in the Northwest. The course offers many of the challenges and variety of a big-time course in the atmosphere of small-town hospitality. Don't let the affordable green fees deceive you into thinking it is a less-than-average course. Ledgeview earns its place in a niche of reasonably priced, well-maintained and beautiful golf courses in a province boasting of some of the most beautiful golf courses in the world.
---